Caramel Candy Recipe; If Learning How to Make Caramels try this Caramel Recipe
Have you ever made a caramel candy recipe?
There is just no comparison with the commercially made ones. They are just so delicious, but besides the taste this recipe has special memories for me. When I was very young and all through high school and beyond, I had a very good friend named Marileen. We were friends in school but also went to the same church in town. She was very sweet and had such a nice family.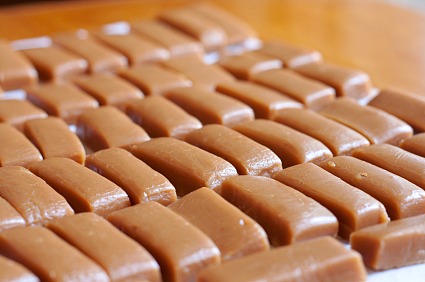 Marileen's grandmother made a homemade caramel recipe every year at Christmas time. She would also make old fashioned butter toffee and taffy but neither compared to her caramels. When we went Christmas caroling with the church, we always went to her house so she would give us all some of her famous caramels. She lived close to the church so sometimes Marileen and I would run over there between Sunday school and church or before our youth meeting on Sunday evenings just to get these cramels.
Marileen and most of her family have passed on but their names lives on through the church. Every year the church now produces those caramels with the family recipe.
The consistency of a caramel candy recipe is determined by the finish temperature and the amount of fat which you use. The higher the temperature the chewier the caramel; the more fat used the less chewy the caramel. The main danger to avoid when making homemade caramels is crystallization. Shortly after cooling or a day or two later, the caramels may lose their chewy consistency. They may become soft and sugary caused by one of several reasons.
Not enough corn syrup; in this case crystallization begins several days after the candies were made.
Stirring too much after the cooking period is over; stir only enough to distribute thoroughly any ingredients added after cooking like nuts and flavoring.
Scraping the last of the syrup from the pan in which it was cooked or drippings in an effort to get the last drops from the pan; stop pouring when it no longer flows in a stream.
MY HOMEMADE CARAMEL CANDY RECIPE
2 Cups light cream (half & half)
2 Cups sugar
1 Cup Light corn syrup
½ Teaspoon salt
1/3 Cup butter
1 Teaspoon vanilla
½ Cup chopped nuts
Heat cream to lukewarm in a large heavy saucepan. Remove 1 Cup of the cream and reserve. Add the sugar, corn syrup and salt to the saucepan. Cook over moderate heat about 10 minutes stirring constantly. Add the reserved 1 cup cream very slowly so mixture does not stop boiling. Cook 5 minutes longer stirring constantly. Stir in the butter, one teaspoon at a time. Reduce heat to low and cook slowly stirring constantly until candy thermometer reaches 248F degrees. Remove from the heat; add vanilla and nuts. Mix gently. Allow to stand 10 minutes. Stir only enough to distribute the nuts. Pour into one corner of lightly buttered 8 inch square pan letting mixture flow to one level. Do not scrap pan. Cool to room temperature. Turn candy out of pan onto candy board. Cut into 3/4 inch squares and wrap in wax paper.
---
VANILLA CARAMEL CANDY RECIPE
1 Cup sugar
1 Cup light corn syrup
1 Cup heavy cream
¼ Teaspoon salt
2 Tablespoons butter
6 Tablespoons evaporated milk
2 Teaspoons vanilla
Combine sugar, corn syrup, cream and salt in a heavy saucepan; place over low heat and stir until sugar is dissolved.
Cook stirring occasionally until mixture reaches a temperature on candy thermometer of 232F degrees.
Add butter and evaporated milk a little at a time; continue cooking until temperature reaches 242 to 244F degrees.
Remove from heat and add vanilla; stir only enough to blend.
Pour into lightly buttered pan about ¾ inch deep; do not scraped bottom of cooking pan.
When caramels are firm cut into ¾ inch squares and wrap individually in wax paper.
CARAMEL NUT ROLL RECIPE
When vanilla caramel recipe is slightly cooled, shape into a long roll about 1 ½ inches in diameter; roll in chopped nuts. When firm slice in ½ inch slices.
---
MARSHMALLOW RECIPE
This is a delicious marshmallow layered caramel candy recipe.After cooking vanilla caramel candy recipe, pour half of mixture into a buttered 8 inch pan. Top with a layer of miniature marshmallows; then pour in the other half of the caramel candy evenly over the top. Let cool and cut in squares.
Painless Cooking

›
Candy
› Caramel