Chocolate Frosting Recipe like Cooked Icing and Others
Nothing is more exciting than a delicious chocolate frosting recipe on a delicious chocolate cake recipe; but it doesn't have to be chocolate cake, it can be any kind or even cookies.
A plain white cake recipe or yellow cake recipe becomes very special with chocolate frosting recipe (Also called chocolate icing recipe). Have you ever tried chocolate on banana cake? Chocolate on spice cake? Chocolate on caramel cake? Let me tell you, these are all fantastic blends of flavor. Discover my 29 best chocolate cake recipes and the 12 frosting or icing I use with these cakes!
A chocolate icing recipe or frosting (Icing is generally term in US) has many different variations; anything from a glaze to thick and creamy. Much of this is determined by how you are going to use it. Will it be used for a cake, gourmet cupcakes, or a special tart. What ingredients you want in it and how much of the ingredients will be determined by what product you are putting it on. The type of chocolate that you choose to use plays an important part of what the chocolate frosting recipe will taste like whether it be milk chocolate, semi sweet chocolate, unsweetened chocolate or cocoa powder.
CREAM CHEESE CHOCOLATE FROSTING
You just cannot get a creamier icing than one with cream cheese. If creamy frostings are refrigerated, they become they become too firm to spread easily; let them stand at room temperature until ready to spread.
3 Ounces soft cream cheese
¼ Cup milk
3 Cups sifted confectionary sugar
1/8 Teaspoon salt
1 Teaspoon vanilla
3 Ounces melted unsweetened chocolate
Beat the cream cheese with the milk.
Add the melted chocolate and vanilla.
Gradually add the sugar, beating until smooth.
Spread on cake.
---
COOKED CHOCOLATE FROSTING RECIPE
Some chocolate icing recipes are cooked; a little more time consuming but well worth the effort.
2 Cups sugar

2 Tablespoons corn syrup

1 Cup milk

4 Tablespoons cocoa

1 Tablespoon butter

Boil sugar, corn syrup, milk and cocoa on medium heat to a soft ball stage.
Do not stir while boiling.
Remove from heat and add butter.
Cool and beat well to obtain a smooth texture.
Spread over cooled cake.
---
This first recipe is a delicious combination of chocolate and mint; it demonstrates a great way to use a thin chocolate glaze. This combination is a wonderful surrounding to a moist chocolate cake.
Mint Frosting
16 Ounce package powdered sugar
½ Cup softened butter
½ Teaspoon salt
1 Teaspoon mint extract
3 to 4 Tablespoons milk, divided
Chocolate Glaze Recipe
2 Ounces unsweetened chocolate
2 Tablespoons butter
Combine frosting ingredients and beat in a large mixing bowl 1/3 of sugar, butter, mint and salt.
Gradually add milk and remaining sugar while beating to spreading consistency.
In double boiler melt chocolate and 2 tablespoons butter.
Completely frost cake with mint frosting; drizzle melted chocolate glaze over frosting.
NOTE: If you want to contain glaze to top of cake, pipe some of frosting around edges of top.
---
CHOCOLATE GLAZE #2
¼ Cup butter
¼ Cup light corn syrup
1 Tablespoon water
¾ Cup semi sweet chocolate pieces
Combine butter, corn syrup and water in a small saucepan.
Cook over medium heat stirring constantly until mixture boils.
Remove from heat and stir in chocolate pieces until melted; cool to room temperature.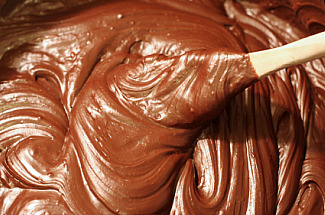 BOURBON FUDGE FROSTING RECIPE
Another great combination is chocolate with bourbon; try this on a fudge cake. If you are a chocoholic, you will love this!
½ Cup butter
2 Ounces unsweetened chocolate
1 Egg at room temperature
3 Cups sifted powdered sugar
1 Teaspoon vanilla
1 Teaspoon lemon juice
3 Tablespoons bourbon
1 Cup finely chopped nuts
Combine butter and chocolate and melt over low heat; stir to blend and cool slightly.
Beat egg and 1 cup sugar in mixing bowl; gradually beat in chocolate mixture.
Stir in vanilla, lemon juice and bourbon; gradually beat in remaining sugar until spreading consistency.
Stir in nuts.
More Delicious Chocolate Recipes
Go to Painless Cooking Home Page from Chocolate Frosting Recipe