Colcannon Recipe, a Potato and Cabbage Recipe & Other Irish Potato Recipes
The Colcannon recipe and the Dublin coddle recipe are two of the traditional Irish foods made from Irish potato recipes.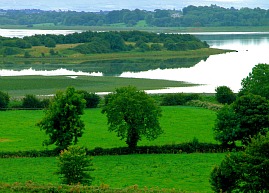 The first recipe is my version; like all recipes, each person has their own way of preparing them. This one is my favorite; I prefer the kale over the cabbage and I love the sausage with the mashed potatoes. (I have to say the potatoes and cabbage are also very good.) It seems that all the traditional Irish recipes of this dish contain potatoes and some kind of greens. From these basic ingredients, many other ingredients can be added and the preparation can vary. I start mine with a delicious mashed potato recipe. I have never tasted this dish made by an Irishman, but I do think mine is delicious!
I don't know about you, but I love anything with potatoes in it whether it is Irish appetizers, lamb stew or even Irish cookies. Every Irish meal must have Irish potato recipes. I could be Irish! The Germans are like that too. Mom use to say if she had a little meat and lots of potatoes, she could always cook a meal. I think this is so true. The Dublin coddle recipe, like the colcannon recipe, has been a favorite in Ireland for many generations. It is like an Irish stew but usually made with sausage, ham or a combination of pork. It is seasoned with onions and of course it must have lots of chopped potatoes. These hot dishes, especially thick hot Irish stew recipes are a welcome sight on cold damp days.
COLCANNON RECIPE (made with kale)
3 Pounds potatoes, peeled and quartered
Water
1 Teaspoon salt
4 Cups fine chopped kale (stuff and pack measuring cup)
1 Large chopped onion
½ Cup butter
Salt/ pepper to taste
1 Pound smoked sausage links (Cut into 6 pieces)
Preheat oven to 350F degrees.
Cover potatoes with water in a large heavy sauce pan. Add 1 teaspoon salt. Bring to a boil, reduce heat and cook until potatoes are tender. (Check by sticking potato with a fork and potatoes should be soft.)
While potatoes are cooking, bring water to a boil in another pan. Dump the chopped kale into the boiling water. Boil for three minutes. Drain all the water off thoroughly and set aside.Melt butter in a skillet. Dump into the butter the chopped onion. Sauté onion until it is tender and set aside.
When potatoes are finished cooking dump into a colander to thoroughly drain off the water. Dump potatoes into a large mixing bowl. Slowly beat the potatoes until broken down. Increase speed of mixer and gradually add the butter and onion to the potatoes. Whip the potatoes until fluffy. Add salt and pepper to taste. Remove bowl from mixer and add the drained kale to the mixture. Blend in with a large spoon. Spoon mixture into a baking casserole dish. Arrange sausages on top of the potato mixture, pushing them slightly down into the potatoes. Place dish in the oven and bake for 25 to 30 minutes or until top begins to slightly brown. NOTE: This recipe is great warmed over. It is easier to cut when cold and the flavor is stronger when warmed up. Just throw it in the microwave for a couple minutes.
---
COLCANNON RECIPE (made with cabbage)
3 Medium Irish potatoes peeled and cut up
2 Tablespoons milk
¼ Teaspoon salt
1/8 Teaspoon black pepper
½ Pound chopped cabbage
2 Tablespoons butter
¼ Cup chopped onion
Butter
Cook potatoes in boiling salted water about 20 minutes or until tender; drain well.
Cook chopped cabbage until tender about 8 minutes; drain.
Place potatoes in mixing bowl and mash; on low speed beat as adding milk, salt and pepper until fluffy.
Melt 2 tablespoons butter in skillet; sauté chopped onion about 5 minutes until tender.
Combine cabbage and onion mixture with the whipped potatoes.
Pile mashed mixture in a heated serving bowl; drizzle melted butter over top and serve.
---
DUBLIN CODDLE RECIPE
Although this is not a colcannon recipe, this Dublin coddle recipe is one of the favorite Irish potato recipes.
1 ½ Pound cubed ham
8 Pork link sausages
2 Sliced onions
½ Cup parsley
6 Medium potatoes cut in pieces
1 Quart water
Salt/pepper to taste
Boil ham and sausage for 5 minute and drain; skim fat off liquid and reserve.
Add potatoes, sliced onions, parsley, salt and pepper to meat; pour remaining liquid over vegetables.
Cover mixture with lid and simmer 1 hour. Servings 6
---
GRILLED IRISH POTATOES RECIPE
You will like these potatoes almost as much as the colcannon recipe.
3 Large Irish potatoes cut in half lengthwise
1/3 Cup butter cut up
Sour cream or sour cream flavored sprinkles
Cut six pieces 12 X 10 inch pieces of foil; place a piece of potatoes in center.
Dot top of potato with butter and seal foil.
Grill over high heat 400F to 500F degrees with lid closed for 25 to 30 minutes or until tender.
Top with sour cream or sprinkles.
Go to Painless Cooking Home Page from Colcannon Recipe