Cooking with Thyme
Cooking with thyme, which is a short and small leaved plant, has many cultivars providing a wide range of flavors. Additionally, this easily-grown herb can be grown indoors providing fresh Thyme year round. Thyme originated in the Mediterranean regions and was quickly transplanted into many European gardens where it flourished as a perennial.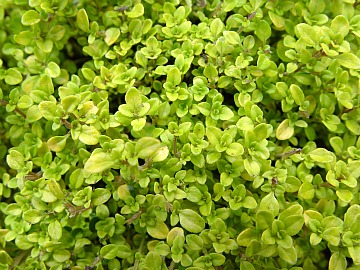 Types of Thyme
Thyme belongs to the mint family and rarely grows taller than eight inches above ground. It prefers a loose, sandy soil and will not die through the winter in many areas. The most common varieties of Thyme are French Thyme, which has a small narrow leaf, and a broader leafed Thyme known as English Thyme. An aromatic, ground-covering Lemon Thyme is also becoming a favorite of backyard gardeners as this hardy variety grows between paver stones, rock gardens, providing a border plant for other types of flower, vegetable and herb gardens.
Just a Pinch Will Do
Cooking with thyme may require experimentation especially if you are growing your own since Thyme is a potent herb and each variety will have a unique flavor and potency. Many cooks recommend that you never add more than one teaspoon of thyme as the potency may over power other flavors. A sprinkle on top of a finished dish including baked ziti and pizza may be just the right amount.
Thyme Do's
Italian food and meats are often seasoned with Thyme; however, many cooks feel that Thyme should never be combined with Basil as the two are completely different in taste and should be kept apart. This sentiment goes double for fresh herbs, although Basil vinegars are often used with fresh Thyme when making vinaigrette-type salad dressings. Meats and sea-foods can be rubbed prior to marinating with dried or fresh Thyme providing a distinctive taste and some nutritional benefits.
Thyme Nutritional Values
Keep in mind when you are cooking with Thyme that one teaspoon contains 1% of the daily recommended amount of fiber, Vitamin C and A, 2% Calcium and 7% of the required amounts of Iron. Thyme has one calorie per teaspoon but 20% of the necessary Vitamin K, 4% of the needed Manganese and contains phytosterols which the FDA has approved as being beneficial to those with high cholesterol and heart disease.
Health Benefits of Cooking with Thyme
Protecting the body from disease is easy when cooking with thyme especially since the anti-oxidant properties of thymol, a primary chemical compound found in Thyme improves brain function as well as protecting cell membranes. Ancient people used Thyme to help preserve food and researchers are just now beginning to appreciate the antimicrobial properties of this plant. In addition to being easy to include in the daily diet, Thyme has shown promise at destroying a wide range of bacterial agents including Staphalococcus aureus, Bacillus subtilis, E. Coli and Shingella sonnei, which causes intestinal distress much like dysentery.
Thyme Vegetable Rinse
Since Thyme is capable of destroying disease-causing bacteria and fungi, preparing a rinsing solution for fresh foods and vegetables provides a natural alternative to help keep your fresh foods safe. Place one tablespoon of dried Thyme or two tablespoons of fresh Thyme in one quart of water, allow to steep, strain and use to rinse fresh fruits and vegetables before eating.


Thyme can be added to almost any food including bean, rice and egg dishes and the following recipe provided by Everyday Food produced by PBS may become a favorite at backyard barbecues.
Garlic Thyme Marinade
2 tablespoons olive oil, almond or sunflower oil
6 garlic cloves, smashed and coarsely chopped
2 tablespoons fresh thyme leaves (about 15 sprigs)
Coarse salt and pepper to taste
Combine the ingredients allow to sit for a few minutes, then add up to one pound of meat per recipe placing each side into the mix. The meat can include steak, boneless chicken, boneless pork or seafood, and increase ingredients as needed at a ratio of one per pound of raw meat.
Refrigerate for one hour, turning the meat in the marinade about every 15 minutes. You can use the marinade during grilling, but if not discard it after removing the meat.
Cooking with Thyme will provide nutritional benefits and a unique flavor to a wide range of foods including eggs, meats and soups.
More Information and Ways of Cooking with Spices
Go to Painless Cooking Home Page from Cooking with Thyme