Corn Recipes
Some of the best corn recipes consist of fried corn, stews, soups, casseroles and even a roasted corn recipe. Corn dishes are probably the all time favorite vegetable accompaniment for dinner for most people. If you are learning how to cook vegetables it is good to know that corn adds fiber and color to the diet and is very delicious served on the cob.
The best time to buy corn is in its growing season from May to September. This brings back great memories of my childhood. Dad always raised a large garden, and of course, we anxiously awaited the first ears for corn recipes. Our favorite way is when Mom would get a large pot of water boiling. We would pick the corn, take off the husk and Mom would drop them in the boiling water. It only took a few minutes and it was ready and hot. We would spread the ears with fresh butter, sprinkle with salt and pepper and eat with our hands. How delicious!
When buying fresh corn for your corn recipes, look for medium size ears of corn with bright plump milky kernels just firm enough to offer slight resistance to pressure. Tiny kernels are a sign of immaturity and very large dark yellow kernels are a sign of toughness from being too old. Use the fresh corn as soon as possible. If you are not using it immediately, store immediately in the refrigerator with the husk on.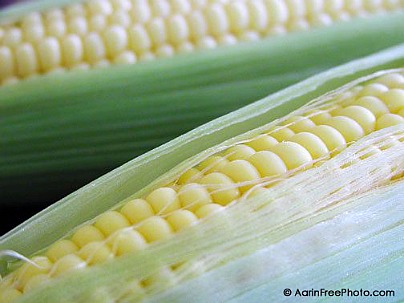 Corn is conveniently available in every supermarket the year round. It can be purchased frozen in packages alone and quite often with other vegetables like Lima beans or green beans. Whole kernel corn and creamed style corn is available in cans; also you will find corn canned with other vegetables. In jars, in the condiment section of the supermarket you will find pickled corn, jars of baby corn and corn relish. Try other corn dishes or grilled corn.

CORN SOUFFLE RECIPE

1 Stick melted butter


2 Beaten eggs


8 Ounces sour cream


1 Can (8ounces) whole kernel corn


1 Can (8ounces) cream style corn


1 Box Jiffy cornbread mix
Preheat oven to 350F degrees.
Add butter to the beaten eggs; add sour cream.

Mix in the corn and Jiffy cornbread mix.
Pour into a greased 8 x 8 inch baking pan.

Bake for 45 minutes or until done.
---
CURRY SOUP RECIPE

1 Can (17 ounces) cream style corn

3 Tablespoons butter

1 Medium slice of onion chopped

3 Tablespoon flour

1 Teaspoon salt

¼ Teaspoon white pepper

1 Cup chicken broth

1 Cup heavy cream

1 Teaspoon curry powder


Put corn in blender or food processor; process and set aside.
Melt butter in saucepan; add onion and cook until soft.
Stir in flour, salt and pepper; mix until smooth.
Add corn, chicken broth, cream and curry; heat thoroughly being careful not to scorch.
Serve hot or cold; if serving cold thin with additional chicken broth and chill.

---
CORN SOUFFLE RECIPE

2 Cups fresh corn

2 Tablespoons flour

2 Tablespoons sugar

½ Teaspoon salt

1/8 Teaspoon black pepper

1 Cup milk

2 Eggs separated

Butter


Mix together corn, flour, sugar, salt, pepper and milk; blend egg yolks into mixture.
Beat egg whites until stiff and fold into corn mixture; pour into greased 1 quart casserole dish.
Dot top with butter; bake for 45 to 50 minutes at 350F degrees.


---
CORN PANCAKE RECIPE

2 Beaten eggs

1 Can (15 ½ ounces) cream style corn

2 Tablespoons sugar

2 Cups pancake mix

½ Cup milk

3 Tablespoons butter


Combine eggs, sugar, corn and pancake mix in large bowl; beat until smooth.
Add milk and blend thoroughly.
Melt butter in large skillet or on griddle; scoop ¼ cup batter onto griddle.
Turn over when bottom is set and top starts to bubble.
Serve with maple syrup.

More Delicious Vegetable Recipes
Go to Painless Cooking Home Page from Corn Recipes