Free twenty-five page guide on Cooking for a Crowd and Easy Entertaining
This guide covers easy entertaining from dinner ideas, menu planning, budget cooking, how to set a table, how to serve wine, table manners, buffet ideas, brunch ideas and tea party ideas.
Sign up for my Free weekly newsletter and receive my guide on Cooking for a Crowd! Enter your email address below.
In the weekly newsletter I cover everything from restaurants that I visits and different products that are used in cooking. And of course recipes are always included and tips on easy entertaining. Some are from the restaurants and others are from our unique friends!
My name is Frances Peffley Moore and I have been cooking for over fifty years. I grew up in a German farm family in the Midwest. I am the youngest of fifteen children, seven brothers and seven sisters. You had to know how cook for a crowd in my family because that was every meal. Since we grew almost everything we ate you had to know how to cook. My foundation for cooking is the German Cuisine and I still fix some of my favorite German dishes. However my passion for cooking really started with some easy dessert recipes and simple, easy entertaining ideas. Desserts have always been my specialty even when I was a little girl. My sisters and Mom were always there to give me those little cake baking tips that seemed to make all the difference in my final product.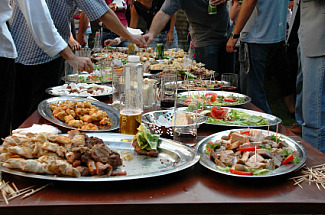 After I was married all of those easy desserts came in handy with four children and a husband. There is always some event going on that requires food whether it is a holiday, birthday, school functions or entertaining. Valentine's Day at school always required some kind of unique Valentine treats. The layer cake recipes came in to use for all the birthdays and graduations we had in our family as well as all of my childrens wedding cakes which I made. Easy entertaining was a must in my life! Some of the best memories my children have take place in the kitchen. They always enjoyed helping with the cookie recipes, especially when the cookies were coming out of the oven. With three sons I made a lot of cookies!

My daughter and her girlfriends used to bake when they were young. They all still remember how they made all the different icing recipes I could come up with at one time. How easy entertaining is when you are among friends! More ended up on the floor than on the cookies they made. Food has always brought our family together. No matter if the recipe was a family secret passed down or something new we picked up and were trying.
You can benefit from my years of knowledge and experience. Sign up for my FREE weekly newsletter and receive my guide on Crowd Size Entertaining. See for yourself that I have the knowledge and expertise.
In later years my husband had a heart condition as well as diabetes. Both conditions we controlled with diet and exercise. My family diet today includes many heart health recipes as well as the use of grape seed oil which has shown to be good for your heart. Diabetic meal planning became a way of life and my husband remained the picture of health until he passed away. Life for him would not have been complete if he had to give up his favorite desserts so instead of deprivation I modified his favorites into a diabetic dessert. Sometimes all it takes is a little knowledge and creativity.
Although I always cooked my family's meals at home and catered all of our special occasions I didn't neglect my professional training. Over the years I would take courses such as candy flower making. I owned and operated my own restaurant, worked at various country clubs where I could expand my creativity with various foods from around the world. I worked at a first class French restaurant and was certified by Paul Bocuse. Bocuse is considered to be one of the finest chefs of the 2oth century. His French cooking is associated with simplicity and freshness. I carried all the skills I acquired under my French training such as making French desserts to the Walt Disney World's Grand Floridian a Five Star Resort. I have always had a joy for cooking no matter what capacity I was working in daughter, sister, wife, mother, student and teacher.
Cooking and party planning are really practical and simple if you have the right instructions. Sign up for my FREE weekly newsletter and receive my guide on cooking for a Crowd and Entertaining and you'll see why.
Let me share my joy of cooking with you and all my easy entertaining tips. Cooking is really simple to learn. It takes a little patience, a good recipe, fresh ingredients and a little instruction; whether you are just cooking for yourself, your family or large crowd entertaining. The purpose of this website is to share my knowledge and passion with you.