Easy Tailgate Recipes; Grilled Swordfish Recipe & Ground Turkey Burger Recipe
Many are asking for easy tailgate recipes; others are asking "what are tailgate recipes?" I have watched during the past decade or so a strange subculture growing from the parking lots of major and minor sports events here in America.
Closely related to barbequing and chili cook offs, this phenomenon has many thousands of people hooked on this entertainment. Fans of all levels of sports gather for this pregame tailgate party atmosphere as the host team displays their eagerness to support their team by celebrating with special easy tailgate recipes and drinks; usually beer or some form of alcohol.
From what I understand of this occurrence, what started as many packing food to hold them over during the game, leaped to an all out cookout from the vehicles tailgates of the parents, coaches and students. These cookout recipes included many BBQ recipes from Barbeque Beef recipes, barbeque pork, chicken, various barbeque side dishes and popular summer recipes. It has now become a way of gathering support "and money" from the community for the teams and the schools. Who doesn't like a party? Today these events are lavish and you will see them taking place all over the country. You will usually spot these people by their uniforms and decorations on the vehicles; most matching, dressed in the schools colors and the vehicles decorated in the schools colors.
Like barbeques or any outdoor grilling, cooking easy tailgate recipes can be a fun way of entertaining; however it can be a disaster if you do not think of safety first. If you are using a grill do not set it on your tailgate. Bring one that has sturdy legs that can be set away from vehicles, trees, shrubbery and everything else; it doesn't take long for something to go up in flames especially if conditions are right. Never leave the grill unattended and have a bucket of water close by for emergencies. Be sure there is adequate ventilation where you are grilling; fumes can overcome you quickly.
Before grilling any easy tailgate recipes, line the grill with a couple layers of heavy duty foil; this makes your clean up job much easier. It also reflects the heat and makes your cooking faster which might be beneficial to you at these events. If the bottom of your grill has vents punch through the foil so as to keep the air circulating. To start the fire pile the charcoals in a pyramid; use charcoal lighter to start the fire and NEVER use gasoline or kerosene. Let the coals burn until they are covered with grey ash; then spread out in a single layer before placing food on racks.
Many easy tailgate recipes can be prepped at home before heading to the tailgate party; this will save time once there leaving more time to visit with friends. Anytime when dealing with food, whether it has been made at home or food to be cooked at your event, safety precautions should be taken to keep it fresh and free of bacteria. This means meats or anything creamy must be packed in ice and kept cold until you are ready to cook it or eat it. Likewise hot foods should be kept hot. Great events can quickly turn into disasters if effort is not put into ensuring good quality food at cook outs.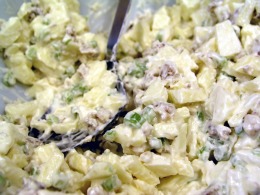 EASY POTATO SALAD RECIPE
This easy potato salad recipe is one of the easy tailgate recipes that you must be careful with in the heat. Refrigerate it at home until cold and pack in ice to transport; keep it in ice until ready to eat.
1 Quart store bought deli potato salad


4 Hard cooked eggs divided


1 ½ Teaspoon celery seeds


2 Teaspoons Dijon mustard


2 Tablespoons finely chopped fresh parsley


1 Teaspoon seasoned black pepper


Paprika
Place potato salad into a plastic bowl with lid; peel and chop 3 hard cooked eggs in bowl.
Add celery seeds, mustard, parsley and seasoned pepper; mix well and smooth out top.
Wipe rim and edge of bowl clean with damp cloth; peel remaining egg and slice over top.
Sprinkle with paprika, cover with lid and refrigerate.
---
GRILLED SWORDFISH RECIPE for sandwiches
Preheat grill to medium hot.
Coat each side of swordfish steak with mayonnaise; place on oiled rack of grill 4 to 6 inches from coals.
Cook fish 5 to 6 minutes or until fish is light golden brown on the underside; turn fish and cook through.
NOTE: Do not overcook; measure thickness and cook 10 minutes per inch of thickness turning once.
Serve on Kaiser Rolls with sliced tomatoes, lettuce, onion and tartar sauce.
---
GROUND TURKEY BURGER RECIPE for sandwiches
1 Pound ground turkey


¼ Cup chopped onions


¼ Cup shredded Cheddar cheese


2 Teaspoons dried thyme


2 Teaspoons Worcestershire sauce


Dash hot pepper sauce


Salt/pepper


4 Slices bacon


4 Hamburger buns
Shape ground turkey into 8 thin patties.
Sprinkle equal portions of onion, cheese, thyme, Worcestershire sauce, hot pepper sauce, salt and pepper over half of the patties.
Cover seasoned patties with remaining half of patties; press edges to seal.
Wrap a slice of bacon around outside edge of each burger and secure with toothpicks.
Place on grill 4 to 6 inches from hot coals and cook 4 to 6 minutes per side or until done.
Place cut side of buns down on grill to toast.
Serve turkey burgers on toasted buns with sliced tomatoes, lettuce and choice condiments.
---
CHICKEN KABOBS RECIPE WITH JALAPENO SAUCE RECIPE
¼ Cup melted butter


2 Tablespoons lime juice


1 Clove minced garlic


¼ Teaspoon salt


Freshly ground black pepper


1 Pound boned chicken cut in strips


1 Small pickled jalapeno pepper


1 Cup sour cream


2 Tablespoons honey
Combine melted butter, lime juice, garlic, salt and pepper in a large shallow dish.
Add chicken strips and stir to coat; cover and refrigerate at least 1 hour.
Thread chicken strips onto 4 metal skewers; discard marinade.
Place skewers on grill over hot coals 4 to 6 inches from coals.
Cook 8 to 10 minutes turning occasionally until chicken is done.
Trim stem from jalapeno; remove seeds and veins.
Blend in processor jalapeno, sour cream and honey until smooth; serve with kabobs.
More Delicious Barbeque Recipes
Go to Painless Cooking Home Page from Easy Tailgate Recipes