Learn How to Make Bagels with Great Recipes
When I opened a restaurant years ago I did not know how to make bagels or even much about them. This was not something that was in my cuisine in my young life.
In Florida I quickly discovered that bagels were as common to some people as French toast to many of us or even hot cross buns to the British people. Most people prefer to have this special recipe on an Easter buffet than some of the great Easter cakes.The great thing about making these at home is that you can diversify the recipe by adding fruits, herbs and spices which add great flavor.
Learn how to make bagels for Jewish Passover. Passover recipes are prepared by the Jewish people the same season as Christians prepare Easter Recipes. Passover is the best known of the Jewish holidays because it ties in with the history of the Christian celebration of the Last Super.
The spring festival of Passover is very important to the Jewish people. It is a seven day holiday, the first and last days are legal holy days with abstention from work, special prayer services and holiday meals.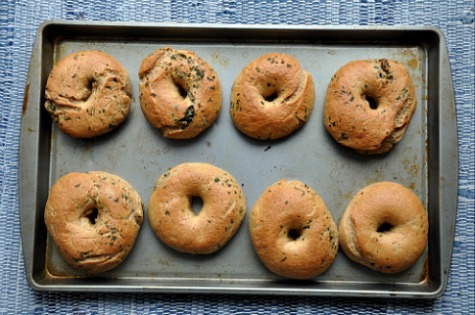 Great care is given to housecleaning leading up to Passover. All leavening must be removed from the home. Every detail is given to cleaning all cabinets and every crack in the home prior to preparing Passover recipes.
If you know how to make bagels, you see a big difference in the following bagel recipe. The Passover bagel is more like what we call cream puff shells due to the absence of any leavening... The center is hollow and can be used for sandwiches or filled.
Combine the water, sugar, salt and shortening in a saucepan and bring to a boil.
Remove from heat and stir in matzo meal.
Stir in 1 egg at a time and mix well.

Drop dough by tablespoon onto a well greased cookie baking sheet. (Makes 8)

Reduce oven temperature to 350F degrees and continue baking for another ½ hour.
Remove from oven and pierce each with the point of a sharp knife to allow steam to escape.
When cool store in a plastic bag.

---
Years ago when I had a restaurant, customers asked me if I knew how to make bagels; the New York bagel recipe or better Brooklyn bagels. I was ordering all the bagels at that time from a local commercial bakery thinking these were good. I was not experienced at that time with the various tastes of bagels. My guests were not pleased with these bagels which I was purchasing already made so I decided to make my own. First I had to do a little research to see exactly what a New York bagel recipe was. I found that the New York bagel recipe or so called Brooklyn bagels were boiled before they were baked. This does make a difference and I was so glad I learned how to make bagels!
4 ¼ to 4 ½ Cups flour


2 Packages active dry yeast


1 ½ Cups warm water (110F degrees to 115F degrees)


3 Tablespoons sugar


1 Tablespoon salt


1 Tablespoon sugar
In a mixer bowl, combine 1 ½ cups flour and the yeast. Combine the warm water, 3 tablespoons sugar and salt. Pour liquid mixture over the flour mixture. Beat at a low speed for about a minute, scraping sides of bowl. Beat 3 minutes at high speed. Stir in as much remaining flour as you can to mix by hand with a spoon.
Turn dough out onto a floured board. Knead and add in enough flour to make a stiff dough. Continue kneading until smooth and elastic. Divide dough into 12 portions; shape into smooth balls. Punch a hole in the center of each and gently pull hole to enlarge. Place on a greased baking sheet. Cover and let rise for 20 minutes. Broil 5 inches from heat for 1 ½ to 2 minutes on each side. (Do not brown)
Preheat oven to 375F degrees.
Add 1 tablespoon sugar to 1 gallon water and bring to a boil; reduce heat. Drop bagels with a large spoon in hot water 4 at a time for 7 minutes turning once; drain. Place on a greased baking sheet. Bake for 25 to 30 minutes.
Add to flour mixture for herb bagels: 1 teaspoon dried dill, 1 teaspoon crushed tarragon, 1 teaspoon dried onion powder, ½ teaspoon dried garlic powder
Add to the flour mixture for Parmesan bagels: ¼ cup grated Parmesan cheese
Add to flour mixture: ½ Cup fresh blueberries or fresh chopped strawberries, washed, drained and dry.
---
4 TO 5 Cups flour
1 Package dry yeast
2 Teaspoons salt
1 ½ Cups hot water (120F to 130F degrees)
2 Tablespoons honey or sugar
1 Egg white
1 Teaspoon water
Combine 1 cup flour, yeast and salt in a bowl.
Stir in hot water and honey and beat until smooth; about 3 minutes.
Stir enough of the remaining flour in to make a soft dough.
Turn out on a floured surface and work in flour until dough is stiff enough to knead; knead until elastic about 5 minutes.
Cover dough with bowl and let set 15 minutes.
Divide dough into 12 equal parts; shape each into ball and flatten.
Poke hole in center with fingers and rotate to enlarge hole to about 1 to 2 inches; cover and let rise about 20 minutes.
Boil water in a large shallow pan; 2 inches deep.
Drop in a few bagels at a time and simmer about 7 minutes;
Place bagels on a lightly greased baking sheet; brush with mixture of egg white and 1 teaspoon water.
Bake at preheated oven 375F degrees for 30 minutes or until done.
---
WHOLE WHEAT BAGEL RECIPE
Learn how to make bagels the "whole grain way" with whole wheat flour.
8 Cups whole wheat flour


1 Tablespoon sea salt


2 Packages dry yeast


2 Cups lukewarm potato water (To make boil diced potatoes in water until tender; drain)


1/3 Cup honey


¼ Cup vegetable oil


4 Lightly beaten eggs


2 Tablespoons raw sugar


2 Quarts boiling water
Sift flour and salt together in a large bowl.
Add yeast to 1/3 of potato water and set 5 minutes; stir into flour mixture.
Add honey and oil to remaining potato water; stir into flour mixture.
Add eggs and beat to form dough; turn onto lightly floured surface and
knead 10 minutes.
Dough should be quite firm; add more flour if necessary.
Place dough into clean buttered bowl, cover and let rise until double in bulk (1 ½ to 2 hours).
Preheat oven to 450F degrees.
Knead dough again until smooth and elastic; divide dough evenly into 25 to 30 pieces.
Roll pieces into six inch long ropes and ¾ inch wide; pinch ends together to form donut shapes.
Bring water to a boil and drop in the raw sugar.
Drop bagels in one at a time; when they surface turn them over and boil 1 minute more.
Place bagels on an oiled baking sheet and bake 10 to 15 minutes or until brown and crisp.
---
When you learn how to make bagels use your imagination for different bagel toppings. You can toast bagels or eat them fresh. Of course good butter is always great on bagels. About anything you would eat on a piece of toasted bread will be delicious on a bagel. Many people love cream cheese and lox (or smoked salmon) on bagels. Jams, jelly, apple butter, honey and molasses are also delicious. Try butter with a mixture of cinnamon and sugar. See what you can come up with and enjoy learning how to make bagels.
Go to Painless Cooking Home Page from How to Make Bagels