How to Make Cupcakes for Cupcake Wars and More
How many of us know how to make cupcakes? I mean real gourmet cupcakes with delicious cupcake fillings and luscious cupcake frosting. This is what I experienced recently with a visit to Babycakes (how appropriate "baby cakes") Cupcakery in Kingsport TN.
I was reading about the contest put on by Food Network called Cupcake Wars. Many cooks, who know how to make cupcakes, are developing a wide selection of flavors and designs. I found this article on Cupcake Wars by Food Network very interesting so I kept reading. How exciting!
Soon after I read about the Cupcake Wars, as fate would have it, more information came on the news about this contest. I couldn't believe it but within the driving area of my friend was one of the contestants. Babycakes Cupcakery was in Kingsport TN, the town where my good friend, Bonnie lives. I immediately made arrangements to meet Bonnie and together we would visit Babycakes Cupcakery.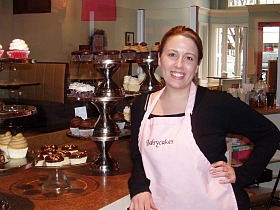 Natalie Shortridge is the owner and operator of Babycakes Cupcakery and what a sweet young lady. She told us she is always in there working every day at 231 Broad Street in Kingsport. She gives credit to her husband Nick for all of his help, and when her three children (ages 5, 8 and 10) are not in school, they also lend a hand. I must tell you what a pleasure it was to meet Natalie. She is filled with lively personality and that wholesome Southern charm. Check out her video (You Tube Natalie Shortridge) and you will see what I mean!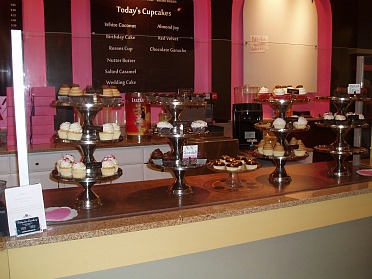 Natalie taught herself how to make cupcakes at a very young age. Actually she and her brother would cook dinner and have it ready when her parents when they came home from work. Sometimes it is just in the blood! I know what she is saying. It was only two years ago that she got serious about her cupcakes and look how far she has come.
Natalie is originally from Abington VA. She was a stay at home mom, always baking her delicious cupcakes for her family and friends. She tested her skill by selling some at the farmers market and they were a hit. Then she moved on to selling in locals shops in Abington VA and again her cupcakes were a hit. Still selling her products in Abington VA, she decided to open her beautiful bakery storefront in Kingsport TN. Now she has hired more help from people who know how to make cupcakes.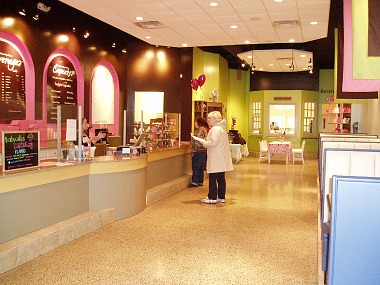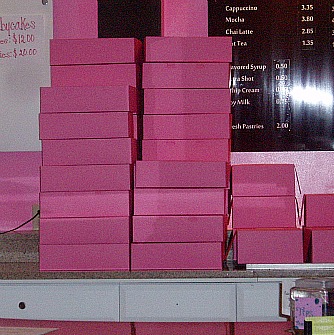 After entering the bakery and getting beyond the heavenly smell of baking cupcakes, you will see Natalie's ingenuity and creativity at work. The layout of Babycakes and the colors of the painted walls could not be any more perfect. Stacks of pink boxes to place the cupcakes in have become a signature for her bakery.
The Cupcakery makes about 30 to 32 flavors of cupcakes, always serving at least twelve each day. The establishment does personalized birthday parties for children, where the children can decorate their own cupcakes if they like. Additional cupcakes are provided for the adults to enjoy.
Because Babycakes Cupcakery knows so well how to make cupcakes, they do weddings also. This has become a big trend to have beautifully arranged cupcakes for weddings. Just think no cake cutting!
I have to confess to you, I had to try some of the products! How could I tell you how good these cupcakes are if I never tried them! Natalie understands the weight problem when you are in the food business. Like me, Natalie is a member of the Weight Watchers Point Plus Program. She has developed lemon cupcakes, a light lemon cupcake which has three points. It wasn't ready when I was there but I can assure you that it is delicious after trying her other cupcakes.
Anyway, back to my samples. I tried to be good so I suggested that our group try a bite of each cupcake, which we did. However, my friend Bonnie says I am a bad influence on her dieting but she is not kidding me she wanted to try them as much as I did.
White Coconut
Natalie really knows how to make cupcakes, especially the chocolate ones. First we tried the coconut cupcakes; this had a hint of almond and of course I always love coconut. Bonnie likes red velvet cupcakes, so she could not wait to try that flavor; again very good but the red velvet cake has never been a favorite of mine.
Red Velvet Below
Salted Caramel Above
The last two that we sampled were chocolate and how delicious! One with a caramel filling called "salted caramel" and having a chocolate butter cream frosting, drizzled with caramel and slightly sprinkled with salt. Fabulous! The other chocolate cupcake, called "Reese Cup" had a wonderful peanut butter frosting which tasted like a peanut butter fudge recipe without the chocolate. Again it was fabulous!
Reese Cup
We stopped here as a necessity. I could have tried more! After all it was only a bite of each! I can't wait to get some of those 3 point Weight Watchers cupcakes she makes! I am allowed 29 points a day!
Some of the other ones that we did not try are Wedding cake, Nutter Butter, Chocolate Ganache, Chocolate Birthday, Almond Joy, Carrot, Banana Cream, Smores and Vanilla Birthday. There are more; like I said over 30 different cupcakes.
Natalie, thank you so much for your hospitality. We all enjoyed our visit with you and trying your delicious cupcakes. We wish you the very best in this competition, Cupcake Wars by Food Network. You certainly know how to make cupcakes and we are all cheering for you!
---
SPICE CUPCAKES

1 Cup softened butter

1 ¼ Cups brown sugar

2 Eggs

2 1/3 Cups flour

1 Teaspoon baking powder

1 Teaspoon baking soda

1 Teaspoon salt

1 ½ Teaspoons cinnamon

1 Teaspoon ginger

½ Teaspoon allspice

½ Teaspoon cloves

1 Cup milk


Cream butter and sugar together until creamy and smooth; add eggs and beat until blended.
Sift together flour, baking powder, soda, salt and spices; add to creamed mixture alternating with milk.
Mix until blended; spoon batter into paper lined cupcake tins.
Bake in preheated oven at 350F degrees about 15 minutes or until pick comes out clean.
Cool and frost with favorite icing.

More Great Cake Baking Tips and Recipes
Go to Painless Cooking Home Page from How to Make Cupcakes