How to Roast Pork Pot Roast 
When learning how to roast pork you should know that often a whole pig is roasted on a spit over open fire; unlike a larger animal like beef. However, like the beef, "a roast" comes from one of the three parts of the pig; the shoulder, middle and hind sections.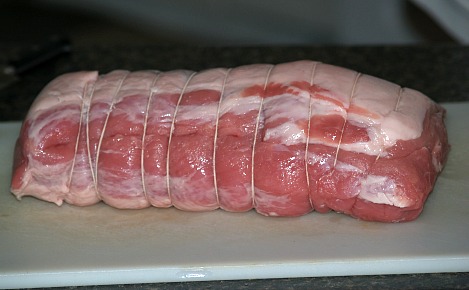 How to Roast Pork
A fresh pork shoulder roast is lean and should be slow cooked. It will have a fat skin covering which will be placed on the top in the pan with the meat side down. Make cuts through the skin and sprinkle with your favorite seasonings.
The middle section of the pig produces "loin" roasts which have the more tenderness. The meat on the rib end will have better flavor.  I always cook these roasts in a slow oven without any liquid added.  Usually the hind section is where they take the hams from; roast which have been cured. These roasts can also be cooked fresh; cook slowly until fork tender for delicious flavor.
When talking about how to roast pork, I must tell you that my all time favorite is an Italian pork recipe which is actually a stuffed pork recipe. To add to the delicious flavor of the pork recipe, you will need to learn how to make a Marsala sauce and combine it with a Portobello mushroom recipe.
For this recipe you will need a boneless rolled pork roast about 4-5 pounds in size. It is a solid piece of pork about 12 inches in length. You can get a good piece for a good price at Sam's and Costco. When you buy it there you will actually get 2 pieces rolled into one. Cut the string off and you will have 2 roasts. I separate the two and rewrap one and put in the freezer for later use. If you are having a large crowd, you might want to fix both of the pieces when you know how to roast pork.
HOW TO ROAST PORK and make stuffed pork recipe
Preheat oven to 375F degrees.
Place the piece of pork on a cutting board; you will want to cut the meat in a jellyroll fashion. With a sharp knife, start cutting lengthwise about ¾ inch from the outside of the meat. Slice it to about ¾ inch from the bottom then turn to continue cutting, unrolling as it goes. Eventually the meat should lay out flat and all be about ¾ inch thick.
Sprinkle the meat with salt and pepper.
Sprinkle the meat over the salt and pepper with several cloves of fresh minced garlic.
On top of the garlic layer a nice layer of fresh cleaned and dried spinach.On top of the spinach, sprinkle crumbled feta cheese.
Roll roast up (like a jelly roll) and tie with meat string.
Spray shallow roasting pan with non stick oil and place pork roast in pan.
Sprinkle with salt and pepper.
Bake about 1 ½ hours or until meat is done and top is light brown.
Slice pork roast about ¾ inches thick and arrange in a shallow serving dish.
Spoon mushrooms and garlic along sides of slices.
Sauce can be added to the dish or served in another bowl along side of the pork.
HOW TO MAKE MARSALA SAUCE
This is a delicious how to roast pork with a Marsala sauce. 
4 Cups water (or chicken broth and skip chicken seasoning)
4 Teaspoons chicken seasoning
2 Cups sliced Portobello mushrooms
5 Whole cloves garlic
2 Tablespoons corn starch
Added water
Kitchen bouquet
Black pepper
½ Cup Marsala wine
Combine 4 cups water, mushrooms and garlic in a pot and bring to a boil.
Add chicken seasoning and cook about 15-20 minutes or until mushrooms and garlic cloves are tender.(I use a condensed soup base 1 teaspoon per 1 cup water, you can taste for a good chicken flavor)
Slowly add a little water to the cornstarch and blend until pourable.
Slowly add cornstarch mixture to boiling liquid while stirring; cook until slightly thickened.
Add black pepper and a few drops of Kitchen bouquet to darken the color.
Last add the Marsala wine; stir in and cook for 5 more minutes.
---
PORK POT ROAST
The following is how to roast pork as a whole roast seasoned with spices.
4 Pounds boneless pork roast
2 Teaspoons salt
1 Teaspoon black pepper
¼ Teaspoon thyme
¼ Teaspoon oregano
¼ Teaspoon fennel
1 Cup flour
3 Tablespoons cooking oil
1 Cup chicken broth
1 ½ Cups apple juice
2 Cloves minced garlic
½ Teaspoon nutmeg
Preheat oven to 375F degrees.
In a small bowl combine the salt, pepper, thyme, oregano and fennel; rub spice mixture all over the roast.
Dredge the seasoned roast in the flour.
Heat oil in a large Dutch oven roaster pan; place pork roast in the oil and brown on all sides.
After browning add the apple juice, chicken broth, garlic and nutmeg to the pan.
Cover and bake for about 1 ½ hours or until roast is tender.
When roast is done, delicious gravy can be made from the liquid in the pan.
---
PORK BARBEQUE
When learning how to roast pork, you will surely find that a favorite of most people is "barbeque". This is a great "slow cooker" recipe.
4 to 5 Pound pork shoulder roast
2 Cups water
2 Sliced onions and 1 chopped onion
9 to 10 Whole cloves
Place half of the sliced onion in the slow cooker; add meat water and cloves.
Add remaining sliced onion on top of meat; cover and cook on low 8 to 12 hours.
NOTE: On stove top in Dutch oven cook 4 to 5 hours.
Cool and drain off water; remove fat and bones from meat.
Shred the meat and place it back in the slow cooker.
Pour 16 ounces of your favorite barbeque sauce on top; top with 1 finely chopped onion.
Cook 1 to 2 hours on high or 4 to 5 hours on low.
---
PORK LOIN WITH CHERRY SAUCE
This is a wonderful how to roast pork recipe with a flavorful sauce.
4 to 5 Pound pork loin roast (Bone, roll and tie)
½ Teaspoon salt
½ Teaspoon black pepper
Dash dried crushed thyme
Sauce:
1 Cup cherry preserves
¼ Cup red wine vinegar
2 Tablespoons light corn syrup
¼ Teaspoon salt
¼ Teaspoon cinnamon
¼ Teaspoon nutmeg
¼ Teaspoon ground cloves
¼ Cup toasted slivered almonds
Preheat oven to 325F degrees.
Season pork by rubbing with mixture of salt, pepper and thyme.
Place on rack in 9X13 inch baking pan.
Bake uncovered about 2 ½ hours; prepare sauce.
Combine preserves, vinegar, syrup, salt, cinnamon, nutmeg and cloves in a saucepan.
Bring mixture to a boil stirring occasionally; reduce heat and simmer for 2 minutes.
Stir in almonds; spoon over pork roast.
Bake additional 30 minutes or until meat thermometer registers 170F degrees in center of meat.
Serve sauce with roast; serves 10 to 12.
Painless Cooking

›
Pork
› Roasting Pork