How to Store Potatoes with Recipes
If you are wondering how to store potatoes, you should understand just what kind of vegetable they are. These hardy vegetables, potatoes and sweet potatoes, are tubers and they grow underground.
They develop a very thick flesh that is sugar filled in the immature state and very starchy when older. Many potatoes are harvested while still young and tender, referred to as "new potatoes"; others are left in the fields to mature so their skins become tough so they are easy to ship and store.
The mature specimens of potatoes are what we enjoy all through the fall and winter months; knowing how to store potatoes makes it possible to have them until next year's crop is ready. Leave tubers in the ground about two weeks after the vines have died; this allow for the skins to toughen up. Any potato being stored should be firm, not having any signs of spouting or bad spots. Store roots and tubers unwashed because any moisture will encourage decay. Both potatoes and sweet potatoes should be stored outside the refrigerator. When storing potatoes in a refrigerator, potatoes will develop too much sweetness and sweet potatoes will develop hard cores. Store in a dark humid well ventilated room; do not store with apples.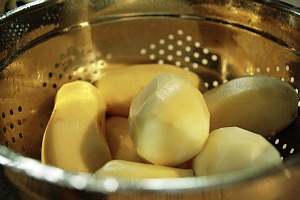 CANNING POTATOES
Now how to store potatoes; that is my favorite way of storing small new potatoes. I love canning potatoes like beans or corn they can be stored or canned; the new potatoes when canned are so delicious and convenient. Since these are early potatoes, they are small and pretty uniform. Wash freshly dug potatoes that are uniform in size and color; then gently boil until peel can be RUBBED off. Do not stick potatoes with a fork or knife. Pack hot peeled potatoes in hot sterilized jars; cover with boiling water leaving 1 inch head space. Adjust the lids and process under 10 pounds of pressure; pints for 55 minutes and quarts for 90 minutes.
You can also pressure can larger older potatoes and sweet potatoes if you are looking for how to store potatoes. They both must be hot packed. Wash, peel and cut POTATOES into ½ inch cubes; dip cubes in brine made with 1 teaspoon salt and 1 quart water to prevent them from darkening. Drain and then cook in for 2 minutes in boiling water. Pack in hot sterilized jars to within one inch from top. Process at 10 pounds of pressure; 35 minutes for pints and 40 minutes for quarts. SWEET POTATOES need to be washed and sorted for size also. Boil for 20 to 30 minutes to make it easy to slip off the skins. Cut in uniform pieces about 1 inch chunks; pack in hot sterilized jars. Cover with boiling water leaving 1 inch head space at top. Cap and process with 10 pounds pressure; 55 minutes for pint jars and 90 minutes for quart jars.
You might also want to look into frozen sweet potatoes and other potatoes if you want to know how to store potatoes. Although you can freeze potatoes just like you can squash, I do not like them as well as canning potatoes. They do not last as long as the ones which are canned. As with canning, the potatoes have to be cooked before freezing. Pan fried cubed potatoes, sliced potatoes and French fries do freeze quite well. For these choose a waxy all purpose potato. You can also bake potatoes and sweet potatoes; then cut and package for freezing. NOTE: If you do not have a deep freeze, it is better to can; a deep freezer is colder than a refrigerator freezer so the foods in the deep freezer preserve better.
SWEET POTATO CRUNCH RECIPE
After you have learned how to store potatoes, your canned sweet potatoes can be used to make this delicious sweet potato crunch recipe.
3 Cups canned sweet potatoes drained
½ Cup melted butter
2 Beaten eggs
¼ Cup milk
1 Cup sugar
1 Teaspoon vanilla
1 Cup coconut
Topping:

½ Cup flour
1 Cup brown sugar
1 Cup pecans
½ Cup melted butter
2 Tablespoons water
Mash sweet potatoes; mix with ½ cup melted butter, eggs, milk, sugar, vanilla and coconut.
Place in a greased casserole baking dish; mix topping.
Combine flour and sugar in bowl; stir in pecans.
Add ½ cup melted butter and hot water; spread on top of sweet potatoes.
Bake at 350F degrees for 30 minutes.
---
NEW POTATO RECIPE
When looking at how store potatoes, canning was a way to store them and quite often they have stayed good for over a year; I didn't have to worry about them rotting and getting soft.
2 Quarts canned new potatoes
½ Cup butter
1 Can (10 ounces) cream of chicken soup, condensed
1 Pint sour cream
1 ½ Cups grated sharp Cheddar cheese
Black pepper to taste
Drain potatoes and grate.
Heat butter and soup; add sour cream and cheese and blend into potatoes.
Add pepper to taste and dump into a large greased casserole dish.
Bake uncovered at 300F degrees for 30 to 45 minutes or until brown on top.
---
POTATO PEA SALAD RECIPE
After I learned how to store potatoes, I found by canning new potatoes I was able to quickly prepare many great potato recipes.
1 Quart canned new potatoes
½ Pound snow peas
1/3 Cup mayonnaise
1/3 Cup plain yogurt
3 Tablespoons Dijon mustard
1/3 Cup finely chopped red onion
2 Tablespoons minced fresh dill
1 Clove minced garlic
Salt to taste
Microwave peas or place in boiling water until tender crisp; rinse with cold water until cold and drain.
Combine mayonnaise, yogurt, mustard, onion, dill, garlic and blend.
Cut potatoes into small chunks; combine with peas and mayonnaise mixture.
Add salt to taste and toss to coat; refrigerate at least 1 hour before serving.
---
SWEET POTATOES WITH APPLES
2 Quarts canned sweet potatoes
½ Cup molasses
½ Cup butter
4 Medium apples core and cut in ½ inch slices
¼ Cup orange juice
1 Tablespoon grated orange rind
½ Teaspoon salt
Heat ¼ cup molasses and ¼ cup butter in skillet; add apples and turn to coat.
Simmer apples for a few minutes until barely tender.
Drain potatoes and mash; add remaining molasses, remaining butter, orange juice, rind and salt.
Beat potato until light and fluffy; mound on top of apples to serve.
---
NEW POTATOES RECIPE
2 Quarts canned new potatoes
Salt/ pepper
1 Clove minced garlic
¼ Cup melted butter
2 Tablespoons lemon juice
½ Teaspoon paprika
Heat butter, garlic and lemon juice in a large skillet.
Drain potatoes, cut in small pieces and add potatoes to skillet; heat slowly tossing to coat.
Sprinkle with paprika, salt and pepper; serve when thoroughly hot.
More Great Tips and Recipes on Canning Foods
Go to Painless Cooking Home Page from How to Store Potatoes