Irish Recipes and Irish Food History
A few Irish recipes are included in most of our cooking. When St Patricks day rolls around each year, I always say we all have a little Irish in our blood.
The celebrating and partying way of life is in the blood and we all love a little excitement in our life. When it comes to St Patricks day recipes, we all think about corn beef and cabbage. Actually, I have been told that this dish is America-Irish. Anyway, I have cooked corned beef and cabbage for many years for St. Patricks Day Food.
Irish recipes are influenced mostly by the crops grown and the animals raised. The early introduction of the potato to their cuisine has had a great influence in developing delicious Irish potato recipes. Cattle, pigs and sheep were raised through much of Irelands history these meats are often part of a St. Patricks Day menu. Until the nineteenth century this meat was a luxury reserved only for the wealthy. Of course the making of alcoholic beverages has had a great impact on Irelands culture also. Irish appetizer recipes reflect the various tasty meats and vegetable products from this land.
Corn Beef and Cabbage is thought to be a traditional Irish recipe although it is said to have originated here in this country; still very good.

Most of the St Patricks Day Food has become traditional recipes to Americans; they are so flavorful.

Try some great Irish Potato Recipes and learn about how the potato crop became so important to the Irish people.

Hearty stews, soups and breads are all a part of the St Patricks Day Menu.

Irish Appetizer Recipes are made with typical Irish ingredients; potatoes, turnips, corn beef and sausage.

What is the story behind Mulligan Stew? How do you make it?

A hearty Lamb Stew is typical of the Irish cuisine; different ingredients and seasonings change the recipes.

A Colcannon Recipe is made with potatoes and greens; try my original one made with mashed potatoes and kale. It is delicious!

Ireland's famous beer is what makes the Guinness Cake so special; learn about the cake and the beer.

The Irish Whiskey Cake is the traditional wedding cake; made with lots of candied fruit.

St Patricks Day Desserts can be almost anything good especially if it has "green" in it.

Irish Cakes can be made colored green or using local popular ingredients of Ireland.

My Irish Cookies are pretty decorated sugar cookies or green shamrocks but the traditional Irish cookies are ones like lace cookies or ones made with local ingredients like rhubarb bars and mint thumbprints.

Great Irish Desserts made with fruits like cherries, apples and rhubarb plus some are made with cheese.

The most famous bread in Ireland is the Irish Soda Bread; made without yeast.

Potato recipes are the basis of most Irish meals. After beginning as small crops, the potato became the main food crop of the poor. It soon became the staple crop of Ireland. You will find potatoes in dishes like mulligan stew, lamb stew, Irish bread recipes and many dessert recipes.
This year I will be making my Colcannon recipe for St Patricks Day. It is my version so I don't claim it as one of the traditional Irish recipes.
Colcannon with Sausage
The local production of the popular Guinness beer is felt throughout the culture. Besides drinking, it is also used in the cooking of Irish cuisine. The beer is characterized by its unique flavor and dark color. The Guinness Cake has been made popular by this unusual beer.
Ireland is also famous for its Irish whiskey. It is believed to be one of the oldest distilled beverages in Europe. Like the beer, the whiskey is also used in the cooking. Many of us are familiar with the delicious Irish cream. This cream liqueur has 15 to 20 percent alcohol in it and is good for flavoring many drinks and foods. The Irish whiskey has made the Irish Whiskey Cake popular which is also known as the Irish Wedding Cake. Creme De Menthe is also popular in many St Patrick's day desserts and it is one of my favorites to use in frosting especially Irish cakes.
Most of the Irish recipes contain the locally produced Irish butter. I must add that their butter is the best I have eaten. We actually did a taste test between several butters here at the farm with friends and the Irish butter won hands down. I have used it in Irish cookies like the lace cookies. I have made cookies for many years, especially for St Patricks Day for my children and their school classes. I call them Irish Cookies but they are only Irish because they are green shamrocks made from a sugar cookie recipe.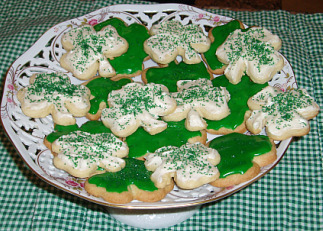 Many of the other Irish desserts are apple recipes. Apples have been grown in Ireland for thousands of years. It makes good sense why many of the delicious dessert recipes have apples in them. Much like here in the United States they have apple pie, apple crumble, apple fritters and apple dumplings.
Among the Irish recipes, I must mention the Irish soda bread. You might remember in one of my newsletters I wrote about the Raglan Road Irish Pub at Downtown Disney. They serve this bread with a Guinness dipping sauce. It is so delicious! This wonderful bread is enjoyed any time of the year but is a tradition on St Patricks day. It is crusty on the outside but cake-like on the inside. It is great with any meal or anytime of the day.
I hope this gets you started on your St Patricks Day celebration and you have a wonderful time.
HOW TO COOK RHUBARB
Rhubarb is grown in Ireland and many recipes are made from it.
8 Cups chopped rhubarb
½ Cup butter
3 Cups sugar divided
1 ½ Cups flour
½ Teaspoon salt
1 ½ Teaspoon baking powder
½ Cup milk
2 Tablespoons cornstarch
1 Cup boiling water
Spread rhubarb evenly in a greased 0 X 13 inch baking pan.
Cream butter, 1 ½ cups sugar, flour, salt and baking powder alternately with milk.
Spread mixture over rhubarb; combine remaining sugar with cornstarch and sprinkle over batter.
Pour 1 cup boiling water evenly over all; bake 1 hour at 375F degrees.
Share Your Favorite Irish Dishes?
Do you have a favorite Irish Dish? Share it!
What Other Visitors Have Said
Click below to see contributions from other visitors to this page...

Recipes for Irish Food Not rated yet
My favorite dish is a traditional Colcannon Recipe. Ingredients: 3-4 medium potatoes, peeled and quartered 3 tbsp. milk or unsweetened/plain soy milk 1/4 …
Go to Painless Cooking Home Page from Irish Recipes