Lent Recipes and Fat Tuesday
Lent recipes are very popular every year at this time. Christians around the world traditionally give up different foods from their diets.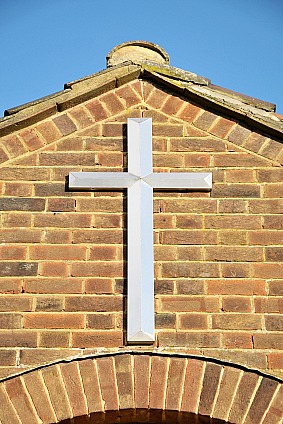 Prayer and this sacrifice of certain foods are done for a period of time leading up to the crucifixion and resurrection of Jesus Christ which would be Easter.
This is one occasion which the Lord through His Word, the Bible instructs us to celebrate.
Different denominations celebrate this period in different ways.
Many extend the period of time over forty days sacrificing with a very strict diet using Lent recipes that have no meat, fish, cheese, eggs or dairy products.
VEGETABLE SOUP RECIPE
The following is a good vegetable soup for Lent.
4 Tablespoons olive oil
½ Cup chopped celery
1 Small chopped onion
2 Cloves minced garlic
3 Large diced potatoes
3 Diced carrots
1 Small sliced zucchini
1 Small head cabbage, chopped
2 Cups diced tomatoes
2 Tablespoons tomato paste
2 Tablespoons chopped parsley
1 ½ Teaspoons salt
½ Teaspoon black pepper
2 Tablespoons rice
2 Cups water
Put the olive oil n a large pot; add the celery, onions, garlic, potatoes, carrots, zucchini and cabbage.
Cook vegetables for 10 to 15 minutes in the olive oil.

Add the remaining ingredients and simmer about 1 hour or until all vegetables are tender. (May need to add a little more water but soup should be thick)
---
The period of forty days comes from the Gospels where Jesus spent forty days fasting in the desert before he began His ministry. Some denominations calculate the time differently and some exclude certain days such as the weekends. They might have a shorter period of time and sacrifice only one or two foods. There are denominations of Christians who do not publically observe Lent at all. They believe that the Lord's scriptures teach that prayer and sacrifice should be done in private and secrecy.
Most of you have heard of the Mardi Gras season, Carnival season or Fat Tuesday, all terms related to the period leading up to Lent. Mardi Gras is French for Fat Tuesday meaning the practice of eating richer fatty foods before ritual fasting with Lent recipes begins. Other countries sharing the Christian traditions observe in similar ways. In England, Shrove Tuesday is a time for making your confessions before Lent begins. Being the melting pot that the United States is, all the different customs are celebrated here.
For many cleaning the home is as important as cleaning the body and spirit. The first day of Lent is the beginning of spring house cleaning. All the walls get cleaned or maybe a fresh coat of paint. The kitchen especially is thoroughly cleaned; cabinets inside and out. Food storage is cleaned and organized for another year. As family traditions dictate, tables are set and stocked with foods for the occasion if visiting friends and family should come.
Lent recipes are usually passed down from generation to generation. For most cultures vegetarian recipes or vegan recipes are acceptable. For many casserole recipes or other recipes with fish are quite acceptable. If you are not sure and you plan to host a dinner for Lent, stick with recipes that have no meat, poultry, fish, eggs, dairy products, olive oil or wine. Sometimes butter substitute, egg substitute and other substitutes are allowed. Even though many foods are sacrificed, the ones allowed can be flavorful and delicious.
In many countries Lent recipes consists of a lot of sweets; sweet breads, cakes, sweet rolls and puddings are plentiful during the Lent season. This is why a lot of people complain of gaining weight during this time. It is like Christmas when we have an abundance of food. Most sweets are acceptable with most cultures, so the tables are always filled for visiting guests.
APPLESAUCE CUPCAKES
½ Cup vegetable oil
1 Cup applesauce
1 Cup sugar
1 Teaspoon baking soda
¼ Cup raisins
2 Cups flour
1 ½ Teaspoons cinnamon
1/8 Teaspoon salt
1 1/4 Teaspoon nutmeg
¼ Teaspoon cloves
½ Cup chopped nuts
Preheat oven to 350F degrees.
Cream sugar and oil until light and fluffy.
Add baking soda to applesauce and blend into sugar mixture.
Sift flour, cinnamon, nutmeg, cloves and salt; stir in the sifted mixture the raisins and nuts.
Stir dry ingredients into the creamed mixture until well blended.
Spoon batter into paper lined cupcake tins and bake about 15 minutes or until a pick comes out clean.
---
QUICK COFFEE CAKE RECIPE

2 Tablespoons shortening

1/3 Cup sugar

1 Beaten egg

1 ½ Cups flour

2 Teaspoons baking powder

2/3 Cup milk

1 Tablespoon melted butter

¼ Cup brown sugar

1 Teaspoon cinnamon

½ Cup chopped nuts


Cream shortening and sugar; blend in beaten egg.
Sift flour with baking powder; blend flour mixture and milk in creamed mixture.
Spread evenly in a greased 8 inch square baking pan.
Brush top with melted butter; sprinkle top with brown sugar, cinnamon and nuts.
Bake in preheated oven at 350F degrees for 30 minutes.

---
RAISIN BREAD RECIPE

3 Cups flour

4 Teaspoons baking powder

1 ½ Teaspoons salt

½ Cup sugar

1 Cup raisins

¾ Cup chopped nuts

1 Beaten egg

1 ½ cups milk

2 Tablespoons melted shortening


Sift together flour, baking powder, salt and sugar.
Combine egg, milk and shortening; stir liquid mixture into dry mixture.
Pour batter into a greased loaf pan and let stand at room temperature for 20 minutes.
Bake in preheated oven at 350F degrees for 1 ¼ hours; remove from pan and cool on rack.

Go to Painless Cooking Home Page from Lent Recipes