New Years Day Menus with Recipes
New Years day menus are different around the world and even within the United States. Traditional dishes are prepared to symbolize good fortune such as fertility, wealth, prosperity, progress, good health and long life. In Spain and other grape growing countries, a fairly new tradition was started in the nineteen hundreds of eating twelve grapes at midnight. In most countries the traditions of eating certain foods were established long before the tradition of the grape growing countries.
For traditional New Years day menus, the most common foods to prepare are greens, fish, pork, legumes, peas and in the Asian countries eating long noodles. Green leafy vegetables like cabbage, kale and collards represent money so eating any of these would make you more prosperous. Pork represents progressing ahead so is eaten for wealth and prosperity. China believes that presenting a whole chicken with head, tail and feet at mealtime is a symbol of completeness; other countries believe you should not eat chicken because it scratches backwards and means a setback in your life. For a variety of reasons fish is served in many countries as a single New Years tradition or added with other foods for their good luck.
Many of you are asking how to cook ribs for your favorite holiday recipes. I am going to tell you about my sister, Donna and her New Years Day menus from our family's German cuisine. Donna will be cooking for some of her children and grandchildren. Her children are Doug, Connie, Kristie and Donna Jane.
Donna is my closest sister in age and was born in 1938. She and I share many good memories together going back to our childhood. Even though there was an age difference when you are a teenager putting up with a little kid, we were able to laugh and giggle together. We were always able to enjoy our holidays together especially when Mom and Dad cooked the New Years Day Menus.
Being from such a large family, Mom could not afford to buy for all of us at the same time. She tried to take turns doing something for each of us. One time I found this furry pink jacket that Mom had hidden. Of course, I thought this had to be for me since I was the youngest. I was so disappointed and mad at Donna because it was for her, but my anger didn't last for long.
Donna was very beautiful and very smart as were all my sisters. When she was in high school she was in a beauty contest. To me she was the prettiest, wearing a bright yellow bathing suit and should have won. She was also in a spelling bee and I remember sitting with Mom and listening on the radio.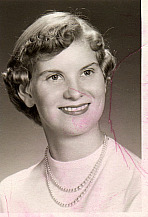 For my sixteenth birthday my sister had a surprise birthday slumber party for me in her empty mobile home which was sitting on our property. It was a great time and for the first time (according to Dad's house rules) I was legally allowed in the presence of the opposite sex. Some of my girlfriends had arranged for a couple of the guys from school to pick us up and take us a ride to the local dive in their convertible with the top down. What a night!
As the years progressed, my relationship with Donna grew stronger. She has always been very good to me. When I started work at the nearby factory after high school, it was certainly great to know she was there also and many days we met to have lunch together.
When I am back home in Ohio for the holidays we usually have dinner at Donna's home. I won't be there this year but I am sure she will be cooking from the traditional New Years Day menus. She will tell you that she only does simple cooking but I will tell you that her food is always delicious. Like the rest of the family, she was born with the cooking basics and I believe that most of the time simple foods are the best.
New Years Days menus from our German heritage consist of pork recipes and sauerkraut recipes. It also has fish recipes but as far back as I can remember we never had fish for New Years. Donna will be combining a sauerkraut recipe with pork ribs for dinner. This is one of the easy holiday recipes, simply by placing the pork ribs in a large heavy roaster and cover with drained sauerkraut, salt and pepper. Add about ½ inch of water in the bottom of roaster, cover with a lid and place in the oven until the meat is tender and falling from the bones.
Donna's New Years Days menus will always have a good bowl of creamy mashed potatoes and a tossed salad. Other side dishes will probably be corn, green beans or other vegetables. The holiday desserts could be leftover Christmas cookies and her favorite date bar recipe. I am sure she will still have around some of her chocolate fudge recipe which she is known for around the area.
DATE BARS RECIPE

3 Cups chopped dates
¼ Cup sugar
1 ½ Cups water
¾ Cup soft butter
1 Cup brown sugar
1 ¾ Cup flour
½ Teaspoon soda
½ Teaspoon salt
1 ½ Cups rolled oats
Preheat oven to 400F degrees.
Grease a 9x13 inch baking pan.
Combine in a heavy saucepan the dates, ¼ cup sugar and the water; cook until dates are soft. You may need to add a little more water to get spreading consistency. Set aside to cool. Mix brown sugar and butter in a large bowl. Stir in the flour, soda, salt and oats. Press half of the mixture in the prepared pan. Spread with the date filling; top with the remaining oat mixture, pressing lightly. Bake for 25 to 30 minutes. Cool and cut into bars.
Donna's New Years Day menus might also include an easy dessert recipe like the following refrigerator dessert.
PINEAPPLE DESSERT RECIPE

1 ½ Cups powdered sugar
½ Cup chopped pecans
1 Cup crushed pineapple, drained
Vanilla wafers
½ Cup soft butter
Small tub cool whip
Maraschino cherries
Cream together the butter and sugar. Add the pecans and pineapple and blend thoroughly. Fold in Cool Whip. Line casserole dish with half of the vanilla wafers. Cover with half of fruit and nut mixture. Place another layer of remaining vanilla wafers. Cover with remaining fruit mixture. Garnish with cherries. Refrigerate for several hours before serving.
---
COCONUT BONBONS RECIPE
Delicious dessert for New years Day menu.

1 Can (14 ounces) sweetened condensed milk

2 Boxes (16 ounces each) powdered sugar

½ Cup melted butter

1 Can (3 ½ ounces) flaked coconut

3 Cups crushed pecans

1 Block (4 ounces) paraffin

1 Package (6 ounces) chocolate chips


Combine condensed milk, powdered sugar, butter, pecans and pecans; chill thoroughly.
Shape into balls and freeze; melt together paraffin and chocolate chips.
Dip frozen balls into chocolate mixture; let stand on wax paper until firm.
These can be frozen for extended time.


---
MICROWAVE CARAMEL CORN RECIPE

1 Cup packed brown sugar

½ Cup butter

¼ Cup corn syrup

½ Teaspoon salt

½ Teaspoon baking soda

5 Quarts popped corn


Combine brown sugar, butter, syrup and salt in a 2 quart dish.
Place in microwave and bring to a boil; cook on high 2 minutes.
Remove from microwave and stir in baking soda; mix well.
Put pop corn in heavy brown grocery bag; pour syrup over the corn.
Close bag and shake to mix and coat the corn; close bag by turning top down.
Cook in microwave on high for 1 ½ minutes; shake well and cook another 1 ½ minutes.
Shake again and cook another 1 ½ minutes; pour popcorn into shallow pan.
Let cool and break apart as cooling; store in closed container.

Donna, I love you dearly and thanks for always being such a good sister. I wish I could be there with you to enjoy your New Years Day menus.
Go to Painless Cooking Home Page from New Years Day Menus