Pasta Salad Recipes
Pasta salad recipes can be made with a large variety of different types of pasta. Italy is the most famous of the countries for their pastas. It is a staple of the Italian cuisine and has made its way into the cuisines of many countries. Although most countries have their own special pasta, the Italian versions are favored around the world. Spaghetti, vermicelli, capellini, ravioli, lasagna noodles and many others make their appearance on American tables every day.

All of these pastas and the ones from other countries can be used to make delicious pasta salad recipes. Some love the delicious Chinese and Japanese noodles made with buckwheat, wheat flour or rice flour. Here in the United States we use all types of pasta especially all the different sizes and shapes of macaroni. From my German ancestry, we have egg noodles; this has always been the primary pasta in my home. I always have some in my freezer for quick meals and salads.


All these make delicious salad recipes. The large and thicker pastas are usually broken into smaller pieces for salads. Most of the pastas are available today in the fresh or frozen form as well as the older versions of dried pasta. When I was young, if you did not make your own pasta, you would buy the dried form in the grocery; back then fresh and frozen were not available in the grocery store.


A nice pasta salad is great to take to a summer picnic or a carry in. They vary in flavor so much because of the many ingredients that can be added to the pasta. Many different vegetables can be added to change the salad completely. You can also change the salad by either using a creamy dressing or vinegar and oil dressing. I use various kinds of pasta interchangeably in the salads and most often use whole grain pasta.
Try same recipes and make a spaghetti salad recipe or a macaroni salad recipe.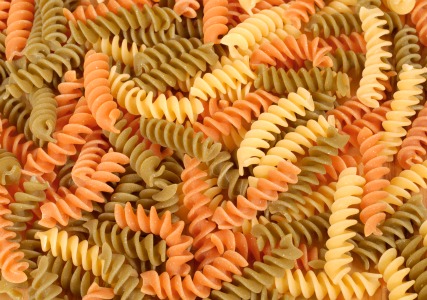 VEGETABLE PASTA SALAD RECIPE

1 ½ Cups uncooked pasta, cook and drain
½ Cup sliced zucchini
½ Cup small chopped broccoli
¼ Cup chopped green onion
2 ½ Ounce jar sliced mushrooms, drained
6 Ounce jar marinated artichokes, drain and quarter
¾ Cup Italian salad dressing
1 Cup cherry tomatoes
1 Peeled avocado, cubed
Combine the cooked pasta, zucchini, broccoli, onion, mushrooms, artichokes and Italian dressing. Toss to blend and refrigerate for several hours. Before serving add the tomatoes and avocado chunks.
---
MACARONI SALAD RECIPE
1 Cup uncooked elbow macaroni (Cook and drain)
2 Tablespoons finely chopped green pepper
2 Tablespoons finely chopped onion
2 Hard boiled eggs, diced
2 Tablespoons finely chopped celery
3 Tablespoons finely chopped sweet pickles
Mayonnaise (enough to moisten to your taste)
Salt/ pepper to taste
Combine cooked macaroni, green pepper, onion, eggs, celery and pickle. Add salt, pepper and mayonnaise. Toss until blended and chill before serving.
---
SPAGHETTI SALAD RECIPE
1 Pound thin spaghetti
1 Green pepper diced
1 Medium tomato diced
1 Medium onion diced
1 Cucumber diced
4 Tablespoons McCormick Salad Supreme mix
1 Bottle (8 ounces) Italian salad dressing
Cook spaghetti as package directs. Toss all the diced vegetables with the spaghetti. Add the Salad Supreme and Italian dressing; toss until well blended. Refrigerate for several hours to blend flavor.
More Delicious Recipes for Salads
Go to Painless Cooking Home Page from Pasta Salad