Quick Bread Recipes like Poppy Seed and Others
Quick bread recipes go way back before the colonies. The overall classification refers to loaves (sometimes called tea bread recipes), muffins and pancakes which are considered "quick" because they customarily rely on baking powder or baking soda for fast leavening, unlike yeast.
Almost all quick bread recipes contain basically the same ingredients; flour, leavening, eggs, fat and liquid. With the addition of fruits, nuts and various flavorings is how the wonderful flavors come about.
Batters of quick bread recipes might be soft dough like biscuits, drop batters like drop biscuits or dumplings or a thinner batter like cake batter. Many of my recipes are made and mixed like muffin recipes; only mixing until dry ingredients are moistened. Each recipe will specify so follow the instructions.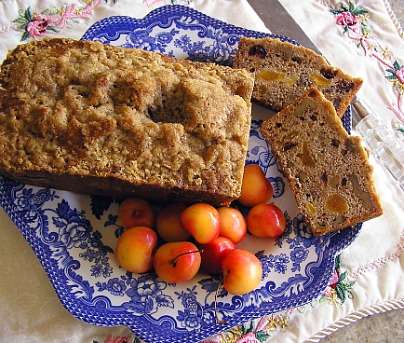 WHOLE WHEAT PECAN BREAD RECIPE
2 ¼ Cups flour
2 ¼ Cups whole wheat flour
2 Tablespoons baking powder
1 Teaspoon salt
1 Cup chopped pecans
2 Cups milk
½ Cup honey
2 Beaten eggs
4 Tablespoons butter
1 Teaspoon vanilla
PREHEAT OVEN TO 350F DEGREES.
Lightly grease 2 8 ½ x 4 ½ inch loaf pans.
Combine the two flours, baking powder, salt and pecans; stir to blend in a medium size bowl. In another bowl combine the milk, eggs, honey, melted butter and vanilla; blend well. Stir liquid ingredients into the dry ingredients and stir to blend well.
Divide the batter evenly between the two prepared pans. Bake for 45 to 50 minutes or until a pick comes out clean. Let cool 15 to 20 minutes before removing from pans.
APRICOT NUT BREAD RECIPE
1 Cup chopped dried apricots
½ Cup sugar
2 Tablespoons butter
2 Eggs
1 Cup orange juice
1 Container (8 ounces) apricot yogurt
1 Teaspoon almond flavoring
1 Cup bran
1 Teaspoon grated orange peel
2 Cups flour
½ Teaspoon salt
4 Teaspoons baking powder
½ Teaspoon baking soda
½ Cup slivered almonds
Preheat oven to 350F degrees.
Grease a 9x5 inch loaf pan.
Cover the apricots with water and simmer for a few minutes until the apricots plump up: drain.
Combine the butter and sugar in a large mixing bowl and cream together. Add eggs, yogurt, orange juice and almond; beat to mix in. Stir in the drained apricots, bran and orange rind.
Sift together the flour, salt, baking powder and soda; Blend into the creamed mixture.
Stir in the almonds.
Pour batter into prepared loaf pan and bake for 1 hour or until pick comes out clean.
---
POPPY SEED BREAD RECIPE

Baking powder is the leavening agent used in this quick bread recipe.

1 ¼ Cups sugar

1 ¼ Cup oil

1 Cup evaporated milk

3 Eggs

¼ Cup milk

2 ½ Cups flour

2 ¼ Teaspoons baking powder

¼ Teaspoon salt

¼ Cup poppy seeds

1 ¼ Teaspoon vanilla


Combine sugar, oil, evaporated milk, eggs and milk in mixing bowl; beat with mixer until blended.
Sift flour, baking powder and salt together; add to the egg mixture and beat on low until blended.
Add poppy seeds and vanilla; mix until blended.
Pour into 2 lightly greased and floured loaf pans.
Bake in preheated oven at 350F degrees about 50 minutes and golden brown.


---
BANANA BLUEBERRY BREAD RECIPE

In this quick bread recipe both baking powder and baking soda are used as the leavening agents.

2 Cups fresh or frozen blueberries

4 Cups flour divided

1 Cup softened butter

2 Cups sugar

4 Eggs

5 Medium ripe mashed bananas

2 Teaspoons vanilla

1 Tablespoon allspice

2 Teaspoon baking soda

1 Teaspoon baking powder

½ Teaspoon salt


Preheat oven to 325F degrees; grease and flour 2 loaf pans.
Toss blueberries with 2 Tablespoons flour; set aside.
Combine butter, sugar, eggs, vanilla and bananas in large mixing bowl.
Mix until well blended scraping bowl occasionally.
Add remaining flour, allspice, soda, baking powder and salt; beat on low speed until well blended.
Fold in blueberries; pour batter evenly into prepared pans.
Bake 45 to 50 minutes or until pick comes out clean.
Cool on rack 10 minutes; remove from pans and cool completely.


More Great Bread Baking Tips and Recipes
Go to Painless Cooking Home Page from Quick Bread Recipes