How to Make Salt Water Taffy Recipe 
Have you ever learned how to make a salt water taffy recipe. Do you remember this candy from Stuckey's. There are not many of these stores left any more. Every time someone in the family took a vacation they would bring back some taffy.
The problem for me is that I only liked the vanilla taffy so I started making my own. It is so much better!! When I had my children I always made a vanilla salt water taffy for Christmas.
When learning how to make taffy, the higher the temperature to which a taffy is cooked, the harder it is. With the addition of butter or fat, it is less likely to stick to your teeth when eaten. You can handle and knead a taffy mixture into a mass desirable for pulling adding color and flavoring while doing so. If taffy is too sticky to handle dust hands with powdered sugar or rub butter on hands and work slowly until cool enough to handle. If taffy becomes too hard it can be held over heat to soften. During the pulling you will see a change in lightening in the color and the texture will become more elastic and glossy.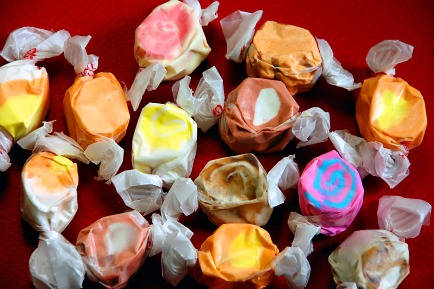 How to Make Salt Water Taffy Recipe
HOW TO MAKE SALT WATER TAFFY RECIPE

¾ Cup light corn syrup
1 Tablespoon cornstarch
1 Cup sugar
2/3 Cup water
1 Teaspoon salt
2 Tablespoons butter
2 Teaspoons vanilla
Combine the corn syrup, water, sugar, cornstarch, butter and salt in a heavy saucepan. Cook over medium heat stirring constantly until the temperature on a candy thermometer reaches 266F degrees. Remove from the heat and add vanilla. Pour into an 8 inch buttered pan. When cool enough to handle, pull the taffy until satiny and stiff. (Keep hands buttered lightly). Pull into long strips and cut with kitchen shears into 1 inch pieces. Wrap each piece with wax paper.
---
CREAMY PULLED CANDY
Learn how to make a salt water taffy recipe with this cream pulled candy recipe.
2 Cups sugar
¼ Cup heavy cream
½ Cup whole milk
½ Teaspoon vanilla
Combine sugar, milk and cream; bring to a boil stirring constantly; cook to 250F degrees on candy thermometer.
Pour on a well buttered marble slab and let cool a little.
When candy mixture starts to cool add vanilla and salt; start pulling.
Pull into a long ropes and cut into pieces with cold scissors.
---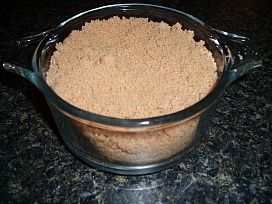 BROWN SUGAR TAFFY
1 Cup butter
1 ¼ Cups brown sugar
5 Tablespoons warm water
1 Tablespoon corn syrup
¾ Cup molasses
Nuts-OPTIONAL
Combine water, butter, sugar, corn syrup and molasses in a large saucepan; heat slowly until sugar dissolves.
Cook stirring constantly until candy thermometer reaches 254F degrees or to hard ball stage.
Pour mixture into a buttered pan. Nuts: Sprinkle over mixture now.
Lift corners of candy and fold to middle to cool evenly and keep soft.
Pull candy lightly about ten minutes; pull out in strips and cut in pieces and wrap in wax paper
Painless Cooking

›
Candy
› Salt Water Taffy