Thumbprint Cookie Recipes with Various fillings
Thumbprint cookie recipes have been around for many years; even before I was born. Claims for the origination of this recipe have been traced back to Sweden, Poland, to the Jewish people who traveled and brought the recipes to Eastern Europe and many other countries. Like many great recipes, there are always many countries claiming the creation.
When looking at thumbprint cookie recipes, it is obvious how the name was derived. After rolling the dough into small balls, the balls are rolled in finely chopped nuts or coconut. This is how the name comes into being; no with the thumb an indentation is made in each cookie. This indentation will be filled with jams, jelly, chocolate, icing or most anything you desire.

A variety of thumbprint cookie recipes have been developed the years; all I have tried have been really good. The dough recipe might be made plain, a chocolate, peanut butter or a variety of flavors; of course, the filling in the thumbprint can be mixed or matched as your taste buds desire.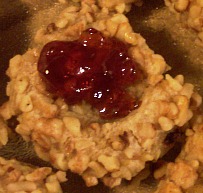 The first one that I am giving you is the original one that has always been on my list of Christmas cookie recipes. I like this one because it has a very good taste. It is light; more so than many of my cookie recipes. Many of my cookie recipes are very rich so I try to also include some which are not so rich.

THUMBPRINT COOKIE RECIPE
½ Cup soft butter
¼ Cup packed brown sugar
1 Egg yolk
1 Egg white
½ Teaspoon vanilla
1 Cup flour
¼ Teaspoon salt
Nuts, finely chopped
Preheat oven to 375F degrees.
Combine and mix together the butter, sugar, egg and vanilla. Sift together the flour and salt and blend in with the creamed mixture. Roll dough into 1 inch balls, dip ball into slightly beaten egg white and roll in finely chopped nuts. Place on an unbaked cookie sheet. Bake 5 minutes. Remove from oven and gently press your thumb in the center of each cookie. Return to the oven and bake 8 minutes longer. Remove from oven and fill in the thumbprint.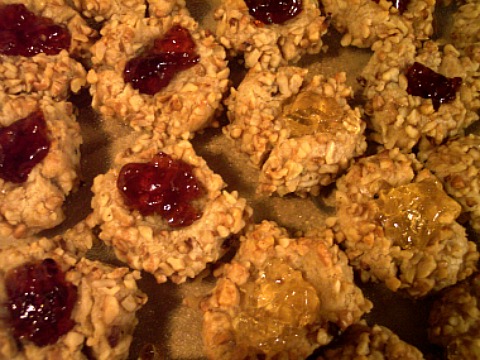 Fairly new to the thumbprint cookie recipes for me are these chocolate thumbprint cookies. This is a way to add that much desired flavor to your holiday recipes. Again, with this recipe a variety of ingredients can be used to fill the thumbprint.
CHOCOLATE THUMBPRINT COOKIES
2 Cups semi chocolate chips, divide in half
¾ Cup sugar
2/3 Cup soft butter
2 Eggs
1 Teaspoon vanilla
2 Cups old fashioned oats
1 ½ Cups flour
1 Teaspoon baking powder
1/8 Teaspoon salt
2 (10 ounces) Maraschino cherries
Melt half of the chocolate chips in a double boiler over hot water (not boiling).
In a large mixing bowl, beat sugar and butter on medium speed until fluffy. Add eggs and vanilla and beat well. Add half of the melted chocolate and beat well. In a medium bowl, combine the oats, flour, baking powder and salt. Stir the flour mixture into the butter mixture until well blended. Wrap the dough in plastic wrap and refrigerate for 1 hour.
Preheat oven to 350F degrees.
Melt the remaining half of chocolate chips over the double boiler.
Shape dough into 1 inch balls and place on an ungreased cookie sheets about 2 inches apart. Bake cookies 10 to 12 minutes (do not over bake). Remove from oven and press a cherry down in the center of each cookie. (If you want to use a filling instead of the cherries and the cookies are too hot for your thumb, use the end of a wooden spoon to make the thumbprint.) Drizzle remaining melted chocolate over the cookies.
---
Thumbprint cookie recipes get their name because cookie is indented with the thumb of the hand and then filled with jams, jellies or other fillings. I do not know where this cookie originated but it has been around as long time in different forms.
The following apricot filled cookies are made with a cream cheese cookie recipe. As with most desserts, cream cheese adds something extra to recipes and these cream cheese cookies are no different. This is a great combination of cream cheese and apricots.
THUMBPRINT COOKIE RECIPE FOR APRICOT FILLED COOKIES
1 ½ Cups softened butter
1 ½ Cups granulated sugar
1 Package (8 ounces) softened cream cheese
2 Eggs
2 Tablespoons lemon juice
1 ½ Teaspoons grated lemon peel
4 ½ Cups flour
1 ½ Teaspoons baking powder
Apricot preserves
Powdered sugar
Combine butter, granulated sugar and cream cheese; mix until well blended.
Add eggs, juice and lemon peel and blend in.
Combine flour and baking powder; blend in with creamed mixture.
Chill dough for several hours; shape dough into tablespoon size balls.
Place on ungreased cookie sheets; indent center of each cookie with thumb.
Fill thumbprint with apricot preserves and bake for 15 minutes.
Cool 1 minute on tray and remove to cool completely; dust with powdered sugar.
---
PEANUT BUTTER THUMBPRINTS

1 ¼ Cups packed brown sugar

¾ Cup creamy peanut butter

½ Cup solid Crisco shortening

3 Tablespoons milk

1 Tablespoon vanilla

1 Egg

1 ¾ Cups flour

¾ Teaspoon baking soda

½ Teaspoon salt

Granulated sugar

¼ Cup strawberry jam


Preheat oven to 375F degrees.
Combine brown sugar, peanut butter, shortening, milk and vanilla in large mixing bowl.
Beat on medium speed until well blended; add egg and beat just until blended.
Combine flour, baking soda and salt; add to creamed mixture and beat on low just to blend.
Shape dough in 1 inch balls and roll in granulated sugar.
Place on ungreased cookie sheets 2 inches apart; bake for 6 minutes.
Press cookies immediately in centers with back of measuring spoon; bake 3 minutes longer.
Cool 2 minutes on baking sheet; spoon jam into each cookie and cool completely.


More Great Recipes for Cookies
Go to Painless Cooking Home Page from Thumbprint Cookie Recipes