Ecuador Living Cuisine 
Ecuador living cuisine is not what you might expect in a third world country. When I visted Ecuador, many of my friends and family would check it out on the internet. The common comment was "why visit there?" My answer was "Why don't you come and visit and see for yourself."
To me Ecuador is like stepping back into the fifties in the United States. As many of you older people know, that was the best time in the history of our country. Younger people today might have looked at us back then and determine that we were a "third world country." They often mimic our speech and laugh at the way we dressed.
The people of Ecuador have such kind hearts and are always so helpful. The cost of living is very low. Dental and health care is only pennies on the dollar compared to the US. There is never any pressure or hurry to do anything. It is much safer to walk the streets here than in the US. Very few Americans have cars. If it is too far to walk, we jump into a cab for one dollar.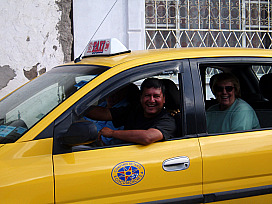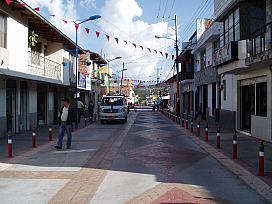 I meet up in different areas with different groups of people I meet. In the evening, many of us gather together for dinner. Most of us get together at nice restaurant for Ecuador living cuisine.
My favorite time for dinner at this one special restaurant has to be when we took a young girl to dinner with us. She was so impressed with the atmosphere, the service and the food presentation of Ecuador living cuisine that I couldn't keep my eyes off of her. With each course presentation I could see tears in her eyes that it made me tear up.
I hesitate in telling much about the dinner because I love seeing the reaction from the new visitors, but I can't keep it secret. Of course the atmosphere is wonderful with a fire in the fireplace, candles burning and a pet goldfish on the table.
The first to be served is the "chef's special appetizer" which is a spectacular "attention getter." You can hear the "oooo's and aaaa's around the room. It is a different appetizer each night served in a music box. How beautiful! And delicious!
Next you have a choice of many delicious salads made from locally grown fresh vegetables. The "Calabrese salad" is one of my favorites for ecuador living cuisine, although I will say it is always hard to choose. To avoid this problem I usually just rotate my selection each time I eat there.
This restaurant has gourmet ecuador living cuisine soup recipes, you can select cream of zucchini with quail egg, cream of fresh carrots, French onion au gratin, springtime soup and more. Although all of the soups are great, I just can't get pass the French onion. It is simply delicious!
Gourmet food recipes listed as the "main courses" include shrimp, trout, tilapia, salmon and the most delicious sea bass. Also available are several duck, chicken and mouth watering steak dishes.
No one can call it an evening without enjoying one of the luscious desserts on the menu and these are certainly not from easy dessert recipes but definately ecuador living cuisine. From the taste to the presentation it appears that every one of these took a long time to prepare. The "lavender cake" tops the theme of lavender that you will find all around here It appears in potpourri, hand and body lotion and shampoo. Why not cake! It is delicious!
Of course, there is a selection of drinks to accompany your dinner and a nice list of wines. The friendly staff is there to help assist in picking a delicious wine to accompany your meal. This is Ecuador living cuisine!
The staff at this restaurant has offered us two of their delicious recipes. Try them and let us know how you like ecuador living cuisine.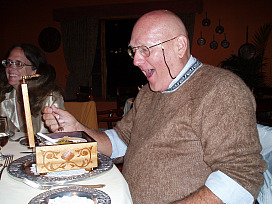 Three Cheese Potato Soup

Potatoes are important in Ecuador living cuisine
2 Tablespoons butter
2 ½ Tablespoons vegetable oil
2 Teaspoons paprika
1 Teaspoon chopped garlic
1 Cup chopped yellow onion
1 Pound potatoes, cut in ¼ inch cubes
1 Cup milk
½ Cup heavy cream
6 Cups chicken stock
¼ Cup of each: Farmer's cheese, Mozzarella cheese & Queso Fresco to taste
In a large pot, melt the butter and add the oil; stir in the paprika and sauté the onions until soft about 5 minutes. Add the garlic and sauté 3 minutes.
Add the potatoes to the onions and sauté over medium heat for 5 to 10 minutes, stirring constantly until the potatoes are somewhat golden.
Add the chicken stock and bring to a boil. Season with salt and pepper. Reduce heat and simmer for 20 to 30 minutes or until the small pieces of potato are broken down while the larger pieces of potato are tender.
Add milk and cream. Check flavorings and thickness of soup. If too thin, take a cup or two of soup and puree until smooth and add back into the base. Add cheeses away from the heat. Garnish with fresh chopped avocado and Farmer's cheese. Serve with additional avocado, Farmers cheese and chili sauce.
---
Quail with Apple Fig Sauce
4 Whole quail
4 Small crab apples or 1 large apple
1 Ounce duck pate'
Chicken stock/beef stock
2 Sprigs chopped thyme
1 Large chopped shallot
3 Fresh figs, 2 chopped finely & 1 sliced for garnish
1 Cup apple juice or ¼ cup apple liqueur
1 Tablespoon cold butter, divided into 3 teaspoons Vegetable oil
Stuff each quail with peeled crab apple or ¼ of large apple. Divide pate' into each of the 4 Quail.
Truss Quail with kitchen twine and cover with stock (equals amount of chicken & beef) in a pot. Bring to a boil and then lower to simmer until meat is cooked through (about 15 -25 minutes)
Remove Quail from stock and discard stock. Let cool and remove apple and pate. Set aside.
In a sauté' pan melt 2 teaspoons butter. Add shallots and cook for 4 minutes over medium heat. Lower heat and add chopped figs, sauté' one minute. Add apple juice or liqueur and bring to a boil.
Add 1 cup of mixed stock cook and reduce by half. Lower the heat to a light simmer.
In a small pot (big enough to fit all quail) heat 1 cup of vegetable oil until it registers 400 degrees on a candy thermometer. Fry quail on both sides until skin is crispy (remember the Quail is cooked through so no need to check for internal temperature now). Set aside on paper towels to drain. Bring sauce to a boil again and add chopped thyme. Remove from heat and add last teaspoon of cold butter and swirl until completely melted.
Serve sauce over Quail with slices of fresh figs.
Our thanks to all of you wonderful people here for these great recipes and my thanks to all of you for the consistently great service. Now, what do you all think about Ecuador living and cuisine?
---
SWEET POTATO CAKE RECIPE with orange sauce

 
2 Cups sifted flour

1 Teaspoon salt

1 ½ Teaspoons baking soda

1 ¼ Teaspoons cinnamon

1 Teaspoon nutmeg

1 ¼ Cups cooking oil

2 Cups sugar

4 Eggs

2 Teaspoons vanilla

2 Cups sweet potatoes cooked and mashed

½ Cup chopped nuts

Combine and mix in bowl flour and spices.
In a large mixing bowl combine sugar and oil; beat thoroughly.
Add eggs to sugar mixture one at a time beating well after each addition.
Add vanilla and dry ingredients; blend well.
Add sweet potatoes and mix well; stir in nuts and mix thoroughly.
Put mixture into a greased and lightly floured Bundt cake pan.
Bake in preheated oven at 350F degrees for 75 minutes.
Cool 5 to 10 minutes and remove from pan; cool completely on rack.
When cold slice cake in half horizontally; frost bottom half with cream cheese filling. (Below)
Place top on filling; dust top with sifted powdered sugar.

Cream Cheese Filling:

¼ Cup softened butter

3 Ounces softened cream cheese

½ Box powdered sugar

½ Teaspoon vanilla

½ Cup chopped nuts

Combine and mix well.