How to Cook with Spices
I am asked quite a few questions about how to cook with spices. Many do not understand the difference between spices and herbs. They want to know how to use spices; which spices to use with which foods. According to some research, getting in the habit of cooking with spices everyday will offer health benefits of spices to your diet.
Because today, spices are so readily available in our grocery stores we are unable to truly appreciate their value throughout history. Spices have had close connections to the gods; have been used for currency and for medicinal purposes (still today used for health). The Egyptians prized them as rare jewels and the search for them have actually changed the face of history.
You should know the difference between spices and herbs if you are going to learn how to cook with spices. Spices are parts of plants that usually grow in tropic regions. The parts are like the bark, leaves, seeds, shells, stamens or any other part suitable for seasoning or preserving. Herbs are always the leaves of temperate zone plants. So many of the familiar favorites like rosemary, basil, parsley and mint are herbs. For the most part we often generalize by classifying both herbs and spices as spices; for now that is what I am going to do in this writing.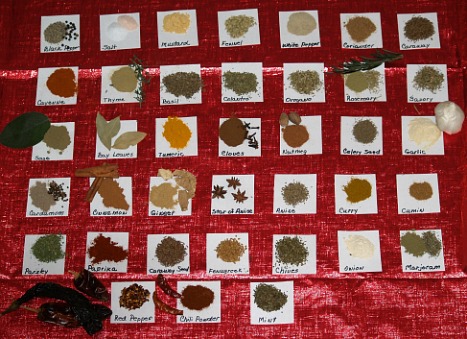 Learn How to Cook with Spices
Spices are an accessory to everyday cooking. They give that added flavor or "punch" to your recipes; whether it is mild or a little more tang. Knowing how to use spices is an art that every good cook has had to learn. If you are a new cook, you will also be able to learn this with experience to where it will just come automatically when cooking. Spices should be chosen with care so they accent and improve your flavor rather than overwhelm the flavor.

As a new cook, I started out with a few basic ground spices for two reasons. First, I was on a limited budget so I had to consider the expense of purchasing them, but it also gave me a chance to work with a few at a time. These were salt, pepper, garlic powder, chili powder, oregano (because I loved spaghetti & pizza), cinnamon, ginger and cloves (the last three I loved baking with). I stuck with ground spices because they had great shelf life, because of the condensed flavor it took very little for flavor and I couldn't afford to vary my spices at this time.
NOTE: When adding spices to recipes made with yeast, keep in mind that spices react differently with the yeast. Adding extra to your recipe may have a detrimental effect on the rising power of the yeast; DRY MUSTARD being the worse and others are oregano, garlic, onion, thyme, cloves, nutmeg and allspice. The following spices have an enhancing effect when added to the yeast; ginger, cardamon and caraway.
These spices below will help you learn more about how to cook with spices:
How to Cook with Spices
| | |
| --- | --- |
| | Learn how to cook with rosemary. Rosemary can be used in chicken, beef and fish entrees. You will find it in seasoning for vegetables, crackers, breads and even desserts. |
| | |
| --- | --- |
| | Cooking with Spices in fig cake recipe, zucchini salad, no bake fruit cake, spicy potatoes and Wassail punch.  |
| | |
| --- | --- |
| | Learn how to cook with tarragon. Make a delicious mushroom cheese salad, a bernaise sauce, roasted tarragon chicken, hearts of palm salad, chlodnik recipe, salmon tartare, poached peaches and chicken with tarragon mustard. |
| | |
| --- | --- |
| | Early people knew how to dry herbs and use them in their cooking. Drying herbs is a simple way of preserving. Make a delicious Thai dish, a rice salad, a spaghetti sauce recipe or a basil pesto. |
| | |
| --- | --- |
| | I love to cook with fresh herbs whenever I can. Some of my favorite dishes with fresh herbs are tabouli, pesto sauce, vinaigrettes and an herb cream cheese omelet. |
| | |
| --- | --- |
| | Learn how to cook with basil. Make delicious pesto sauces, tomato basil biscuits, a basil grilled chicken with basil butter, turkey piccatta, a tomato basil tart, mussels and shrimp recipes. |
| | |
| --- | --- |
| | What is Parsley? Parsley is a common herb in cooking. Many delicious recipe use parsely like shrimp risotto, parsley and pickled okra sandwiches, Caribbean snapper recipe, chicken log, green & wax beans and many more. |
| | |
| --- | --- |
| | What is curry? Learn how to make curry powders and delicious recipes like the following: curry pate, curried eggs recipe, basic curry sauce, pork curry, lamb curry, beef curry, almond curried rice, hot curried fruit, curried chicken sandwiches, curried egg salad, ground beef pitas, curried oysters, curry salad dressing and vegetables in curry sauce. |
History of Spices takes us to early civilization and many uses for health and seasoning with recipe for smoothie.

What is Allspice? Medicinal uses and cooking in a recipe for apple raisin cake.

What is Anise? Learn important facts plus a recipe for anise fruit salad.

What is Caraway? History of medicinal use and recipes for blue cheese spread and caraway seed cake.

What is Cardamom? History and medicinal uses plus recipe for lamb shish kabobs.

What is Cayenne? Health benefits and caution in using plus recipe for hot pepper butter.

What is Chili Powder? Make homemade and use in chili con carne recipe.

Cooking with Cinnamon offers a delicious flavor; recipes for cinnamon carrots and cinnamon crisps.

What are Cloves? Learn about health benefits plus how to cook with it in Indian biryani recipe.

What is Coriander? Coriander has uses for health, beauty and adds great flavor in cooking; recipe for coriander salad.

What is Cumin? Offer vitamins and minerals for health plus great seasoning in many recipes like curried potatoes.

What is Dill? Adds health benefits to the diet and great flavor to recipes like baked trout or cod, dips, salads, vegetables or bread.

What is Fennel? Great benefits of fennel and great flavor in fennel apple salad

Cooking with Garlic when learning how to cook with spices offers many health benefits ; recipe for grilled mushrooms

Cooking with Ginger offers health benefits plus great flavor; recipes for moo goo gai pan, ginger snaps, and ginger bread.

What is Horehound? This is a natural cough remedy; make horehound candy recipe.

What is Mace? About mace and sister spice nutmeg and uses in recipes for chocolate cherry chews and nutmeg crisps.

What is Oregano? Has medicinal characteristics and used to season delicious foods like pastas, pizza and others; recipe for baked tomatoes. When you learn how to cook with spices you will benefit in health as well as taste.

What is Paprika? This popular spice is used in a wide variety of recipes like turkey casserole.

White, green and black peppercorns when Cooking with Pepper; peppercorn sauce recipe.

What is Saffron? History and cooking with saffron; recipe for meatballs and saffron sauce.

What is Sage? History, benefits and cooking in recipes like turkey loaf.

What is Sumac? Cultivation, medicinal value and cooking with sumac in recipes like Syrian bread salad.

Cooking with Thyme, types of thyme and benefits; recipe for garlic thyme marinade.

What is Turmeric? This ancient flavorful spice has health benefits and is great flavoring to make curry powder and in recipes like turmeric cake.
What is Fenugreek? Use in highly seasoned African, Indian and Latin American foods. It adds a very unique taste to these dishes.
Uses for Salt Learn about table salt, sea salt, rock salt, pickling salt, Kosher salt and Himalayan salt.
What is Citric Acid? This natural preservative and flavor enhancer is used in many recipes and is a secret of many successful food canners.
What is Cilantro? The health benefits, history and great recipes.
What is Licorice? Learn about the history, health benefits and making candy.
What is Arrowroot? Arrowroot is an herb which is used to thicken recipes such as dessert sauces.
Learn all about salt like what is real salt and why table salt has no salt.  These are some of the interesting points you are learning how to cook with spices.
---
When learning how to cook with spices, remember to start out being over cautious; you can always add more but you cannot decrease the strength. If you are trying something new, taste it with the tip of your finger. If it is strong and pungent, that is a sign to use it sparingly. Some spices are light and mild in flavor so it is not as bad if you get too much, however a good dish is perfection. Most recipes will direct to exact amounts; I always put "optional" if I feel it is a personal taste, like hot pepper.
I cooked with my basic spices a couple of years and I gradually added more to my collection as I learned how to cook with spices. I have powders, minced, flakes and whole spices. It is amazing how the same spice can have different flavors by the different processing. Now if I find a unique spice, I can't wait to buy it and take it home to try. I am sure you will be the same.


Here are a few combinations when learning how to cook with spices for you to try in your cooking.
Combine basil, dill, garlic and parsley for EGGS.

Combine basil, bay leaf, tarragon, lemon thyme, parsley, savory, sage and fennel for FISH.

Combine parsley, marjoram, rosemary and sage for POULTRY.

Combine basil, celery, parsley and French tarragon for SALADS.

Combine basil, bay leaf, marjoram, garlic, oregano and parsley for TOMATO SAUCE.

Combine basil, parsley and savory for VEGETABLES.

Combine cumin, garlic, hot pepper and oregano for BARBEQUE.

Combine basil, marjoram, garlic, oregano, rosemary, sage, savory and thyme for ITALIAN DISHES.
---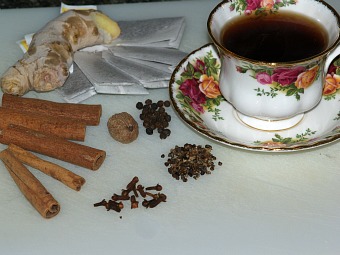 FAVORITE SPICE TEA
If you are learning how to cook with spices, don't overlook the many possibilities of spice teas. This is my favorite SPICE TEA RECIPE. I bought Chai tea for many months. Although I really liked the flavor, it was very expensive; each box only making ten cups. Chai tea is known to have health benefits like aiding in digestion and helping with heartburn. I do not have these problems but it is very delicious. When you are cold it is very warming. This homemade recipe is much cheaper than purchasing the commercial brands; this is an added benefit of learning how to cook with spices.

NOTE: Ground spices do not do this tea justice; you need fresh. Fresh dried spices can be purchased in bulk at health food stores and they are usually much cheaper.
Teabags (1 cup size-I use Lipton and cut off strings)
1 whole nutmeg, freshly ground from a nutmeg pod
½ Tablespoon cardamom seeds
1 Tablespoon fresh chopped ginger (I buy fresh, put it in freezer, I find it easy to chop off as I need) or dried ginger

5 Whole cloves (I kind of chop a little before putting in teapot)
¼ Teaspoon (full) whole black peppercorns
12 Inches cinnamon sticks

Teapot cold water
Combine all spices and teabags in a teapot; cover with water.
Bring to just a boil (Watch so it doesn't boil over).
Turn off heat and let tea steep and mixture will settle to bottom of pot.
Pour through a strainer into cups.
If desired sweeten with cream and honey; I like it without.
NOTE: When the pot is empty, I add more water and brew another pot with the same spices. You might want to add a couple more teabags if you like strong tea. I do this 3 times before changing all the new spices.Of course you can vary the amount of spices and teabags to suit your taste buds. The first pot is usually the strongest and the spices will weaken each time you add water to the pot.

---
CHICKEN SPICE RECIPE
If you are learning how to cook with spices try my favorite chicken spice recipe. Not only do I use this when frying chicken but I also sprinkle it on chicken when roasting. It is also very good used with beef or pork when baking or frying. Below is my large recipe. I mix it well and spoon it into quart jars to use on everything. Sometimes I spoon it into small jars to give away to my friends. They love it!
3 Cups dried parsley
2 Cups brown sugar
1 Cup dried rosemary
1 Cup ground sage
1 Cup dried oregano
1 Cup ground ginger
1 Cup ground paprika
1/2 Cup dried thyme
5 Tablespoons PLUS 1 teaspoon marjoram
2 Tablespoons tumeric
4 Teaspoons black pepper
1 Cup garlic powder
3 1/2 Cups salt (I use sea salt)
I place all ingredients in a very large bowl.
Blend well with your hands (It is best to use plastic gloves).
When all is thoroughly blended spoon into clean DRY glass canning jars.
Seal tightly; THIS WILL STAY GOOD FOR A LONG TIME.
MIX 2 1/2 Tablespoons (More or less to taste) to each 1 cup of flour for breading chicken, pork chops or fried steak.
The possibilities for flavor are endless when you learn to cook with spices.