Facts About Me Food Careers; Favorite Crème Brulee Recipe & Napoleons Recipe
I am Frances Peffly Moore, the youngest of fifteen children. I have always loved good food. As a child, I would ask Mom to make me some cookies or candy. After cooking for so many years and for so many children she was tired of cooking and baking. Mom's answer was simple, "If you want it you will have to learn to make it yourself."

Mom took a teacup from the cabinet, a tablespoon and teaspoon from the silverware drawer. These were my measuring devices; the teacup was about one cup and the silverware spoons were the same as measuring spoons. We did not have money to buy special cooking equipment but I think learning this way gave me a "feel" of what was needed. This is how my cooking education began.


When I was in the third grade, I wanted to bake a birthday cake for my teacher. Can you imagine that! Even thinking back today, Mrs. Cogan was a really nice lady! Sister Ardice also always loved to cook, so she helped me bake a cake. I do not remember what kind it was but I do remember what it looked like. It was rather plain compared to today's elaborate decorating but it was very pretty. What was much more important was that my teacher loved it as soon as she saw it; the next day she told me how good it tasted. I loved making this cake; maybe making my teacher so happy had a lot to do with it. Anyway, this is when my love for cooking and baking began.


After pleasing my teacher, I quickly mastered my cookie recipes. They were good enough to feed my fourth grade classmates on a regular basis. These were cookies which took only basic ingredients that were found in almost any kitchen. We usually had flour, sugar, salt, shortening, eggs and rolled oats; most of the time we had peanut butter and Hershey's cocoa powder. If anything took more than these ingredients, I usually couldn't make the recipe. My favorite cookies were oatmeal and peanut butter recipes. Occasionally, I would talk Mom or Dad into buying me a small package of chocolate chips to make cookies but this was a luxury.

I really wanted to learn how to cook everything; I couldn't wait to master fudge and cake recipes. I loved my German chocolate cake! This cake won me an award from Dayton Power and Light Company in Ohio when I was in my early twenties. The prize was my first electric cooking pot. I was truly hooked on cooking and baking!


I was soon trying to learn how to make entrees, vegetable casseroles, making great salads and luscious desserts and everything else. I would master each recipe making changes to fit my taste buds. One day when I thought I was so "special" because I could cook, it dawned on me I was not special; every person in my large family was a great cook.


We all learned how to cook everything (and perfect it) from our German heritage. Sister Gloria added all the recipes and tidbits about cooking which she learned from her Hungarian in-laws. My military brothers brought back the food cuisines from other countries where they spent time; a few Spanish speaking countries, Italy, Germany, France and Asian countries. My sisters and I picked up all kinds of recipes from every person we came in contact with. We became a "melting pot" of food cuisines.

My family's heritage was German farmers. All my family were and many still are big gardeners growing all kinds of vegetables and fruits. Everything possible was canned to last through the year. This canned food along with the meat we raised tasted very good in the cold Ohio winters. Of course, it helped that everyone knew how to make great recipes with these products.

While raising my family, I learned the importance of living a frugal life. I always cooked at home and fed my children well balanced meals. I was able to do this by planning ahead, shopping wisely, buying more at one time and visiting the grocery store less often.  I am proud of my German heritage and my family. Considering my heritage, I learned to make many cheap but very delicious recipes to feed my family; homemade noodles, dumplings, kraut, potatoes, gravies and all those traditional foods. When money ran short, I would subsidize the menu with foods like beef liver and onions; although very cheap to fix, they became family favorites. 

I was fortunate to train in a restaurant owned by Paul Bocuse, a world famous chef and to be certified by him. This was truly an experience to be able to learn about the French cuisine. The rich butter, creams and cheeses made everything so delicious but the French desserts are indescribable. We looked forward to something getting "accidentally smashed" so we had an excuse to sample it. Delicious creamy profiteroles drizzled with raspberry sauce, heavenly Napoleons and rich cheesecakes were only a few. I have learned to make many of their wonderful French desserts. As I often mention this has been my biggest weakness because; of course I enjoy eating them too!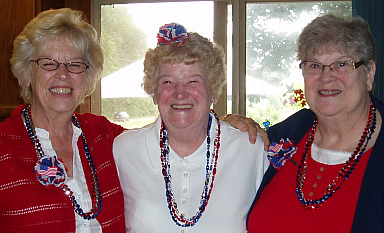 Myself with Sisters Shirley and Donna
I enjoy everything related to cooking. My late husband had and many of my family members have diabetes. I have learned to do diabetic meal planning. I have been amazed with the results that I have seen only by changing the food served to people who are trying to control their sugar. I have researched ways of storing grains and other foods for long term keeping. I love cooking with the healthy grains. My favorite is the wonder grain, quinoa. Each place that I have worked has brought new culinary experiences to me. My interest has expanded to finding the most economical way of purchasing the best quality food.


What I like to do for relaxation also includes food. I love trying new restaurants and trying new foods. Of course, I have favorite German restaurants but I also like all cuisines. I like food that is cooked with a lot of seasoning producing good flavor. I enjoy spending relaxing time walking around Walt Disney World. I use to work for Disney and still enjoy eating at the Disney World Restaurants. I certainly do not want to leave out my love for the Appalachian Mountains; the relaxing time I get to spend hiking and of course I love sampling the great local foods.

I have always shopped less often and bought in larger quantities; to save time and money. When shopping, I am always approached with many questions from other shoppers. They want to know everything from how to cook chicken to how to cook asparagus; depending on what they see in my cart.


This brings me to this website which I have always felt a real need for; to help others learn to cook good meals at home for their families and friends. I wanted to teach from all the basics to a gourmet presentation. Everyone should be able to present their family a healthy, economical meal at home


What I did not realize about starting this website is how much I would love doing it. After all these years (I am in my late sixties), it is really the best business that I have done in my life. I could never have dreamed how quickly it would spread in so many countries around the world. I didn't even know there are so many countries! I love it! Being able to communicate and become friends with so many of you in all parts of the world has been wonderful. The website also allows me to travel to these other parts of the world to sample their cuisine. I think I will be able to do this the rest of my life and I cannot think of anything I would like better. So there you have "Me in a nutshell". I appreciate all of you and hope you will continue to visit me.

The following are two of my favorite French desserts. They are easier to make than you might have thought. Both are worth the effort.
CRÈME BRULEE RECIPE with raspberry and peaches
Some of the facts about me food careers are that I cannot resist rich creamy desserts. They are my weakness! This one is extremely delicious and easy to make.
4 Fresh peaches, peeled and thickly sliced
4 Tablespoons gourmet red raspberry sauce
1 Cup whipping cream
2 Teaspoons vanilla
1 Cup dark brown sugar
Place sliced peaches in sieve to drain for a couple of hours; they will darken but that is OK.
Place in a freezer to oven soufflé or deep pie dish.
Drizzle raspberry sauce over the peaches.
Beat whipping cream adding vanilla; beat until very stiff.
Spread whipped cream over fruit; cover with plastic wrap and refrigerate.
Two hours before serving, place in freezer to harden.
Preheat broiler.
Remove dessert from freezer and sprinkle top with half inch layer of brown sugar covering the cream completely.
Place 4 to 5 inches below the source of heat; broil for 2 to 3 minutes or until sugar is hot and glistening.
Serve at once.
---
NAPOLEONS RECIPE
One of the facts about me food careers is that I do enjoy easy to make recipes. We usually think of the delicious fancy French desserts as being too difficult to make. Like the recipe above, this one is also easy to make; you can purchase the puff pastry and just put it together.

Ingredients

Puff pastry: Purchased and thawed in refrigerator before making.
Pastry cream
Glaze
1 Square unsweetened chocolate
2 Teaspoons butter
How to Make Pastry Cream:
½ Cup sugar
Dash salt
1 Tablespoon cornstarch
1 Cup half and half
3 Slightly beaten egg yolks
1 Teaspoon vanilla extract
¼ Cup whipping cream
Combine sugar, salt and cornstarch in a small heavy saucepan; gradually add half and half.
Cook over medium heat while stirring with wooden spoon until mixture is thick and bubbly; boil 1 minute.
Remove from heat and stir a little hot mixture into yolks mixing well.
Pour back into saucepan while stirring; bring back to boil.
Pour mixture into small bowl; stir in vanilla.
Place wax paper directly over mixture and refrigerate until chilled.
Whip cream until stiff; beat into pastry cream with rotary mixer until smooth.
How to Make Glaze:
1 Cup powdered sugar
¼ Teaspoon vanilla extract
Combine sugar and vanilla with 1 ½ tablespoons hot water; mix until smooth.
To Assemble Napoleons:

Line 2 cookie sheets with heavy brown paper; double thickness.
Remove half of chilled pastry from refrigerator; roll on floured board to 15 X 3 inch rectangle.
Trim to make even and refrigerate on cookie sheet for 30 minutes.
Repeat with remaining half of pastry; make pastry cream according to the directions.
Preheat oven to 450F degrees; prick pastry with fork and bake 15 minutes or until pastry is puffed.
Reduce temperature to 350F degrees; turn pastry over and bake 15 minutes.
Split pastry rectangles in half to make 4; arrange cut sides up on baking sheet and bake 5 minutes.
Move pastry to cooling rack until completely cool; make chocolate glaze.
Place one pastry cut side down on rack over tray; pour half of glaze evenly over surface.
Let stand 20 minutes and scrape glaze on tray back into bowl.
Pour remaining glaze over top of pastry and let stand 1 hour (If needed add a little hot water).
Melt chocolate and butter together in double boiler over hot water; mix well and cool.
Put chocolate in pastry bag with tip and decorate over top of glaze; set aside.
Place a pastry layer, cut side up on try; spread with 1/3 of pastry cream.
Place another layer, cut side up on top; spread with another 1/3 pastry cream.
Add a third layer, cut side down on top; then spread with remaining pastry cream.
Top with glazed layer; refrigerate until set and firmer.
Cut carefully with serrated knife.