How to Cook Greek Food
I only learned how to cook Greek food in the latter half of my life. Many of the ingredients used in this cuisine are ones which I had never experimented with. Grape leaves, olive oil* and filo dough have become a staple in my pantry. Many simply were not available to me when I was young. Many are just simple available ingredients but combined and used in other delicious ways. For example, I have always loved cucumbers but used to make tzadziki sauce is a new elevation.

When I learned how to cook Greek food I realized how much it is like the food my family always cooked. Many of the Greek recipes have a long traditional history as does the food which I grew up eating. We had our special foods for Easter, for Christmas, New Year and all the other special occasions. The ingredients are fresh, and flavorful. The fresh salads remind me when I was little and Sister Gloria made the most delicious salads. I loved going to her home just for the salads and her dressings. This is how I love the fresh Greek salads and dressings. 
As in the Greek cuisine, I have always had an abundance of great vegetables in my diet. Tomatoes, spinach, potatoes, onions, carrots, green beans, peppers and other vegetables have always been a part of my family' s cooking. It seems both cultures (Mine and the Greek) love lots of fresh garlic. Since I learned how to cook Greek food I have added new vegetables like eggplant and many different olives. I discovered more uses for ones like zucchini and other squash along with new lentils and greens.
Most of the entrée dishes are hearty and filling often including various sauces. Lamb, beef, veal or chicken are usually included in these hardy meals. Being surrounded with waters, good fresh seafood is also included in the Greek diet. Along with the vegetables I mentioned before, meats are usually served with filling pastas or rice. Flavorful herbs like oregano, dill, parsley, basil and others add a lot of flavor. Wonderful breads, fresh pastries and delicious desserts round out the Greek diet.
CHEESE AND OLIVE HATS 
Learn how to cook Greek food like this olive appetizer.
½ cup melted butter
1 Cup flour
2 Cups grated Cheddar cheese
¼ Teaspoon paprika
Pimiento stuffed olives
Preheat oven to 375F degrees.

Combine butter, flour, cheese and paprika; knead until smooth and blended.
Shape dough into small balls, flatten and shape around an olive; cover olive completely.
Bake 12 to 15 minutes until lightly browned; makes 25 to 30 balls.
---
HOW TO COOK GREEK FOOD: SALAD RECIPE
Learning how to cook Greek food must always include a delicious fresh salad.
5 Cups fresh spinach (Bite size pieces)
4 Cups lettuce (Bite size pieces head or Romaine lettuce)
¾ Cup feta cheese (Cut in ½ inch pieces)
½ Cup thinly sliced onion
24 Pitted ripe olives
1 Cucumber (Diced)
1 Cup chopped cooked ham
3 Tomatoes (Cut in wedges)
COMBINE and toss all ingredients; add lemon dressing (Below) and toss well.
Lemon Dressing
½ Cup vegetable oil
4 Tablespoons lemon juice
1 Teaspoon sugar
3 Teaspoons Dijon mustard
½ Teaspoon salt
¼ Teaspoon pepper
¼ Teaspoon garlic powder
COMBINE all ingredients in covered jar or container; shake well.
---
RECIPE FOR SAGANAKI
Learning how to cook Greek food must include flavorful appetizers like fried Greek cheese.
1 Pound Greek cheese (Cut in ¼ inch thick slices) (NOT Feta; Kasseri & Kefalotiri are best)
1 Beaten egg
¼ Cup milk
½ Tablespoon oil
½ Teaspoon salt
¾ Cup flour
Vegetable oil for frying
Juice of 1 lemon
Combine egg, milk, oil and salt and mix well; stir in flour and mix well.

Let mixture stand 30 minutes; dip cheese slices into batter.
In heavy skillet heat a little oil; brown cheese slices until browned about 2 minutes.
Sprinkle with lemon juice; serve immediately.
---
DOLMATHES RECIPE
When I learned how to cook Greek food stuffed grape leaves became a favorite of mine. These are great for appetizers or to serve as a meal.
2 Tablespoons olive oil
1 Pound lean ground beef
1 Small finely chopped onion
1 Can (8 ounces) tomato sauce
1 Cup white rice
½ Cup water
1 Tablespoon grated Parmesan cheese
Juice of ½  lemon 
5 Finely chopped green onions
½ Cup chopped parsley
Salt/pepper to taste
2 Jars (15.2 ounces each) grape leaves
3 Tablespoons dry mint
1 Cup chopped fresh fennel
To cook
3 Tablespoons olive oil
3 ½ Cups water
Juice of ½ lemon
Place 2 tablespoons olive oil in a large skillet; add beef stirring until browned.

Add both onions, parsley, fennel and mint; stir well and cook 5 minutes.
Season with salt and pepper; add tomato sauce, rice, Parmesan, juice of ½ lemon, ½ cup water.
Stir mixture well and cook 1 minute longer; set aside.
Rinse grape leaves in cold water to remove brine; place in boiling water 4 minutes.
Strain and separate the leaves placing them on flat surface with flat shiny surface down.
Place 4 -5 leaves in bottom of large saucepan (Use ragged and torn leaves; worse of bunch).
Place 1 teaspoon of beef mixture on edge of remaining grape leaves; roll each one up.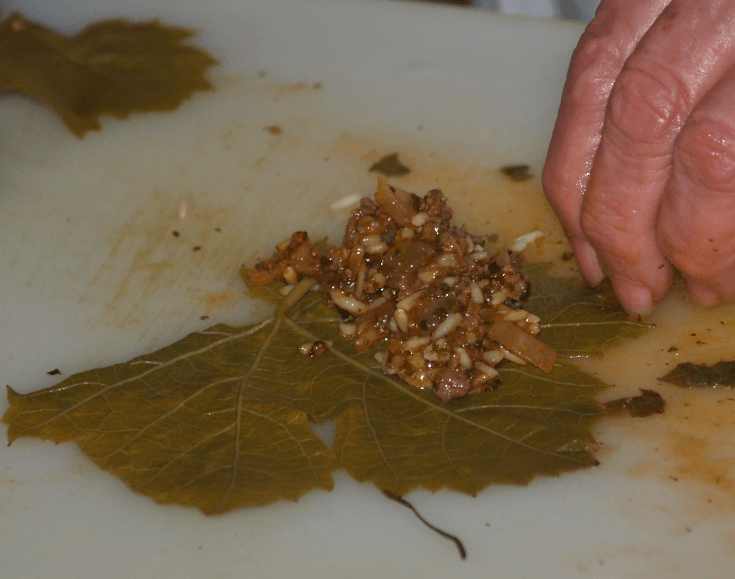 Place Filling in Center of Grape Leaf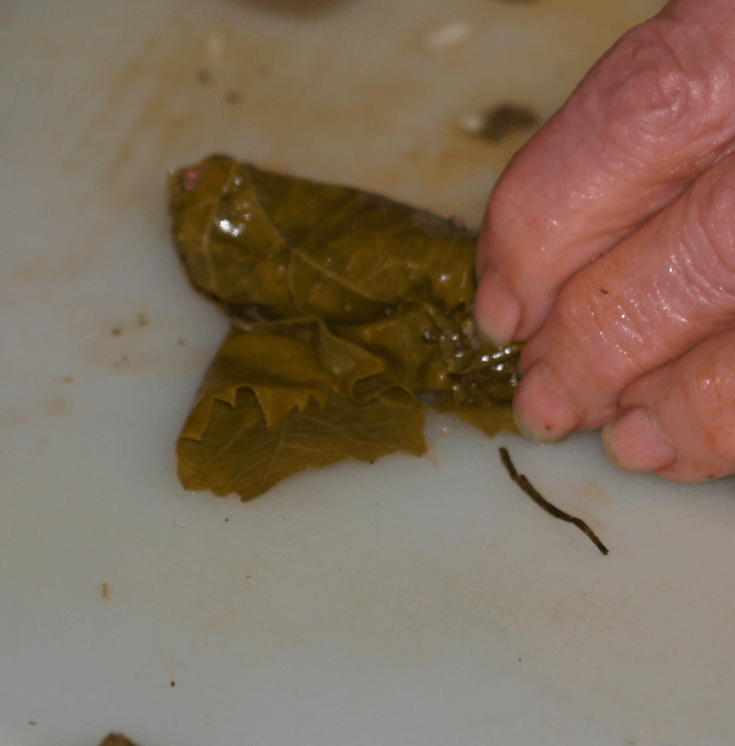 Tuck Leaf corners in As You Roll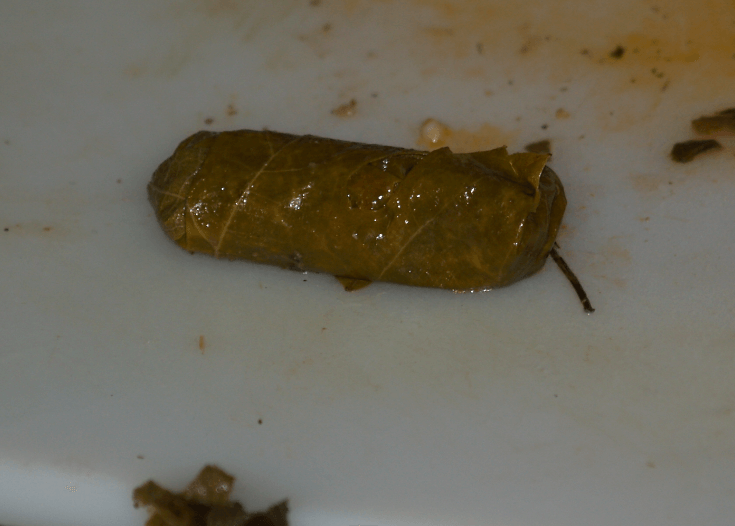 Tight Grape Roll
Arrange rolled dolmathes side by side in saucepan forming layer 1.
Continue placing dolmathes to make a layer 2; then layer 3, etc.
Place several remaining leaves on top of all dolmathes layers.
Add 2 ½ cups water, 3 tablespoons olive oil and juice of ½ lemon.
Place oven proof plate face down on top of stack to hold dolmathes in place.
Cover pan and simmer 45 minutes; makes around 90.
NOTE: The lemon sauce with recipe below "ENDIVE AND LEMON SAUCE" is good to serve with these stuffed grape leaves.
---
TIROPITAKIA
As I was learning how to cook Greek food I came across these filo dough triangles filled with cheese. They are delicious and make great appetizers or snacks.
1 Package (8 ounces) cream cheese
1 Pound grated Feta cheese
4 Eggs (Separated)
1 Pint cottage cheese
2 Tablespoons grated parmesan cheese
1 ½ Cups melted butter
1 Pound Filo dough
Preheat oven to 350F degrees.

Beat cream cheese until smooth; beat in 4 egg yolks.
Add cottage cheese, Feta and Parmesan cheeses.
Beat egg whites until stiff; fold into the cheese mixture.
Unwrap Filo dough and cut into 2 ½ inch strips; brush each strip with melted butter.
Place 1 teaspoon cheese mixture on one end of each strips.
Fold over into triangle and continue folding in triangle shape until at the end of strip of dough.
Brush tops of triangles with melted butter.
Place on baking sheets and bake 20 minutes until golden brown.
Serve triangles while hot; makes about 100.
---
LAMB STEW WITH SPINACH 
Learn how to cook Greek food with this hearty lamb stew.
1 ½ Boneless lamb (Cut in bite size pieces)
1 Large onion (Peel and slice thin)
1 Tablespoon butter
1 Can (16 ounces) tomatoes
2 Tablespoons tomato paste
1 Clove minced garlic
½ Teaspoon dried oregano
Salt/ pepper to taste
2 Cups hot broth
1 Pound bulk spinach (Chop)
Melt butter in Dutch oven over medium high heat; add onion and sauté about 3 minutes.

Add the lamb, tomato paste, tomatoes, garlic, oregano, salt, pepper and broth.
Bring mixture to a boil; cover, REDUCE heat and simmer about 30 minutes until meat is tender.
Add spinach and cook about 10 minutes longer; adjust seasoning and serve with crusty bread.
Serves 4 to 6.
---
ENDIVE WITH LEMON SAUCE
Learn how to cook Greek food like endive with lemon sauce (avgolemono).
2 Large heads curly endive
Salt/ pepper
Sauce
3 Beaten eggs
1 Teaspoon cornstarch
4 Tablespoons lemon juice
1 Cup warm cooking broth
2 Tablespoons butter
Salt/ pepper
Cut off root of endive; wash and cook about 15 minutes until tender in lightly salted water.

Drain and reserve 1 cup of the broth; coarsely chop endive and set aside.
TO MAKE SAUCE slowly beat cornstarch and lemon juice into eggs.
Slowly add hot broth and butter into the egg mixture; pour in saucepan.
Over low heat cook and stir mixture until thickened; season to taste.
Stir sauce into endive and serve warm; serves 4. 
---
GREEK HONEY WALNUT BALLS
Syrup
2/3 Cup honey
½ Cup sugar 
1 Cup orange juice
2 Cinnamon sticks (2 inches each)
6 Whole cloves
Filling
1 Teaspoon finely grated orange peel
1 Cup ground walnuts
¼ Cup syrup
Cookie Dough
1 Cup butter
3 Cups flour
½ Cup sugar
2 Tablespoons brandy (Or Grand Marnier)
½ Teaspoon baking powder
¼ Teaspoon baking soda
½ Teaspoon ground cinnamon
¼ Teaspoon ground cloves
¼ Teaspoon ground nutmeg
Topping
Remaining cooked syrup
½ Cup finely chopped walnuts
TO MAKE SYRUP combine syrup ingredients in a small saucepan.
Bring mixture to a boil; reduce heat and simmer 5 minutes.
Remove ¼ cup of syrup for the filling; reserve remaining syrup for topping.
TO MAKE FILLING combine all filling ingredients and blend well; set aside.
PREHEAT OVEN TO 350F DEGREES: lightly grease 3 cookie baking sheets.
TO MAKE COOKIE DOUGH beat butter in a large bowl until creamy.
Add 1 ½ cups of the flour, baking powder, soda, cinnamon, cloves and nutmeg; mix well.
Blend in remaining 1 ½ cups of flour.
TO MAKE COOKIES shape dough into 30 balls; place on baking sheets.
With finger press hole in center of each ball; place ½ teaspoon of filling in each hole.
Bring dough up and around the filling enclosing it completely.
Bake cookies about 15-18 minutes until set; remove from oven and let set.
FOR TOPPING warm remaining syrup by placing pan in hot water.
Dip cookies into syrup (Or spread top); coat syrup with chopped walnuts.
Place cookies on rack to cool and set up completely; makes 30.
---
PITA BREAD RECIPE
Learn how to cook Greek food and serve with pita bread. This bread is great for the gyro sandwich, stuffed pitas, serve with appetizers and simply as a snack.
5-6 Cups flour
1 Tablespoon sugar
2 Teaspoons salt
1 Package dry yeast
2 Cups warm water (About 120F degrees)
In large bowl mix 2 cups flour, sugar, salt and the yeast.

Slowly add the water beating on medium speed of mixer for 2 minutes.
Scrape sides of bowl occasionally while mixing; add ¾ cup of flour beating on high speed.
Add enough remaining flour to make a soft dough; knead until smooth and elastic on floured surface.
Place dough in greased bowl turning to coat top; cover and let rise about 1 hour until doubled.
Punch down on lightly floured surface; cover and let rest 30 minutes.
PREHEAT OVEN TO 450F degrees.
Divide dough into 6 equal parts; shape each into a ball.
Roll each ball into an 8 inch round; place on lightly floured baking sheets.
Bake on lowest rack in the oven for 5 minutes until lightly browned and center pops up.
Remove from oven and wrap each pita in aluminum foil.
NOTE: When unwrapped the pita top will have fallen and not pocket of air in center. Use flat or you can make a slit on 1 side of round and stuffed with sandwich filling.