How to Make Apple Tart Recipes 
Apple tart recipes vs apple pie recipes. What is the difference? We all know that tarts are made in special tart pans. These pans like the pie pans can be in different sizes; some in small individual sizes. Unlike the sloped sides of the pie pans and dishes, the tart ones are usually straight up and down but quite often with a scalloped design.
If you know how to make apple tart recipes, you will find they are very popular in other countries like Canada, Scotland and England. The apple pie has been made famous here in the United States; truly the "all American Apple pie". In fact, some of my friends in these other countries tell me it is very hard to even purchase "pie pans" there.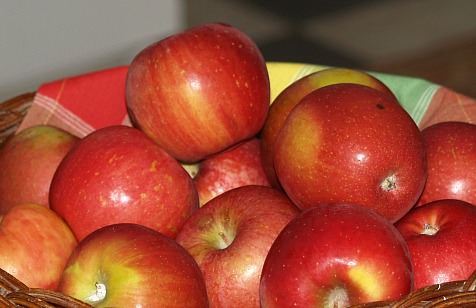 How to Make Apple Tart Recipes
NOTE: If you do not have tart pans, it is perfectly OK to make them in pan pans or pie dishes.
Pie apples are recommended for making tarts as they are for making bread , coffee cakes and other desserts. As I always tell you, do not limit yourself to only using those apples. I have found many of the recommended eating apples are also very good in most recipes. 

If you know how to make apple tart recipes, you know they only have a bottom crust where as an apple pie could have only a bottom crust or it might have a bottom and top crust. The pie crust is usually made of shortening, flour, a little salt and water. It is rolled smooth and thin; the end result should be a crisp and flaky crust.


If you know how to make apple tart recipes you know the crust is different from pie crust. The ratio of pie crust to filling is greater than for the pie. The tart crust is thicker and can be made of various ingredients, even cracker crumbs or cookie crumbs. It should produce a firm to crumbly crust.

BLUEBERRY TART RECIPE with apples
This is a delicious apple tart recipe made with blueberries.
Shortbread crust:

2 Cups flour

½ Cup sugar

1/8 Teaspoon salt

¾ Cup butter

3 Egg yolks

1 Tablespoon water
Filling:

6 Cups peeled sliced apples

2 cups fresh or frozen blueberries

2/3 Cup sugar

2 Tablespoons cornstarch

¼ Teaspoon nutmeg

¼ Teaspoon cinnamon
Meringue:

3 Egg whites

1/8 Teaspoon salt

2/3 Cup sugar

Make crust: Combine flour, sugar and salt in medium bowl.
Cut in butter until fine crumbs; add egg yolks and water and mix well.
Gather dough in a ball and roll between 2 sheets of wax paper.
Fit dough into bottom and sides of buttered 9 X 13 inch baking pan.
For Filling: Combine apples and blueberries in a bowl.
Combine sugar, cornstarch and spices; sprinkle evenly over the fruit.
Toss to coat fruit; spread fruit mixture into baking pan.
Bake in preheated oven at 350F degrees for 35 minutes or until apples are tender.
INCREASE HEAT TO 400f DEGREES.
Prepare Meringue: Beat egg whites and cream of tartar until soft peaks form.
Gradually add sugar and beat until stiff peaks form and sugar is dissolved.
Spoon meringue over fruit leaving a space between each spoonful.
Bake at 400F degrees for 8 minutes or until meringue is golden.

---
TART CINNAMON APPLE RECIPE
This cinnamon in this apple tart recipe really compliments the apples.
¾ Cup red cinnamon candies

2 Tablespoons water

2 Tablespoons light corn syrup

5 Cups thinly sliced peeled apples

2 Tablespoons sugar

1 Tablespoon butter

Pastry for 1 crust 9 inch pie

Heat candies, water and corn syrup to boiling in 1 quart saucepan.
Reduce heat and simmer uncovered until candies are dissolved about 5 minutes.
Pour into ungreased round 9 X 1 inch baking pan; cool.
Preheat oven to 425F degrees.
Layer half of apple slices (overlapping) on candy mixture; sprinkle with 1 tablespoon of sugar.
Layer with remaining apples; sprinkle with remaining sugar and dot top with butter.
Roll pastry dough into a 10 inch circle; carefully place over apples.
Trim dough edges to fit pan; bake 40 TO 45 minutes or until crust is golden brown.
Cool 1 hour; invert onto serving plate.

---
APRICOT TART RECIPE with apples
1 Package (6 ounces) dried apricots chopped

1 Package (6 ounces) dried apples chopped

¾ Cup sugar

1 Tablespoon cornstarch

½ Cup chopped nuts

1 Teaspoon grated orange peel

1/8 Teaspoon salt

1/3 Cup Grand Marnier liqueur

1 Package (15 ounces) Pillsbury All Ready Pie Crust

1 Tablespoon butter

1 Egg yolk

1 Teaspoon water

Combine apples and apricots in a large saucepan; cover with water and bring to a boil.
Reduce heat and simmer fruit until soft but still holding shape; about 5 to 10 minutes.
Drain fruit and cool; combine and mix in a bowl with sugar and cornstarch.
Add nuts, salt, orange peel and Grand Marnier to mixture; set aside.
Preheat oven to 425F degrees.
Place cookie sheet in oven on lower rack 10 minutes before placing tart in oven.
Prepare pie crust according to package directions for two crust pie.
Use 10 inch tart pan with removable bottom or 9 inch pie pan.
Place 1 prepared crust in bottom and up sides of pan.
Spoon filling into crust lined pan; dot top with butter.
Cut remaining pastry into ½ inch strips; arrange strips in lattice design on top of tart.
Trim and flute edges of crust; blend yolk and water and brush over lattice strips.
Place tart pan on preheated cookie sheet in oven; bake 35 to 40 minutes or until deep golden brown.
NOTE: If needed cover with foil to prevent over browning.
Cool and remove sides from pan; great served with ice cream.

---
MINCEMEAT TART RECIPE with apples

a favorite apple tart recipe for the fall
Pie pastry dough

2 Cups mincemeat

1 Pound apples, peeled, cored and finely sliced

¼ Cup sugar

2 Tablespoons sugar

½ Teaspoon allspice

½ Cup butter

1 Tablespoon flour

Preheat oven to 425F degrees.
Line 9 inch tart pan with pastry dough.
Spread mincemeat evenly over the dough.
Mix ¼ cup sugar and allspice with apples; arrange apples on top of mincemeat.
Combine 2 tablespoons sugar and flour; cut butter into mixture until crumbly.
Sprinkle mixture over the apples.
Bake in preheated oven 15 minutes THEN REDUCE HEAT TO 375F degrees.
Bake additional 30 minutes; remove from oven and cool.
Serve with whipped cream.