German Food in Asheville NC
Ashville NC Restaurants
I headed into Ashville NC as soon as the sun burned away the fog over the mountains. As I mentioned to you before, I brought my mastiffs on this trip to Tennessee.
Due to a delay here in Tennessee, the dogs were out of their food and the closest place to buy it is in Ashville North Carolina. The ride through the Appalachian Mountains was so breath taking.


The large range of the Appalacian Mountains covers the states of Kentucky, Tennessee, Virginia, Maryland, West Virginia, North Carolina and also extends somewhat into northern Georgia, western South Carolina, Pennsylvania and southern Ohio. The Blue Ridge Mountains are a province of the Appalachian Mountains and run through North Carolina. When I picked up the dog food, the girls working in the store directed me to the Blue Ridge Parkway to take Enoch and Malachi a walk on the hiking trail. The dogs loved it and couldn't drag me fast enough to satisfy their desire to see everything.
It was getting late in the afternoon by the time shopping and hiking was all completed. Hunger pangs were saying it was past time to eat. It was a job getting out of Ashville NC, going the right direction and on the right road. Finally I knew I was headed back to Tennessee. On the west side of Asheville NC I spotted a little sign along the highway saying "Bavarian Dining". By this time I was starving so I was willing to try anything. I am so glad I did because this is a great restaurant.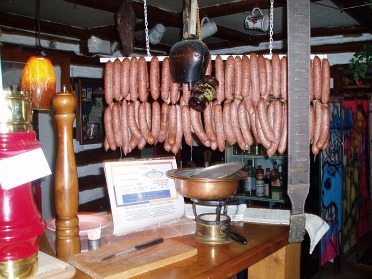 Ashville NC Bavarian German Restaurant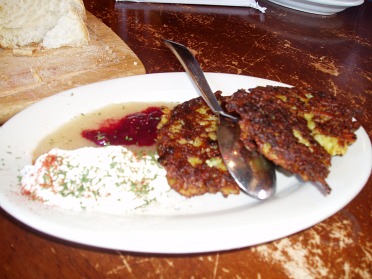 German Potato Cakes
As you probably know, Bavaria is a state of Germany. The food is typically German recipes. The owner "Doc" brought his family's Bavarian recipes to his restaurant in Ashville NC. Not only are they good recipes, but I can tell you that the technique used in the cooking of them make these delicious dishes. I am ranking the food served at this restaurant in the top few of all the restaurants in which I have eaten. It is the best food of all the German restaurants. I could find nothing but perfection in all the items that I tried. I know many of you visit the Ashville NC area from time to time. You must make sure to visit Bavarian Dining at 332 Weaverville Hwy, Asheville NC. You will be happy you did. 
My waiter told me that they have the best potato pancakes. Since I also make pretty good potato pancakes, I had to try them. I agree that they do have the best! This is one item where the cooking technique certainly adds to the flavor. It is obvious they are fried quickly in a very hot fat to a crispy brown. This prevents the potatoes from getting overcooked. I did ask about Doc's German recipes which he uses in his Ashville NC restaurant. Understandably so, they are kept very much a secret so I am offering one of my potato pancake recipes for you to try.
GERMAN POTATO PANCAKES
6 Medium potatoes, shredded, washed and all water squeezed out
1 Small finely grated onion
3 Egg yolks
2-3 drops yellow food coloring (Optional for rich color)
¼ Cup flour
1 Teaspoon salt
1/8 Teaspoon black pepper
½ Teaspoon fresh minced garlic
2 Teaspoon fresh chopped parsley
¼ Teaspoon baking powder
¼ Cup vegetable oil
Combine potatoes and onion in a large bowl. Beat the food coloring into the egg yolks and pour into the potato and onion mixture. Add the flour, salt, black pepper, garlic, parsley and baking powder to the bowl and mix well. Add some oil to a skillet or griddle and heat until sizzling. Did ¼ cup of potato mixture into the hot oil and brown on both sides. Serve with sour cream and applesauce.
Red Cabbage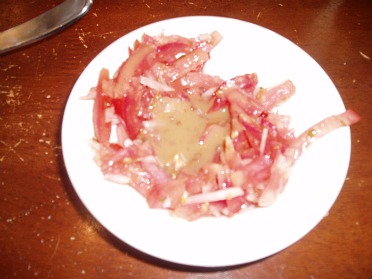 Onion Salad
The German sausage recipes served in this Ashville NC restaurant are simply delicious and something that I do want to make and try to copy the flavor. Bavarian Dining has an appetizer "Pot Luck Bratwurst Sampler" which allows diners to try the different sausages. Samples of the various sausages are served in mushroom gravy. It is delicious! Also worth mentioning is the red cabbage recipe. I have never been fond of this dish but Doc's recipe is the best. It is spicy and well seasoned with cloves. It is great!
As on other German menus, there are many schnitzel recipes featured. The schnitzels were all lightly breaded and sautéed and then topped with a variety of toppings to present the delicious specialties of the house. All the selections on the menu give choices of side items like a German potato salad or spatzle. I never pass up a chance for spatzle, but this was better than the normal. These noodles were larger than what most restaurants serve and very well flavored. All meals are served with delicious hot crusty bread and herb flavored butter.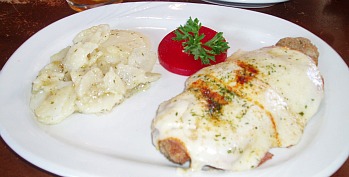 German Schnitzel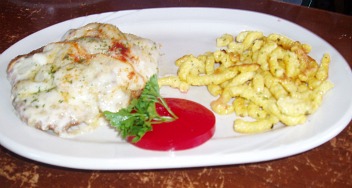 Spatzle or Noodles
For those readers who like the flavor of wild game, Bavarian Dining restaurant serves a daily special on the "wild side". You will see specials on the menu such as turtle soup, wild boar, venison, frog legs, ostrich steak, buffalo, rabbit and elk tenderloins. What a menu! I am also told the German beer served here is also very good but some calories must be saved for dessert.
I spotted the desserts as soon as I entered the restaurant and knew I had to try what I thought was the traditional Black Forest Cake. I make a Black Forest Torte so I wanted to compare the flavor. After inquiring about this house specialty, I found it was more than a cake; it is actually a delicious dessert. I am going to guess and try to tell you how it was put together because everything is secret.
They told me Bavarian cherries were used in this but I am not familiar with them. You could use any sweet canned cherries or Maraschino cherries. Heat the cherries with some Kirsch until hot. Pour the cherry mixture over a warm piece of chocolate cake in a dessert dish. Top the hot mixture with a scoop of vanilla or vanilla chocolate chip ice cream. Then top the ice cream with lots of whipped cream and a dollop of strawberry filling on top. I know this is not exact but you can get the idea of the flavor. The best thing is to visit Bavarian Dining when you are in the area of Ashville NC. No one makes these foods like they do!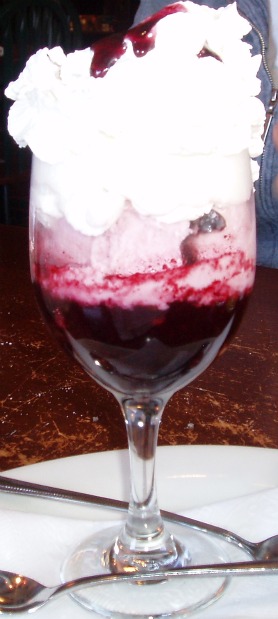 German Black Forest Dessert
SAUERBRATEN RECIPE This is not a recipe from the Ashville NC restaurant but one of my German recipes.
3 Cups water

3 Cups Concord grape wine

3 Cups vinegar

2 Teaspoons salt

4 Tablespoons sugar

6 Cloves garlic cut in small pieces

3 Tablespoons pickling spice

1 Bay leaf

3 Stalks sliced celery

3 Sliced onions

3 Carrots scraped and sliced

2 Tablespoons shortening

Kitchen Bouquet

Flour

4 Pounds beef brisket (about)

Combine water, wine, vinegar, salt, sugar, garlic, pickle spice, bay leaf, celery, onion and carrots.
Mix in a deep pot; add the beef brisket and refrigerate for 5 to 7 days turning over every day.
Remove meat from brine (save brine) and dry meat off with paper towels as much as possible.
In a large skillet sear all sides of meat in hot shortening.
Return to brine and cook about 2 ½ to 3 hours or until tender.
Remove meat from pan to platter and keep warm.
Strain gravy forcing as much of the vegetables as possible through strainer.
Thicken gravy with paste made of flour with cold water; boil and stir until thickened.
Check for desired seasoning; add Kitchen Bouquet to darken gravy to rich brown.
Slice meat very thin cutting across the grain; serve with German potato pancakes.

---
HAMBURGER GRAVY
This is also one of my recipes and not from the restaurant in Ashville NC.
1 Pound hamburger

½ Cup diced onion

2 Dill pickles diced

1 Tablespoon chopped fresh parsley

3 Tablespoons flour

1 ½ Cups water

2 Beef bouillon cubes

Salt/pepper to taste

Brown hamburger and drain off fat; add onion, pickles, parsley and flour.
Stir over low heat until flour is brown; add water and bouillon cubes.
Stir mixture until it is thickened; season with salt and pepper.
Serve with potatoes or over noodles.

---
RECIPE FOR FISH CAKES
My grandfather cooked a lot of fish; both in the kitchen and outside on the big fireplace. The yard was filled with many invited guests for the outdoor fish fries. This is one of his recipes and not one from Ashville NC.
8 Slices bread

Water

2 Pounds white fish fillets

1 Cup finely diced onion

4 Beaten eggs

1 Teaspoon salt

2 Teaspoons prepared mustard

1 ½ Cups dried bread crumbs

½ Cup cooking oil

Soak slices bread in water; squeeze out excess water.
Dice fish; mix fish with bread, eggs, onion, salt and mustard.
Divide mixture into 12 flat oval patties; cover both sides with dried bread crumbs.
Fry in hot oil about 4 to 5 minutes on each side.