How to Make Authentic Mexican Recipes
When you learn how to make authentic Mexican recipes, you will find they vary greatly region by region. All depend on their locally grown staples such as rice, corn, beans and squash. A lot of avocados are used in making a Mexican food recipe of guacamole. Chili peppers are added to fresh tomatoes to make a Mexican salsa recipe. Papayas, potatoes, lentils and plantains also are widely used.
After you learn how to make authentic Mexican recipes, you might be surprised to see how many include rice. This grain is a main stay of the Mexican diet and regardless of what type of meat or other dishes are served, rice is also served. It might be served plain or in flavorful Mexican style Spanish rice with tomatoes, garlic, onion and chilies peppers.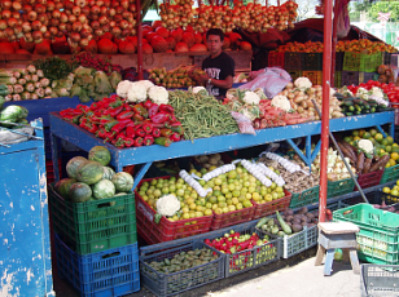 How to Make Authentic Mexican Recipes
Corn is another popular grain of the Mexican diet and actually is considered the main starch of the diet. It is eaten fresh but most of it is dried. Much of it is ground into flour and meals to use in making various kinds of dough like to make tortillas.
When I learned how to make authentic Mexican recipes I loved that so many consists of the widest range of different types of peppers. These are not just used to make the dishes hot and spicy. Although much of the diet is very spicy the peppers also add a wide range of subtle flavors. 
Tortillas are filled with soft cheeses and meat to make quesadilla recipes. They are commonly used as Mexican appetizers. A cornmeal tamale recipe is cooked inside corn husks or banana leaves. Soft shell taco recipes are made to use in chimichangas and burrito recipes, such as breakfast burritos.
Each year Cinco de Mayo recipes are enjoyed in the celebration of the Mexican militia over the French army. It is a regional celebration, mostly in the state of Puebla. For this occasion, the traditional foods are served along with the traditional Mexican dessert recipes.
Mexican vanilla is a flavoring dating back to the pre-Columbian era. It is made from the famous Mexican vanilla beans. This flavoring is used in most of the wonderful desserts like the flan recipe and tres leches cake recipe.
Vanilla is also used in capirotada, a bread pudding with apples. This dessert is served traditionally at Christmas and Lent. Sopapillas is an easy Mexican dessert. It is a pastry fried in hot oil, drained and then sprinkled with powder sugar.
Cajeta is like a candy in Mexico. Usually made of sweet milk. It is cooked until it becomes think and caramelized. As in many parts of the world, chocolate dessert recipes are a favorite. Mexican chocolate is a dark bitter chocolate mixed with cinnamon and sugar
Chocolate is also used in a mole sauce recipe. This sauce can be used over rice dishes, on tacos, over fried eggs or many other foods. It is much like gravy in the United States. For me a mole poblano recipe must be spicy and flavorful to be an authentic mexican recipe.
MEXICAN MEATBALLS RECIPE 
This authentic Mexican recipe has a delicious ancho chili sauce and is served with rice.
1 ½ Pounds finely ground beef
½ Cup fresh breadcrumbs
1 Medium finely chopped onion
1 Teaspoon oregano
½ Teaspoon ground cumin
3 Cloves minced garlic
1 Egg
Salt
Black pepper
Milk if needed (I use about 2 tablespoons)
12 Green olives cut in half
¾ Cup flour
Vegetable oil
Ancho chili sauce
Cooked rice 
Combine in a large bowl the first 9 ingredients; mix well with hands ADDING a little milk if mixture is too dry.
Divide mixture into 15 to 20 parts; shape into meatballs inserting half of olive in center.
Roll meatballs in flour and place on tray.
Heat about 1 inch of vegetable oil in a deep pan.
Place meatballs in hot oil and cook until lightly browned on all sides.
Remove meatballs from oil as they brown and drain on paper towels.
Make ancho sauce and add meatballs per instructions below.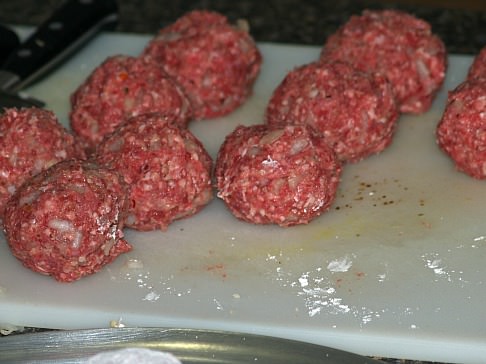 Mexican meatball Mixture
Mexican Meatballs Rolled in Flour
ANCHO CHILI SAUCE
3 Dried ancho chilies
3 Tablespoons vegetable oil
1 Medium finely chopped onion
2 Cloves minced garlic
2 Cups peeled and seeded chopped tomato (or diced canned tomatoes)
1 Cup beef stock
½ Teaspoon sugar
Salt/pepper
Cut chilies and shake out seeds and tear into pieces; soak in ½ cup warm water 1 hour stirring from time to time.
Put chilies in food processor with the liquid and puree; set aside.
Heat vegetable oil in a large saucepan; sauté onion and garlic until soft.
Add pureed chilies and tomatoes; stir in beef stock and sugar.
Season with salt and pepper to taste; add meatballs and bring to a boil.
Simmer about 20 minutes; serve over rice. Serves 6 to 8.
---
HOW TO MAKE MEXICAN RICE

an authentic Mexican recipe



2 Cups sour cream

3 Cups cooked rice

2 Chopped tomatoes

2 Cans (4 ounces each) green chilies

2 Cans (10 ½ ounces each) cream of celery soup

1 ½ Cups shredded sharp Cheddar cheese

Combine first 5 ingredients and blend well; place in greased 9 X 13 inch baking pan.
Cover with cheese and bake at 350F degrees for 35 to 40 minutes or until bubbly hot.
Serves 10 to 12.

---
MEXICAN CORN AND BEAN SALSA
1 Can (12 ounces) whole kernel corn drained

1 Can (15 ½ ounces) black beans drained

1/3 Cup Italian dressing

1 Jar (16 ounces) chunky salsa

Combine and mix altogether; chill.
Serve with baked tostados chips or wrap in warm tortillas.

---
MEXICAN BLACK WALNUT CANDY
2 Cups white sugar

2 Cups brown sugar

1 Cup dark corn syrup

1 ½ Cups cream

Combine all ingredients in saucepan; bring to a boil.
Boil until hard ball forms when dropped in cold water; remove from heat and beat until stiff.
Add black walnuts quickly and pour into buttered dish; cool slightly and cut in squares.
NOTE: Once it cooks it sets up quickly so work quickly.