Banana Salad Recipes 
Banana salad recipes are some of the favorite dessert salad recipes being that bananas are one of the favorite fruits.
Dessert salads usually have a combination of two or more of the following ingredients; gelatins, whipped toppings, different fruits, mayonnaise, sour cream, miniature marshmallows, chocolate and could even have some vegetables. These make a light dessert and are transportable, making a good dish for a pot luck dinner or church supper.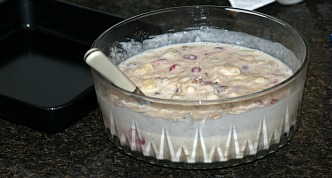 Combine Ingredients in a Bowl
FROZEN BANANA SALAD RECIPE
Frozen fruit salads make great light desserts in the summertime; try the following two recipes.

2 Cups sour cream
1 Can (8 ounces) crushed pineapple drained
1 Tablespoon lemon juice
½ Cup chopped nuts
¾ Cup sugar
4 Bananas mashed
1 Teaspoon salt
1 Jar (8 ounces) Maraschino cherries, quartered
Mix all ingredients well; pour into a 9 X 9 inch pan and freeze.
Cut into squares and serve on lettuce leaves.
---
FROZEN FRUIT SALAD RECIPE
2 Cans (6 1/2 ounces) pineapple tidbits drained; reserve liquid
3 Tablespoons lemon juice
1 Envelope unflavored gelatin
1 Package (3 ounces) softened cream cheese
1/3 Cup mayonnaise
1 Cup miniature marshmallows
1 Cup sliced bananas
1 Can (11 ounces) Mandarin oranges drained
½ Cup Maraschino cherries cut in half
½ Cup chopped nuts
1 Cup whipping cream shipped
2 Tablespoons vanilla sugar (2 Tablespoons sugar plus ¼ teaspoon vanilla)
1 Large bunch watercress
Combine in a small pan lemon juice and enough reserved juice to equal 1 cup.
Sprinkle gelatin over juice and let set 5 minutes to soften.
Dissolve gelatin over low heat stirring constantly; remove from heat.
Beat cream cheese and mayonnaise until smooth.
Add marshmallows, bananas, pineapple, oranges and gelatin into creamed mixture and blend well; fold in cherries.
Spoon into wax paper lined loaf pan and freeze for at least four hours.
To serve turn out onto platter and cut in slices; serve on a bed of watercress.
---
STRAWBERRY BANANA SALAD
This is one of the banana salad recipes which uses my favorite combination of fruits; banana, strawberry and pineapple. You cannot go wrong with this mixture no matter what other ingredients you add.

1 Large package strawberry banana gelatin
1 ½ Cup boiling water
3 Firm bananas
1 Small con crushed pineapple drained
1 Pint frozen strawberries
½ Cup sour cream
½ Cup whipped topping
1 Cup chopped cashews
Stir gelatin into boiling water until dissolved; cool.
Add frozen strawberries, bananas, pineapple and cashews.
Pour half of gelatin mixture in a 9 X 13 inch pan; refrigerate until set.
Spread top with sour cream.
Cover with remaining gelatin mixture; refrigerate until set.
Cover with whipped topping; refrigerate until set.
---
FRUIT SALSA RECIPE
This fruit salsa recipe is delicious served on ice cream or fresh pound cake. We usually think of salads as being served cold but this one of the banana salad recipes which is served warm. Although a little different it is still very delicious, especially served with ice cream.

3 diced peeled bananas
1 Cup peeled diced apples
1 Cup diced fresh strawberries
½ Cup raisins
¾ Cup Port wine
1/3 Cup sugar
1 Tablespoon quick cooking tapioca
½ Teaspoon cinnamon
1/8 Teaspoon ground cloves
1/8 Teaspoon ground ginger
1/8 Teaspoon ground nutmeg
Combine Port wine, sugar, tapioca, cinnamon, cloves, ginger and nutmeg in a small pan; let stand 5 minutes to soften tapioca.
Heat mixture over medium low stirring until it thickens.
Add apples and raisins stirring and cooking 5 more minutes.
Stir in bananas and strawberries; serve warm.
---
BANANA ICE CREAM SALAD RECIPE
50 butter crackers crushed
½ Cup melted butter
2 Package (3 ounces each) banana instant pudding mix
1 ½ Cups milk
1 ½ Quarts vanilla ice cream softened
2 Envelopes whipped topping mix
Combine cracker crumbs (Reserve ½ cup) and melted butter in a bowl.

Mix crumb mixture well and press into 9X13 inch baking dish.
Combine pudding mix and milk in a mixing bowl; beat until well blended.
Add softened ice cream to pudding mixture and blend well; pour over the crumb mixture in dish.
Prepare whipped topping mix according to package direction; spread over ice cream layer.
Sprinkle reserved ½ cup crumbs over whipped topping layer; chill in refrigerator until set.
Serves 12.
---
BANANA PEACH MARSHMALLOW SALAD RECIPE
2 Tablespoons unflavored gelatin
½ Cup cold water
1 Cup peach juice
1 Cup miniature marshmallows
¾ cup sugar
1 Cup diced peaches
1 Cup sliced bananas
¼ cup lemon juice
2 Egg whites 
1 Cup whipping cream (Whipped stiff)
1/8 Teaspoon salt
Dissolve gelatin in water; set aside.

Bring peach juice to a boil in top of double boiler.
Add the gelatin mixture, marshmallows and sugar to the peach juice.
Cook mixture until lightly congealed; add peaches, bananas and lemon juice.
Beat egg whites and salt until stiff peaks form.
Fold beaten egg whites and whipped cream into gelatin mixture.