Best Banana Recipes 
Banana recipes are some of the favorite desserts for families in many homes. Children and adults alike love anything from banana pudding recipes to the strawberry banana smoothie recipe; or just eating bananas.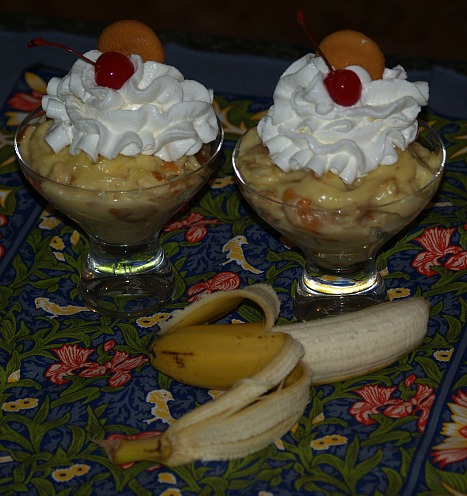 Best Banana Recipes
Bananas are marketed year round so banana recipes are not seasonal. There are both yellow and red varieties; the yellow being the most common here in the United States. The red variety is much richer in flavor and usually much more expensive; usually only sold in specialty markets.
Many of us consider bananas on our top list of kitchen staples. There are so many uses for them in banana recipes and everyone loves to eat them; especially our children. They do have a lot of health benefits such as high levels of potassium so they are nice to have on hand. They do have a tendency of going bad quickly. You will want to eat them or preserve them some way so they do not go to waste.
When purchasing bananas select plump well filled bananas; avoid soft, badly discolored or moldy fruit. For eating choose firm bananas with yellow brown flecked skin showing no green at the tips. For cooking or storing a few days choose yellow skins without any brown flecks. This would be at the ripeness I choose for banana pie, banana fritters, for most banana puddings or when making grilled bananas.
Although most people are picky about buying bananas, I like the very ripe bananas for most of my baking like banana bread, banana cake, banana cookies or even most banana drinks. They are much sweeter at this stage. I do expect to get a good price at this stage!
NOTE: I read that the bananas with the dark spots on the peel are the healthiest; they have been found to fight cancer. Check this out!
I peel extra ripe bananas and put in freezer bags to freeze until I am ready to use. These make some of the best banana recipes like a homemade cake; simply remove them from the freezer and thaw. Easy banana recipes are made with these and you save money also. I always use the bananas from my freezer for my banana pancakes. They are mushier; I cut them in small chunks and throw into the batter. These make a delicious banana pancake recipe.
These frozen bananas are great for many easy banana bread recipes and banana ice cream recipes. (Banana ice cream is one of my favorites and these bananas make great homemade ice cream.) By adding them to your brownies, you will get the most moist brownie recipe. Also use these in a chocolate chip banana bread recipe. The flavor is fantastic!
Many of the banana dessert recipes do need the fresh ones some banana desserts do, before they get too ripe. Fresh ones are easy to take as one of the most fun camping desserts for the kids. Try grilled bananas or dipping them in melted chocolate around the campfire. At this stage they are good to use in many of the salad recipes or entrees.
Below: Watch me demonstrate the best way to peel a banana
BANANA PANCAKE RECIPE
One of the best banana recipes I make is this delicious banana pancake recipe; serve with warm maple syrup.
1 Cup milk
1 Beaten egg
½ Teaspoon salt
2 Tablespoons baking powder
2 Tablespoons cooking oil
1 Cup flour
2 Tablespoons sugar
1 Chopped ripe banana
Combine flour, sugar, baking powder and salt in a medium bowl.
Add egg and oil, slowly add milk while stirring; blend well.
Stir in banana; spoon onto hot oiled griddle and brown on both sides.
---
BANANA RECIPE 

a rice pudding




 2 Cups scalded milk
¼ Cup rice
1/3 Cup sugar
1/8 Teaspoon salt
2 Egg yolks
½ Teaspoon nutmeg
2 Egg whites beaten stiff
3 Chopped ripe bananas
Scald milk in double boiler; add rice and nutmeg and cook 30 minutes.
Add sugar and salt to egg yolks and beat well.
Add rice and milk mixture to egg yolk mixture and blend well.
Return to double boiler and cook until thickened.
Remove from heat and stir in bananas.
Fold stiffly beaten egg whites into pudding mixture.
Pour into bowl and refrigerate until cold.
---
SPANISH CASSEROLE RECIPE
This Spanish casserole recipe is a little different from the other banana recipes. It is a casserole, containing chicken in the recipe for serving as a main dish. It has an unusual combination of flavors; slightly sweet and slightly sour.
1 Fryer chicken cut in quarters
¼ Cup lemon juice
2 Teaspoon salt
3 Tablespoons butter
1 Medium grated onion
2 Peeled, seeded and chopped tomatoes
1/8 Teaspoon sugar
1 Cup dry white wine
¼ Cup cooking oil
6 Ripe peeled bananas cut in half lengthwise (Choose bananas for cooking; not overly ripe)
1 Cup grated Parmesan cheese
1 Tablespoon butter
Season chicken with lemon juice and salt.
Heat 3 tablespoons butter in a large skillet; stir in the onion, tomato and sugar.
Add the chicken pieces; simmer for 5 minutes on each side.
Add wine; cover with lid and simmer until chicken is tender about 45 minutes.
Preheat oven to 400F degrees.
Arrange chicken pieces in a casserole baking dish; dump all juices and onion over the top of chicken.
Heat oil in skillet and sauté bananas until lightly browned on both sides.
Arrange banana slices cut side down on top of chicken pieces; sprinkle with grated cheese.
Cut 1 tablespoon butter into tiny pieces and dot top of cheese.
Place in hot oven until cheese is lightly brown about 10 minutes; serve with cooked rice.
---
BANANA APRICOT PIE RECIPE
Coca Cola always comes up with great banana recipes using their products like this banana apricot pie recipe and butter pecan cake recipe. A friend sent these to me years ago and I always enjoy making them; you will love them.
2 Cup dried apricots, snipped
1 ½ Cups Sprite
1 ¼ Cups sugar
¼ Cup flour
¼ Teaspoon salt
3 Egg yolks slightly beaten
2 Tablespoons butter
2 Medium sliced bananas
1 Baked pie shell
Meringue
Preheat oven to 350F degrees.
Combine apricots and sprite in saucepan; cover and simmer for 10 minutes or until tender.
In a bowl, combine the sugar, flour, salt and stir into apricot mixture.
Cook stirring constantly until mixture is thickened and bubbly.
Whisk a small amount of hot mixture into the egg yolks.
Return yolk mixture to the pan; continue cooking and stirring 2 minutes longer.
Stir in the butter.
Arrange banana slices in bottom of baked pie shell; pour apricot mixture over top.
Spread meringue over hot filling; bake 12 to 15 minutes until lightly browned.
Cool completely before cutting.
---
BUTTER PECAN CAKE RECIPE
Cake
½ Cup mashed bananas
1 Package yellow cake mix
1 Package (4 ounces) butter pecan flavored instant pudding mix
4 Eggs
1 Cup Coca Cola
¼ Cup vegetable oil
½ Cup finely chopped pecans
Glaze:
1 Tablespoon hot milk
1 Cup sifted powdered sugar
Preheat oven to 350F degrees.
Combine and blend in a large bowl all cake ingredients.
Beat 4 minutes on medium speed; pour into a greased and floured bundt cake pan.
Bake for 50 minutes or until pick comes out clean; remove from oven.
Cool in pan 15 minutes then remove from pan; cool completely.
Stir hot milk into powdered sugar until smooth; drizzle over cooled cake.