How to Make a Barbeque Beef Recipe 
When you learn how to make a barbeque beef recipe, you will see that nothing embodies the pleasures of outdoor cooking. The most popular of all outdoor grilling being a thick juicy steak.
I know of many people who will eat no meat except beef. For them the sizzling juices of the meat cooking over hot coals producing the great aroma blending with the scent of smoke appeals to their senses. When cooking steak spread the red hot charcoals over the bottom of the grill firebox. Position the grill rack 4 to 6 inches above the coals and heat for 5 minutes. Use tongs and fat to grease the rack.
Place oiled steaks on the rack. When the red beads of juice appear on the top surface, turn the steaks and season the seared sides. Sear the steaks on the second side until juices rise to the surface again (about 2 minutes). Reduce the heat by moving the meat to the side of the rack, by raising the rack 1 to 2 inches more above the coals. Continue cooking until the steaks are desired doneness. If you are learning how to make a barbeque beef recipe, salt only after searing because the salt will pull out moisture if done before and serve with your best bbq sauce recipe.
When learning how to make a barbeque beef recipe, you will find that the size and shape of cut will dictate the dry heat method that should be used. The intensity of the heat in grilling demands that the meat be cut into small and fairly flat pieces that will cook through fast before it has a chance to burn. In as few as six to eight minutes, they will be seared on the outside but still remain juicy inside. Cubes or chunks of meat packed onto skewers need only fifteen minutes of cooking time. Large or irregularly shaped cuts of meat such as roasts are more suited to indirect grilling after searing. This slow cooking (temperatures at 250F to 300F degrees) by spit roasting or by placing it off to the sides of hot coals or by turning the gas burner on off under the roast, then closing the lid and allowing to cook slowly.
The diversity of cooking temperatures is mirrored in the time each method requires. A steak can be grilled to perfection in as little as 10 to 15 minutes; never grill a steak under one inch thick. When grilling when every minute counts, the initial temperature of the meat is important also. In order to heat quickly and cook evenly the meat should be removed from the refrigerator and allowed to stand at room temperature for an hour or so before starting your barbeque beef recipe. Frozen meats must first be defrosted thoroughly in the refrigerator. This defrosting process requires about five hour for each pound of meat.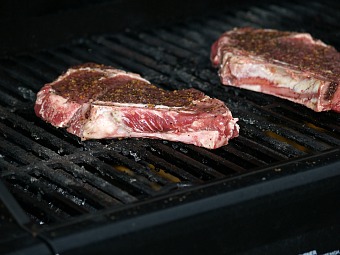 Barbequeing Steaks on the Grill
BARBEQUE BEEF RECIPE
This is a popular barbeque beef recipe for the grill.
6 Cloves minced garlic
1 ½ Teaspoons seasoned salt
½ Teaspoon coarsely ground pepper
6 to 7 Pounds spareribs
1 Cup firmly packed brown sugar
¾ to 1 Cup coarse grain mustard
¼ Cup molasses
½ Teaspoon dry mustard
Combine garlic, salt and pepper; rub on spareribs.
Place ribs on gas grill over medium heat or on charcoal grill 4 to 6 inches from medium coals.
Cover and cook 45 to 60 minutes or to desired doneness; turn ribs often.
Combine sugar, coarse grain mustard, molasses and dry mustard in a saucepan.
Bring to a boil, reduce heat and simmer about 5 minutes or until sugar is dissolved.
Brush ribs with sauce the last 15 minutes of cooking ribs turning once.
Reheat sauce to boil and serve with ribs.
---
BARBEQUE SANDWICH
¼ Cup soft butter
4 Cloves minced garlic
2 Pounds beef top round steak (London broil) in one piece
16 Thick slices onions
8 Sandwich buns
Sliced tomatoes, lettuce, pickles OPTIONAL
Beat garlic and butter until fluffy to make" garlic butter"; set aside until ready to use.
Have steak at room temperature 30 minutes before grilling; trim off excess fat.
Spread 1 teaspoon garlic butter on each side of steak; place on hot grill 4 to 6 inches from heat source.
Cook meat 10 minutes or until brown; turn steak over.
Lightly spread garlic butter on top and place slices of onion on steak.
Cook until desired doneness basting once with garlic butter.
Open buns and spread with remaining garlic butter; place on grill until lightly browned.
Place steak on carving board; cut across the gain into thin slices.
Arrange slices of steak on bottom halves of buns; top with onions, garnishes and top buns.
---
BARBEQUE MEATBALLS
12 Fresh jalapeno peppers
2 Pounds lean ground beef
Taco sauce
Cut jalapeno peppers in generous chunks about 1 inch; remove seeds.
NOTE: It is best to use gloves when cutting peppers.
Using your hands form a 1 ½ inch ball of ground beef around each piece of pepper.
Using metal skewers, skewer the meatballs so that the skewer pierces the pepper and holds meatball together.
Place the skewers on hot grill about 4 to 6 inches above heat source.
Cook 18 to 20 minutes or until well done turning skewers every 5 minutes.
Baste with taco sauce last 5 minutes of cooking or you can serve these with taco sauce.
---
BARBEQUE BEEF BRISKET RECIPE
8 Pounds deboned brisket
2 Tablespoons salt
2 Teaspoons pepper
2 Teaspoons paprika
2 Tablespoons chili powder
2 Teaspoons garlic salt
Combine and blend salt, pepper, paprika, chili powder and garlic salt.
Rub mixture into meat; place on grill rack over indirect heat at medium low temperature (350F degrees)
Close grill lid and cook for 6 hours or until desired doneness.
To serve slice thinly across the grain.