How to Make BBQ Recipes 
When you learn how to make bbq recipes, the preparation can be as little as lighting the grill. Brushing the foods with oil will help to prevent it from drying out; garlic butter work well on steaks and adds great flavor.
A dusting with a few herbs will also give added flavor. Marinades can give your food new and exotic flavors. By adding acidic ingredients to the marinade will allow a tenderizing process to take place on those tougher cuts of meats. A little sugar or honey added to marinades causes a faster caramelization; this is great for pork especially ribs. Be careful of marinating for tenderness too long; it could result in mushy meat so follow your recipe.

It is so easy to throw vegetables on the grill while grilling meats. Do not overlook the delicious flavor which comes from grilled vegetables when you learn how to make bbq recipes. They are simple to cook and foods like vegetables and delicate fish are best to cook on a metal grill tray. These also can be seasoned much the same way as seasoning meats.
When you learn how to make bbq recipes, you will find they take on new flavors when using hardwood chips, herbs and other seasonings. Hickory wood chips add an intense and sweet flavor to grilled foods; this is especially good for pork recipes like ham and ribs. The light sweet smoky flavor of mesquite chips or mesquite charcoal briquettes is real popular for grilling beef; I love this flavor for grilling salmon. Apple and cherry wood gives off a mild sweet flavor which is very tasty with poultry and game hens. Alder offers a delicate and a fragrant flavor to many fish and seafood recipes.
If using wood chips for your bbq recipes, soak them in enough water to cover for 30 to 60 minutes and then drain; then sprinkle the wood chips over hot coals. Keep adding wood chips every 15 to 20 minutes. Use only wood chips from fruit or nut trees. Soft woods and evergreens such as pine should never be used. The resins given off by these trees will discolor the food and make it bitter.
When you are cooking bbq recipes, the addition of grapevine cuttings add a sweet wine like flavor to the foods. After tossing a few into the fire, they will produce a quick burst of heat and then smoke; this is great for cooking fish and poultry. Branches of rosemary, thyme, sage and oregano can also be added for grill flavor; again soak, drain and add a few at a time to hot coals. Cinnamon sticks, cloves of garlic, citrus peels and many other spices and flavors can be added to enhance the taste.
When cooking bbq recipes the coals are ready to use when they are mostly gray in color. If longer cooking time is called for you will need to start an additional batch of briquettes about the end of the first hour to add as needed. The following are the coals needed to provide various heat degrees:
12 to 15 coals 300F degrees
13 to 17 coals 325F degrees
14 to 18 coals 350F degrees
15 to 19 coals 375F degrees
16 to 20 coals 400F degrees
17 to 22 coals 425F degrees
18 to 23 coals 450F degrees
19 to 24 coals 475F degrees
HOW TO MAKE A BBQ RECIPE for a Pork LOIN RECIPE
1 Pork loin roast 4 to 5 pounds
½ Cup apple cider
¼ Cup Dijon style mustard
¼ Cup vegetable oil
¼ Cup soy sauce
Insert meat thermometer in the center of the thickest part of the roast.
Arrange medium hot charcoals around a drip pan; place roast over the drip pan.
Cover grill and cook 2 ½ to 3 hours, adding more charcoals if needed.
Combine apple cider, mustard, oil and soy sauce and blend.
Brush roast with sauce 3 to 4 times during last 30 minutes of cooking.
---
BARBEQUE PORK LOIN RECIPE
4 Pounds boneless pork loin roast
2 Teaspoons salt
1 Teaspoon pepper
¼ Teaspoon thyme
¼ Teaspoon oregano
¼ Teaspoon fennel
1 Cup flour
3 Tablespoons cooking oil
1 Cup chicken broth
1 ½ Cups apple juice
2 Cloves minced garlic
½ Teaspoon nutmeg
Spray Dutch oven with non stick vegetable spray.
Combine salt, pepper thyme, fennel and oregano in small bowl; rub spice mixture all over the roast.
Dredge roast in flour until it is completely covered rubbing in well.
Heat Dutch oven over hot coals (12 to 15 briquettes) adding oil; brown roast on all sides.
Remove 4 to 5 briquettes out from under Dutch oven making low heat.
Add chicken broth, apple juice, garlic and nutmeg to roast; cover with grill lid.
Simmer for 3 to 4 hours; when tender and done remove meat and make gravy with drippings.
---
BARBEQUE PORK CHOPS RECIPE
4 Pork chops ¾ inch thick
¼ Teaspoon salt
¼ Teaspoon coarsely ground pepper
¾ Cup pure maple syrup
2 Tablespoons brown sugar
2 Tablespoons ketchup
2 Tablespoons prepared mustard
1 Tablespoon Worcestershire sauce
2 gloves of minced garlic
Rub both sides of pork chops with salt and pepper.
Combine in a small saucepan the maple syrup, brown sugar, ketchup, mustard and Worcestershire sauce.
Bring mixture to a boil stirring constantly; remove from heat and set aside.
Place pork chops on preheated grill 4 to 6 inches from medium heat or place 6 inches under hot broiler; cook 15 minutes turning once.
Brush with glaze; cook additional 10 minutes or until no longer pink.
Turn chops once brushing frequently with glaze.
Bring remaining glaze to a boil to serve with chops.
---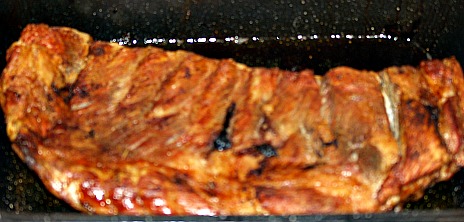 ISLAND BARBEQUE SAUCE RECIPE
Many recipes for barbeque sauce have many similar ingredients in them. This is one of the bbq recipes which is a little different with a little taste of island cuisine. It is great for grilling pork.
½ Cup barbeque sauce
¼ Cup pineapple juice
1 Clove minced garlic
2 Teaspoons vanilla
1 Teaspoon ground allspice
Combine all ingredients and blend.
Place pork chops or other pork on preheated grill 4 to 5 inches from heat source.
Cook for 10 to 12 minutes or until thoroughly cooked brushing frequently with sauce.
---
BARBEQUE RIB RECIPE
4 Pounds short ribs excess fat removed
¼ Cup water
1/3 Cup tomato ketchup
1/3 Cup cooking oil
¼ Cup brown sugar
¼ Cup vinegar
1 Tablespoon finely chopped onion
1 ½ Teaspoon chili powder
1 ½ Teaspoon salt
Place ribs in plastic resealable plastic bag or shallow pan.
Combine all of remaining ingredients and pour over ribs.
Tightly seal bag and turn to coat ribs; chill overnight.
Place ribs on preheated grill over medium to low coals; cook ribs until very tender.
Bring reserved marinade to a boil to serve with ribs.