How to Make Black Cake Recipe
I learned how to make the black cake recipe because it is very popular in many parts of the world. It is also known as the Jamaican rum cake or simply wine cake. This is a traditional recipe of the Caribbean and is served for weddings and holidays like Christmas.

The friend who gave me this recipe says the fruit and alcohol is soaked for many months by some people who make it; that is the old fashioned way. The two week version of this recipe is just faster; or "Americanized". Although I learned how to make the black cake recipe and I really like it on my list of Christmas cakes, I do not make it every year because of the time involved. 


When I learned how to make the black cake recipe some friends of mine always refer to it as a wine cake or rum cake recipe because of the amount of alcohol used in this cake. This cake has so many flavorful ingredients that people tend to refer to it as whatever flavor they detect. Anyway it is a very rich and delicious fruit cake recipe to try. There is so much flavor in it that most choose to serve it without any type of frosting. I have included the frosting; for special occasions like weddings, they are typically frosted and decorated.

BLACK CAKE RECIPE
NOTE: I found some Jamaican  fabric on line from L'aviye and decorated my wood serving round with it. After covering the cake with yellow fondant,  I placed one layer of this black cake on top of the fabric. I installed "dowells" in the cake for support. I then covered the second cake with the yellow fondant and placed it evenly on top of the first cake. I cut out pieces of green, red and black fondant to match the design in the fabric and placed them on the two cakes.The bow and the belt around the cake are pieces of the material.

1 Pound minced raisins
1 Pound minced pitted prunes
1 Pound minced dried currants
1 Pound minced glace cherries
6 Ounces glace minced lemon peel
6 Ounces glace minced orange peel
3 Cups Concord grape wine
3 Cups dark rum
2 Pounds dark brown sugar
1 Cup water
4 ½ Cups flour
4 Teaspoons baking powder
½ Teaspoon nutmeg
½ Teaspoon cinnamon
2 Cups soft butter
10 Large eggs
1 Tablespoon vanilla
1 ½ Cups almond paste
Combine the raisins, currants, cherries, prunes, lemon and orange peel in a large bowl. Cover with the rum and wine and stir to mix. Cover and let set at room temperature for two weeks.
Preheat oven to 350F degrees.
Grease and flour 2 ten inch spring form pans.
Place 1 pound of brown sugar and the 1 Cup of water in a large heavy skillet. Bring mixture to a boil over moderate heat, stirring and washing down any sugar crystals clinging to the sides. Boil until syrup is reduced to about 1 ¾ cups. Set aside the burnt sugar syrup to cool.
Sift the flour, baking powder, nutmeg and cinnamon in a bowl. In a large mixing bowl combine the remaining 1 pound brown sugar and butter. Beat until light and fluffy adding eggs one at a time and beating after each addition.
Beat in the vanilla, flour mixture and the burnt sugar syrup. Turn batter into a very large bowl and add the fruit mixture; Stir thoroughly to blend well.
Divide batter between the 2 prepared pans and bake each cake in the middle of the oven for almost 2 hours or until a pick comes out clean.
Remove cakes from the oven and let cool. Remove sides of the spring form pans and wrap cakes in clear plastic wrap. Let cakes stand at room temperature for 1 week.
Remove the plastic wrap. Divide almond paste in half and roll out between sheets of plastic wrap to fit over each cake trimming if necessary. Prepare icing.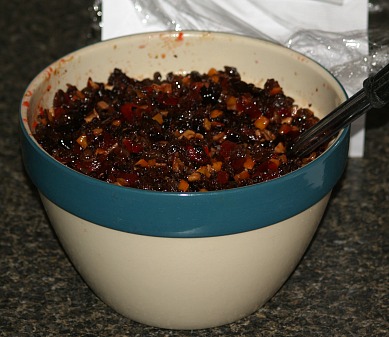 Marinated Fruit for Black Cake

Baked and Cooled Black Cake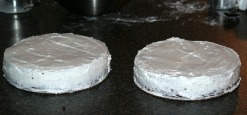 Frosted Black Cake Ready for Fondant
ICING RECIPE (for black cake recipe)
7 Cups sifted powdered sugar
6 Large egg whites (room temperature)
2 Tablespoons fresh lemon juice
Place the whites in a large mixing bowl. Add the lemon juice and 4 cups of the powdered sugar. Start beating on high until soft peaks form. Gradually add the remaining sugar beating until stiff peaks form. Save 2 cups icing to pipe on with a pastry bag to decorate. Spread remaining icing on the tops and sides of the two cakes.
---
WEST INDIAN BLACK CAKE RECIPE
The following black cake recipe is similar to the one above but is much smaller. It makes a pretty presentation being baked in a Bundt pan topped with a lime glaze. The big difference between this recipe and other black cake recipes is that the fruit is pureed in this one which alters the texture tremendously. People who do not like fruit cakes sometimes love this one as an alternative; the taste is wonderful.

NOTE: For a non alcoholic cake, replace the dry red wine with a pure no sugar added Concord grape juice. It is delicious!
1 ½ Cups dry red wine

¾ Cup pitted prunes

¾ Cup dark seedless raisins

1 Container (3.5 ounces) diced candied citron

1 ½ Cups sugar

1 Cup softened butter

3 Large eggs

3 Cups flour

1 Teaspoons baking powder

¾ Teaspoon salt

½ Teaspoon cinnamon

1 Teaspoon vanilla extract

1 Teaspoon grated lime peel

Lime Glaze (below)

1 Container (3.5 ounces) chopped mixed candied fruit (for topping)

Combine wine, prunes, raisins and citron in heavy saucepan over high heat.
Heat mixture to boiling, remove from heat and let stand 30 minutes to soften fruit.
In a blender on low speed process fruit mixture until smooth; set aside.
Preheat oven to 325F degrees; grease and flour a 10 inch Bundt cake pan.
Cream butter and sugar until light and fluffy; add eggs beating well after each.
Sift together flour, baking powder, soda, salt and cinnamon.
On low speed of mixer blend the dry ingredients into the creamed mixture.
Increase speed of mixer and beat 1 minute longer.
Add vanilla, lime peel and fruit mixture; mix until well blended constantly scraping sides of bowl.
Spoon batter into prepared pan; bake 1 hour or until pick comes out clean.
Cool cake in pan 10 minutes; remove from pan to wire rack; mix lime glaze.
Spoon glaze over warm cake and garnish top with chopped mixed fruit; cool completely on rack.

TO MAKE LIME GLAZE stir together until smooth 1 ½ cups powdered sugar, 4 teaspoons hot tap water, 2 teaspoons lime juice, ½ teaspoon grated lime peel and ¼ teaspoon salt.