How to Make a Bubble and Squeak Recipe 
When I learned how to make a bubble and squeak recipe, I found it to be another popular British recipe. This recipe can simply be made with leftovers. I am asked quite often, especially by young mothers, how to save on food. The first thing I always tell them is "Never waste any food". It is amazing to me the good food which is thrown out in the trash or pushed down the garbage disposal every day. This British recipe is a great way to use some of those recipes.

This traditional meal can be made with the cold leftovers from a beef pot roast. What originally started as a dish of fried meat and cabbage has developed into many variations. Today, many have learned how to make a bubble and squeak recipe with fresh fried potatoes and greens eliminating the meat altogether.


This meal became popular during World War II when food was rationed and very scarce; no one could afford to waste anything. The name, bubble and squeak came from the sounds which are made during the cooking. Although my heritage is German, not British, we have been cooking similar meals like this for many years.  We simply call them potato pancakes making them in various sizes and with various ingredients. As I have said many times, I never waste any food including leftovers.

A pot roast was a very common meal to have for Sunday dinner as I was growing up and also while raising my children. These meals were cooked in large proportions so we purposely would have leftovers. Many times the leftovers were used for meals very similar as I learned how to make a bubble and squeak recipe. Although the basic ingredients came from the leftover roast, potatoes and carrots, other ingredients can be added to make different variations.

Often crispy fried bacon, cooked ham and a variety of chopped fresh vegetables are added to make a deliciously flavored meal. My pot roast usually consists of beef roast, potatoes, carrots, onions and garlic. I purposely add extras for leftovers; I also add some kind of fresh greens like cabbage.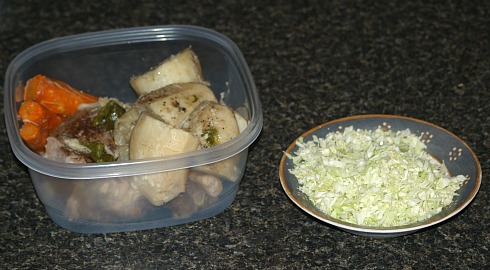 Ingredients for Bubble and Squeak
HOW TO MAKE A BUBBLE AND SQUEAK RECIPE
4 to 5 Cooked potatoes

3 to 4 Pieces of cooked carrots (About 3 inches long)

Pieces of cooked onion and cooked garlic

About ½ pound cooked roast beef (chopped very fine)

1 Cup finely chopped cabbage

Fat or oil for frying


Place cooked potatoes, carrots, onions and garlic in a flat bottom dish.
With a hand potato masher, mash the vegetables until pasty; they won't be smooth.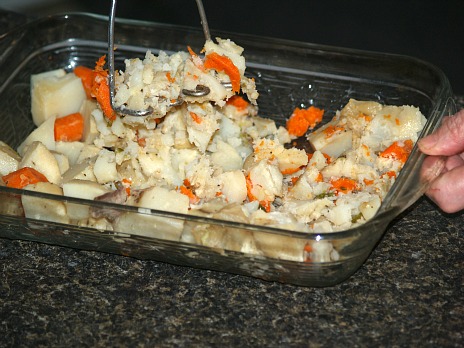 Stir in the fine chopped beef and cabbage; stir together to blend.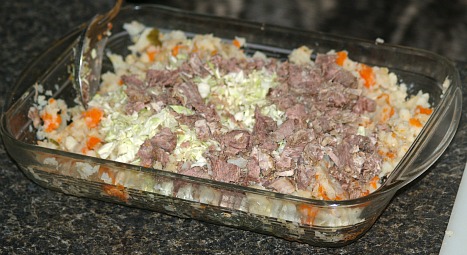 Heat fat in a skillet; add mixture and press down in skillet with a spatula.
Cook until brown; carefully turn over and cook until brown on other side.
(I find it easier to use 2 skillets; after it browns on one side turn the skillet over into another skillet with hot fat.)
---
BEEF STROGANOFF RECIPE
Other cheap recipes can be made with beef roast leftovers like the following beef and noodle recipe.

1 Pound finely chopped roast beef

Onions and garlic from roast

4 to 6 Ounces noodles cooked

1 Can sliced mushrooms drained

1 Can (8 ounces) tomato sauce

1 Can (10 ½ ounces) beef broth (Can use broth from roast beef)

1 Cup sour cream

1 Tablespoon flour

Salt/pepper to taste

½ Cup grated cheese

¼ Cup red wine OPTIONAL


Combine all ingredients except cheese in large bowl or pan; stir to blend.
Spread mixture evenly into a greased casserole pan; sprinkle top with cheese.
Bake at 375F degrees uncovered for 30 to 35 minutes.

---
EASY VEGETABLE SOUP RECIPE
If you do not have leftover potatoes and carrots to make the bubble and squeak recipe, try this easy vegetable soup recipe using up the leftover beef roast.

6 Cups beef broth (I use drippings in roast pan; add water to it and then add beef bouillon or beef base to get a rich flavor)

2 Cups chopped cooked roast beef

½ Cup celery

¼ Cup chopped onion

¼ Teaspoon thyme leaves

1 Bay leaf

2 Cups mixed frozen vegetables (If I have vegetables left from roast, I use them)

1 Cup alphabet or small macaroni

Salt and pepper to taste


Combine beef broth, beef, celery, onion, thyme, bay leaf and vegetables in pan; bring to a boil.
Stir in macaroni and reduce heat.
Simmer for 12 to 15 minutes or until macaroni and vegetables are tender.
Remove bay leaf; season to taste.

---
EASY BEEF STEW RECIPE
If you prefer not to try the bubble and squeak recipe, here is a great easy beef stew recipe using anything left from your Sunday pot roast.

1 ½ Pounds cooked chunks of roast beef

6 Celery stalks cut in cubes

6 Cooked potatoes cut in large chunks

8 Cooked carrots cut in large cubes

2 Large cooked onions cut into large pieces (If not already cooked, sauté first until tender)

1 Bay leaf

1 Teaspoon Paprika

1 Teaspoon dry mustard

1 ½ Cups beef broth

1 Can whole tomatoes

¼ Cup flour

1 Cup water

½ Cup red wine (optional)

Salt/ pepper to taste


Combine first ten ingredients in large pan; bring to a boil.
Add water slowly to flour while stirring until smooth; stir into hot mixture.
Add wine, salt and pepper; reduce heat to low.
Cover and cook for 25 to 30 minutes; remove bay leaf before serving.