How to Make Cake Mix Recipes
When you learn how to make cake mix recipes you will see they can be done for many fast desserts. They can be use to make great cake recipes, crusts for cheesecakes and other desserts, easy cookies or moist bars like the gooey bars. You will be amazed at what difference it will make in a box mix just by adding a few other ingredients.
If you are craving chocolate, you can learn how to make cake mix recipes from the chocolate flavors. I cannot think of anything that chocolate does not go well with. If you have a banana cake mix on your shelf, try adding semi sweet chocolate chips in the batter before baking; it is delicious.
Cake mixes are the oldest of convenient foods in our markets. I remember as a child (We didn't have a television until I was in third grade.) seeing "Betty Crocker" advertise cake mixes. They have certainly made great advances since then! Today the mixes are heavier and moister; more like homemade. You might think they should be light but back then they were too light with no texture.
For basic cakes I am still not as fond of these recipes as I am of homemade recipes. I have tasted some from people who have learned how to make cake mix recipes that were extra good. For me, you just cannot beat a good homemade recipe. I do think these cake mixes can be a quick base for some of the easy cake, cookie and bar recipes and other desserts simply by adding some of your favorite ingredients.
CHOCOLATE PRALINE LAYER CAKE RECIPE
Cake:
½ Cup butter
¼ Cup whipping cream
1 Cup packed brown sugar
¾ Cup chopped pecans
1 Package devil's food cake mix
1 ¼ Cups water
1/3 Cup cooking oil
3 Eggs
Topping:
1 ¾ Cups whipping cream
1/3 Cup powdered sugar
¼ Teaspoon vanilla
Whole pecans and chocolate curls for garnish
 Preheat oven to 325F degrees.
Grease 2 eight inch cake pans, line with parchment paper and grease again.
Combine brown sugar, butter and ¼ cup whipping cream in a small saucepan.
Cook mixture over low heat stirring occasionally until butter melts.
Pour evenly between 2 prepared pans; sprinkle evenly with chopped pecans.
In a large mixing bowl combine cake mix, water, oil and eggs.
Beat cake mixture at low until moistened and 2 minutes on high speed.
Carefully spoon ½ of batter around the edges of pans; spoon remaining batter evenly in the middle of pans.
Bake cakes about 40 minutes or until pick comes out clean; cool in pans about 10 minutes on rack.
Remove cakes from pans, remove parchment paper and cool completely.
When cakes are COLD, mix topping.
To make topping, beat in a small bowl 1 ¾ cups of whipping cream until soft peaks form.
Blend in powdered sugar and vanilla; beat until stiff peaks form.
To assemble place one layer praline side up on a cake plate; spread top with half of topping mixture.
Top with remaining layer; spread top with remaining topping.
Garnish with pecan halves and chocolate curls; store in refrigerator. Serves 12 
---
HOW TO MAKE GOOEY BARS
1 Box devil's food cake mix
½ Cup melted butter
3 Eggs
1 Box powdered sugar (16 ounces)
1 Package soft cream cheese (8 ounces)
Powdered sugar
Preheat oven to 350 degrees.
Combine cake mix, melted butter and 1 egg; press into 9x13 inch baking pan.
Mix sugar, cream cheese and two eggs; beat for 5 minutes with mixer.
Pour cheese mixture over the cake mixture.
Bake for 30 to 35 minutes or until set.
Remove from oven and sprinkle with a little powdered sugar.
Let set until cold before cutting.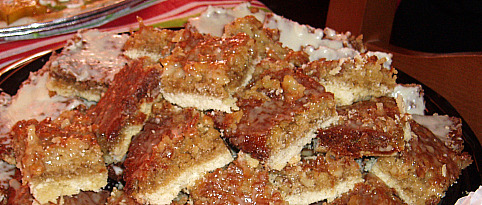 How to Make Cake Mix Recipes
---
CHOCOLATE COCONUT DESSERT CAKE

a cake mix recipe



Many of the cake mix recipes can be baked like a cake but with different ingredients added the cake becomes more of a dessert. Like the recipe below, the cake becomes moist by soaking with delicious coconut flavored milk and topped with Cool Whip.
1 Box chocolate cake mix
1 ½ Cups milk
½ Cup sugar
2 Cups coconut
1 Tub Cool Whip (8 ounces)
Preheat oven to 350 degrees.

Grease and flour a 9x13 inch baking pan.
Prepare cake as directed on package, using the prepared pan; cool for 15 minutes.
Poke holes down through cake with a utility fork (meat fork)
Combine milk, sugar and ½ cup coconut in a saucepan.
Bring mixture to a boil and simmer for 2 minutes.
Spoon mixture over cake letting it soak down in the holes.Let set until cold.
Fold ½ cup coconut into Cool Whip and spread over cold cake.
Sprinkle with remaining coconut and refrigerate for several hours.
---
CHOCOLATE COOKIE RECIPE
Cake mix recipes often include cookies. Quick cookies can be made by adding chocolate chips as in this recipe or you might want to add nuts or coconut.
1 Box devil's food cake mix with pudding
½ Cup water
2 Eggs
1 Cup semi sweet chocolate chips
Preheat oven to 375F degrees.
Combine cake mix, eggs and water and blend.
Drop by tablespoon onto a lightly greased cookie sheet.
Sprinkle tops with chocolate chips.
Bake 8 to 10 minutes or until almost no imprint remains when cookie is lightly touched.
---
TURTLE CAKE RECIPE
This is one of the easy cake mix recipes which turns a plain German chocolate box mix into a delicious and very popular turtle cake recipe.
1 Box German chocolate cake mix
1 Cup butter, melted
1 Can (14 ounces) sweetened condensed milk
1 Bag (14 ounces) caramels
1 Cup chopped pecans
Preheat oven to 350F degrees.
Mix cake as directed on package; divide mixture in half.
Combine ½ of mixture with ½ of melted butter and ½ can of condensed milk.
Mix well and pour into a greased and floured 9 X 13 inch baking pan; bake 25 minutes.
Unwrap caramels; combine remaining ½ cup butter with caramels over low heat until caramels are melted.
When caramels are melted add remaining half of milk and pecans; stir until blended.
As soon as cake comes out of oven top with caramel mixture; bake 25 minutes.Let set to cool before serving.
---
BUTTERSCOTCH CAKE RECIPE
This is one of the easy cake mix recipes which combines two of my favorite flavors; butterscotch with chocolate. It is truly one of the easy cake mix recipes with only 5 ingredients.
1 Box cook and serve butterscotch pudding mix
2 Cups whole milk
1 Box yellow cake mix
6 Ounces semi sweet chocolate chips
12 Ounces butterscotch chips
Preheat oven to 350F degrees; grease and flour 9 X 13 inch baking pan.
Combine pudding mix and milk and bring to a boil over medium heat while stirring.
Remove from heat and blend in cake mix.
Quickly stir in chocolate chips only to distribute and pour into prepared pan.
Quickly cover top with butterscotch chips and bake in oven for 30 minutes or until done.
Cool before cutting.