How to Make Cake Pops Recipe
I never gave much thought as how to make cake pops recipe until recently. I am making these today for Thanksgiving; mine are in the shape of turkeys. You may have heard of these little treats; some call them cookie pops, however those are made more firm with cookies. Whatever you want to call them they are actually cake on a stick or cookies on a stick resembling lollipops or suckers. Before I get on with my task of baking, I would like to tell you about my most recent trip back to Florida.
I may have told you before that I usually get up in the morning about four to four- thirty o'clock. By eight AM I am ready for another cup of coffee to add that push I need to get me through the morning. Anyway, when I was in Florida I spent a lot of time around Disney World. About eight each morning I visited the local coffee shop for my coffee break. I was amazed at how anyone could learn how to make cake pops recipe to look as pretty as they do. They were all setting on the counter where I ordered my coffee.
After I got my cup of coffee and sat down I started noticing young parents arriving with their children to have their morning coffee. As I watched, the children all wanted these cake pops; and the parents bought them. After several days of my visiting this same coffee shop for my coffee break, it didn't take long to put it together. Each morning the same parents with the same children also visited this same coffee shop. Every morning the parents had their coffee and the children had their cake pops. This had become their ritual on the way to school.

I must tell you that this cake pops recipe really had my interest now! The parents say "the kids really love them". I asked, "Do you know how to make cake pops?" The answer was that they don't make them; they just buy them for the kids because they really like them. For many children these are their breakfast. Throughout the day and following days, I discussed this "food fad" with many. Here is some of what I was told.

Do you know how to make a cake pops recipe? I was told you bake a box cake mix. After it gets cold, crumble it into small crumbs with your hands. Then you stir in a can of premade icing; shape this mess into small balls and place balls on sticks. After sealing the ball to the stick with melted chocolate, let it set to harden. When the melted chocolate hardens, you are able to dip the ball into more chocolate or some choose to cover the balls with icing. Honestly, I cannot understand the fascination with this product!

As I was visiting Disney World, I began a discussion with one of the bakers there about these cake pops. They have some beautifully decorated cake pops there. I questioned them as to how theirs were made. They assured me they did not make any of theirs with that process and I know they don't. Disney's are in different shapes and sizes and they are cut out of plain cake. Now I think this is a good idea for a special snack for children.

I was interested in finding out who started this cake pops recipe craze but there doesn't seem to be anything known about it. If I was going to speculate, I would have to say someone probably had bad luck making a box cake mix. They are very light in texture and sometimes do not hold up when applying icing, especially in layers. (Now don't get me wrong, there is a place for box mixes. I use them occasionally but I think a homemade cake is far superior) Anyway, I can see someone who has a messy cake and not wanting to waste the money coming up with something like the cake pops. Like I said this is just a theory but I would never make a sweet mess like these on purpose. No wonder the kids love them!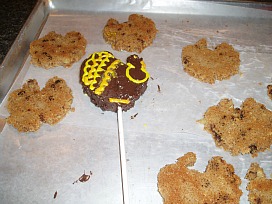 I am using the following whole wheat cake recipe for my cake pops recipe for Thanksgiving. These turkey cakes are filled with fruits and nuts which add to the flavor and texture. Notice that it has no sugar, only molasses; the cake is not sweet but after coating the cakes with chocolate it has a delicious taste with perfect sweetness.

HOW TO MAKE FRUIT BRAN TURKEY CAKE POPS RECIPE
2 Cups whole wheat flour
½ Cup bran
½ Teaspoon salt
1 ¼ Teaspoons baking soda
½ Teaspoon nutmeg
1 Tablespoon grated orange rind
½ Cup molasses
2 Tablespoons cooking oil
1 Cup peeled finely chopped apples
½ Cup raisins
1 mashed ripe banana
½ Cup finely chopped nuts
Juice from 1 orange
2 Cups buttermilk
1 Beaten egg
Preheat oven to 350F degrees.
Grease 9 X 13 inch cake pan, line with wax paper, then grease again and lightly dust with flour.
Combine and blend flour, bran, salt, soda and nutmeg; stir in the orange rind, apples, raisins and nuts.
Squeeze orange juice into measuring cup; add ONLY enough buttermilk to make 2 cups.
Add egg, molasses and oil to milk mixture and blend well.
Combine and blend the liquids with the dry mixture; spread into prepared pan and bake 35 minutes or until pick comes out clean.
After removing cake from oven, cool 5 minutes and turn out on another tray lined with wax paper to cool completely.
(With cookie cutters) cut out preferred shapes. (Small cookie cutters with only sides are best; too large cakes will not support on sticks).
Insert cake stick up through cake; turn cake upside down and spoon melted dipping chocolate around where stick enters cake; let set to harden.
Cover cakes with melted dipping chocolate and decorate.
NOTE: Use remaining cake scraps after cutting turkey cakes to make dessert for the adults; like a crust for pie or in a trifle.
---
COOKIE POPS RECIPE
½ Cup softened butter
1 ½ Cups brown sugar
½ Cup granulated sugar
½ Cup peanut butter
1 Teaspoon vanilla
1 Egg
1 ½ Cups flour
½ Teaspoon baking powder
½ Teaspoon baking soda
10 Popsicle sticks
10 Fun size Snickers or Milky Way candy bars
Preheat oven to 350F degrees.
Cream butter and sugars; add peanut butter and mix well.
Add vanilla and egg; blend well.
Add flour, baking powder and baking soda; mix into a soft dough.
Push a popsicle stick into each of the candy bars.
Shape ¼ cup of dough around each of the candy bars; place 4 inches apart on ungreased baking sheet.
Bake for 13 to 16 minutes or until golden brown.
COOL COMPLETELY on baking sheets; remove from pans carefully.
---
CHOCOLATE CAKE POPS RECIPE
5 Cups chocolate cake crumbs (You can use any leftover cake crumbs)
2 Cups crushed cereal flakes
1 Cup chopped nuts
½ Cup softened butter
1 Cup powdered sugar
1 to 2 Tablespoons milk
Thin icing (You can mix powdered sugar and milk)
Decorative candy sprinkles
Combine in a large bowl the crumbs, cereal and nuts.
Combine and beat together in mixing bowl the butter, sugar and enough milk to make smooth and creamy.
Add sugar mixture to crumb mixture; blend until the crumbs stick together.
Divide into 12 parts and shape into balls pressing onto a stick.
Place cake pops on parchment lined tray; refrigerate or freeze until firm. (Makes it easier to decorate.)
Spread a very thin coat of icing over cake pops; sprinkle with candies. Makes 12.