Special Cakes for Christmas
How to Make Cakes for Christmas
Learn how to make cakes for Christmas to use in celebrating this special holiday by many countries all over the world. Some of these countries traditionally, make cakes which are very similar, like various fruitcakes, gingerbread cakes and seed cakes. When I was young we always had fruitcakes for Thanksgiving and the Christmas season. Over the years I am sadden to see these traditional cakes disappearing and being replaced by simple nontraditional cakes; ones which are present any time of the year.

In Ireland, Christmas Eve is known as the "night of the cakes". During the seventeenth century because of troubling times in the country, the people were forbidden to demonstrate any outward signs of celebration such as displaying greenery or the like. The Irish people looked for other ways to observe Joseph and Mary's search for a place for the birth of Jesus. In the homes candles were lit, the tables were laden with food and cooks learned how to make cakes for Christmas; with doors unlocked visitors in need of food would be invited in to eat. 

Young cooks were taught how to make cakes for Christmas which included seed cakes and at least three fruitcakes. The first fruitcake would be cut at midnight on Christmas Eve and served with tea or whiskey. The second fruitcake would be save and cut on midnight on New Year's Eve. The third fruit cake would be saved for the Feast of the Epiphamy which marks the first day when Mary appeared after Christ's birthday to go to the temple where He was blessed by the elders.

The favorite of the cakes for Christmas in England is the classic dark fruitcake. This confection is filled with dried fruits and often has coins or rings in them as a symbol of good luck. Another popular cake of England (as well as Ireland and France) is the Yule log cake. This cake for Christmas is modeled after the "yule log"; an extremely hard log which is burned in the hearth for a traditional Christmas celebration. The cake is made in a jellyroll fashion and filled with cream. Then it is decorated to look like a log.


A stollen recipe is the main cakes for Christmas in Germany. These stollen cake recipes might contain baking powder or baking soda as a leavening or the recipe might call for yeast as the leavening. Like the fruitcakes, these too contain fruits and nuts. After baking they are usually dusted with powdered sugar or topped with a thin icing; then they might be decorated with red and green candied fruit.


In Australia, Canada, Czech Republic and for me here in the United States you would probably find lots of gingerbread cakes. These are often shaped in various Christmas designs and decorated in typical Christmas fashion. I love all the great gingerbread cake houses decorated with colorful candy and cookies.


You will find the cakes for Christmas to include the "king cake" in countries like Mexico, France, Portugal and Spain. This cake takes its name from the three kings in the Bible. It is made to celebrate the visit to the Christ Child. A chocolate king cake is the most popular in Portugal; Spain is also known for its delicious almond cake recipe. I was told that Mexico is very fond of the pineapple upside down cake for Christmas.


The favorite of the cakes for Christmas in Japan is a sponge cream cake frosted with whipped cream and topped with strawberries. People in the Philippines love the traditional rice cake with a butter and sugar topping; sometime topped with fruit. Several countries including Jamaica have a traditional black cake. In South America and Central America, flan cakes are very popular as well as sponge cakes with ingredients like spices and candied fruit.

POINSETTIA CAKE
Cakes for Christmas can easily be made by using your favorite cake recipes and decorating with cookies like this confetti cake.
Sugar Cookies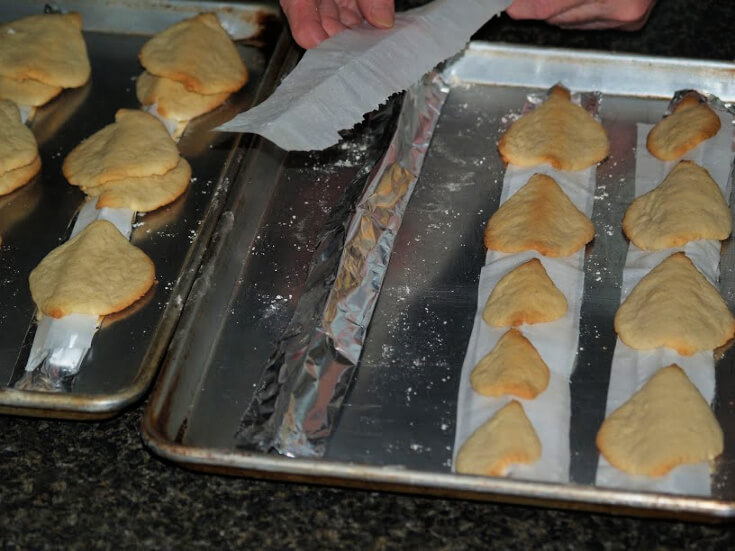 Sugar Cookies Shaped in Poinsettia Petals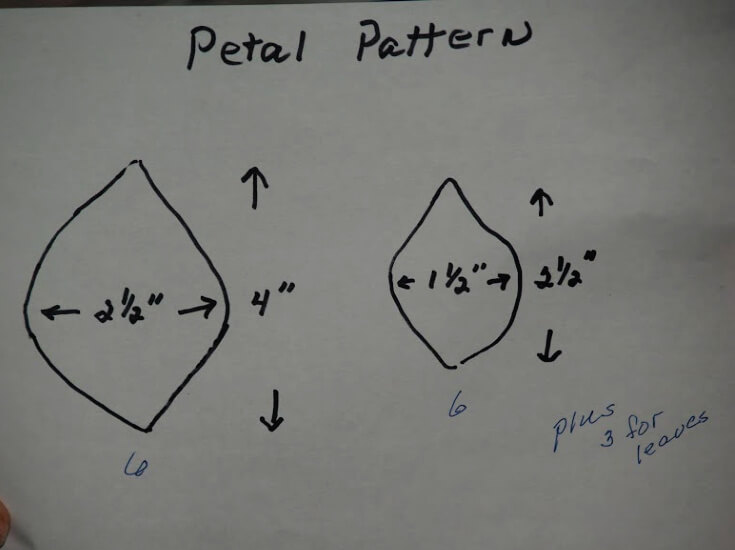 Petal Pattern
1 ¼ Cups flour
1 Teaspoon baking powder
¼ Teaspoon nutmeg
¼ Cup softened butter
½ Cup sugar
1 Beaten egg
Grated rind from HALF lemon
½ Tablespoon cream
Make patterns for cutting cookies with knife.

NOTE: I made a pattern for petals 2 ½ inches wide X 4 inches in length (Used 6 cookies) AND I made another pattern for petals 1 ½ inches wide X 2 ½ inches in length (Used 6 cookies). I also used 3 small of the small cookies coloring the, green for leaves. Make EXTRA in case a couple break. I wanted the petals slightly rounded (To look 3-D) so I made holders from foil and a piece of parchment (To prevent sticking) to bake them on (OR place on tray. COOL completely before removing.
PREHEAT OVEN TO 400F degrees.
Sift flour, baking powder and nutmeg 2 times; set aside.
Cream butter thoroughly; gradually beat in sugar until light and fluffy.
Add the egg, lemon rind and cream; beat well.
Gradually add the flour mixture beating after each addition until smooth.
Roll out thinly (About ¼ inch) on lightly floured surface. 
Cut cookies in petal shapes; place cookies on parchment lined tray.
Cool completely and frost with following recipe.
Cookie Frosting
2 Cups sifted powdered sugar
1 ½ Tablespoons meringue powder
3 to 4 Tablespoons water
COMBINE AND BLEND until smooth.
1 ½ Cups softened butter
2 Cups sugar
10 Egg whites (Divide 5 whites in 2 bowls)
2 Cups flour
1 Teaspoon baking soda
½ Teaspoon salt
1 Cup buttermilk
1 Teaspoon vanilla
½ Cup sprinkles (I used red and green ones; you can use any or multi)
Cream Cheese Filling (Recipe below)
Fluffy Boiled Frosting (Recipe below)
Preheat oven to 350F degrees.

Grease, line, grease and flour 3 nine inch cake pans.
In a large bowl combine butter and sugar; beat with mixer until fluffy.
Add 5 egg whites one at a time beating well after each.
In a small bowl stir together flour, baking soda and salt.
On LOW speed add flour mixture to butter mixture alternating with buttermilk.
Beat batter until well combined; stir in the vanilla and sprinkles.
With CLEAN beaters on HIGH speed beat 5 whites until stiff peaks form.
Gently fold the stiff whites into the batter; divide batter evenly among prepared pans.
Bake about 20 minutes until a pick comes out clean; cool 10 minutes.
Remove cakes from pans and cool completely on wire rack.
Spread filling between layers; frost sides and top with fluffy frosting.
Arrange cookie petals to form a poinsettia on top.
Cream Cheese Filling

1 Package (3 Ounces) softened cream cheese
1 Tablespoon evaporated milk
½ Teaspoon vanilla
Pinch salt
8 Ounces (1/2 Pound) powdered sugar
COMBINE all ingredients; beat until smooth and creamy.
Fluffy Frosting
1 Bottle liquid red food coloring
Additional dark red food coloring paste (OPTIONAL)
1 ¼ Cups sugar
1/8 Teaspoon cream of tartar
Pinch salt
2 Egg whites (At room temperature)
½ Teaspoon vanilla OR almond
Combine liquid coloring, sugar, cream of tartar and salt in medium saucepan.

Over medium heat bring mixture to a boil stirring until sugar dissolves.
Without stirring cook until candy thermometer reaches 260F degrees; set off.
In small bowl beat egg whites on high speed to soft peaks.
Pour syrup in thin stream into whites beating constantly.
Add vanilla and continue beating until mixture form stiff peaks.
Spread on sides and top of cake.
NOTE: Actual cake color is a little darker than picture shows. If you want it darker add a little dark red paste color during beating.
---
WINTER WONDERLAND CAKE
1 Package Duncan Hines moist cake mix (Any flavor)
2 Containers (16 Ounces each) Duncan Hines creamy vanilla frosting
Green food coloring
9 Ice cream sugar cones (With point)
½ Cup flaked coconut (Finely chopped)
Marzipan (Canned or homemade)
Sliced almonds
Nonpareil decors (For eyes and ears)
Preheat oven to 350F degrees; grease and flour 9X13 inch pan.

Prepare, bake and cool cake according to package directions.
To assemble place cake on a serving tray.
Frost sides and top with 1 container of the vanilla frosting.
Tint 1 container of frosting with green food coloring to desired shade.
Trim edges of ice cream cones to make different sizes of trees.
Frost 1 cone with green frosting and place on cake; sprinkle with coconut.
Repeat frosting remaining cones, placing on cake and sprinkling with coconut.
Shape marzipan into bunnies; use almonds for ears and nonpareils for eyes and nose.
Sprinkle remaining coconut over the cake.
---
HOW TO MAKE GERMAN CHRISTMAS STOLLEN RECIPE
Cakes for Christmas in Germany include many different stolen recipes.
2 Tablespoons flour

1 Cup raisins

½ Cup chopped candied fruit

4 Cups flour

2 Eggs

1 ½ Teaspoon baking powder

2/3 Cup sugar

2 Teaspoons vanilla extract

1 Cup softened butter

1 Cup small curd cottage cheese

½ Cup chopped almonds

½ Cup chopped walnuts

4 Tablespoons melted butter

Powdered sugar

Sprinkle 2 tablespoons flour over raisins and candied fruit; mix well and set aside.
Put flour in large bowl; make well in center.
Drop eggs in well; sprinkle baking powder and sugar over eggs.
Add vanilla, cottage cheese and butter in pieces to mixture; knead quickly into a dough.
Knead in candied fruit, raisins and nuts; roll dough out on floured surface to ¼ inch thickness.
Fold dough in thirds by folding one side first and then the opposite side.
Place cake on a greased cookie sheet.
Bake in preheated oven at 375F degrees for 55 to 65 minutes or until golden brown.
Brush melted butter over hot cake; sift powdered sugar liberally over hot buttered cake.

---
SEED CAKE RECIPE

one of the European cakes for Christmas
Seed cake recipes are among the many cakes for Christmas in the European countries. This poppy seed cake recipe with almond filling is just one example; it is very delicious.
Cake:

¾ Cup poppy seeds

¾ Cup water

½ Cup instant non fat dry milk

2 Cups sifted flour

2 Teaspoons baking powder

1 ½ Cups sugar

¾ Cup softened butter

4 Egg whites stiffly beaten

Filling:

½ Cup instant non fat dry milk

2 Tablespoons cornstarch

¾ Cup sugar

1 ½ Cups water

4 Egg yolks lightly beaten

1 Teaspoon almond extract

Soak poppy seeds in water for 2 hours.
Sift dry milk, flour and baking powder together.
Cream butter and sugar together in a large mixing bowl until fluffy.
Alternately add dry ingredients and poppy seeds with water to creamed mixture beating well.
Fold in the stiffly beaten egg whites; spread batter into 2 greased and floured 8 inch cake pans.
Bake in preheated oven at 350F degrees for 30 minutes or until test done.
Cool 5 minutes, remove from pans and cool completely.
While cake is baking prepare filling.
Combine dry milk, cornstarch and sugar in saucepan.
Gradually blend in mixture of water and beaten yolks; mix until smooth.
Cook over medium heat stirring frequently until thick and smooth; reduce heat and cook 1 minute.
Remove from heat and stir in almond extract; set until cakes are cooled.
Spread filling between layers, on top and sides of cake; refrigerate until ready to serve.

---
RECIPE FOR SPONGE CAKE
Sponge cakes make wonderful cakes for Christmas; delicious in taste and can be decorated for the season.
1 Cup sifted cake flour

1 Teaspoon baking powder

¼ Teaspoon salt

2 Eggs separated

½ Cup cold water

1 Teaspoon grated lemon peel

¾ Cup sugar

1 Teaspoon lemon juice

2 Tablespoons sugar

Sift flour one time and measure; add baking powder and salt and sift 3 times.
Add water and lemon peel to egg yolks; beat with mixer until light and foamy.
Add sugar gradually to egg yolk mixture beating well after each addition.
Add flour mixture in small amounts blending after each addition.
Beat egg whites until foamy; add lemon juice and sugar beating until stiff peaks form.
Fold egg whites into batter mixture; pour into 2 eight inch cake pans (NOT GREASED)
Bake in preheated oven at 350F degrees for 25 minutes.
Invert cakes in pans on rack until cold.
Spread cream filling (below) between layers and sift powdered sugar over top.

Filling:

1 Cup sugar

5 Tablespoons cake flour

1 Egg slightly beaten

1/3 Cup lemon juice

2/3 Cup water

2 Teaspoons butter

1 Teaspoon grated lemon peel

1 Cup whipped cream

Combine sugar and cake flour in top of double boiler; add egg, lemon juice, water and butter.
Blend mixture and place over boiling water; cook 10 minutes stirring constantly; chill.
Divide mixture in half; fold in lemon peel and ¼ cup of the whipped cream and spread between layers.
Use remaining whipped cream to serve on top of slices.

---
RECIPE FOR FRUITCAKE FOR CHRISTMAS
3 ½ Cups dried fruit mix

1/3 Cup candied fruit peel chopped

1 Cup dark brown sugar

3 Tablespoons light corn syrup

½ Cup butter

1 Cup water

1 ½ Cups self rising flour

1 ½ Cups all purpose flour

2 Teaspoons baking soda

2 Teaspoons apple pie spice

2 Large eggs

3 Tablespoons apricot jam

¾ Pound marzipan

Put fruit in saucepan with peel, sugar, syrup, butter and water; bring to boil and simmer 3 minutes.
Dump mixture into a bowl and cool.
Preheat oven to 325F degrees; grease and line 8 inch round DEEP cake pan.
Sift flours, baking soda and apple spice 3 times; add to fruit mixture and beat in the eggs.
Spoon mixture into prepared cake pan making a slight depression in the center.
Bake for 1 ½ to 2 hours or until pick comes out clean; cool in pan and remove to plate.
Brush top and sides with warmed apricot jam.
Roll out marzipan and cover top and sides; smooth out seams.
NOTE: Wrap cake tightly and let set 1 week before frosting (recipe below) and decorating for Christmas.


EGG WHITE FROSTING

4 Egg whites at room temperature

1 Teaspoon cream of tartar

1 Teaspoon vanilla

1 Tablespoon corn syrup

5 Tablespoon water

1 ½ Cups sugar

Combine corn starch, sugar and water in saucepan; cook dissolving sugar and bring just to a boil.
Beat egg whites and cream of tartar until frothy; add vanilla.
Continue beating on high speed while gradually adding hot syrup.
Beat until stiff peaks form; spread on cake flicking up into peaks with knife blade.