How to Make Cakes for Easter 
Learn how to make cakes for Easter which are always a welcome sight  for guests. Whether you are just having friends over for coffee and tea or if you are planning an elaborate dinner, a decorated cake is always appreciated. Cakes are a symbol of celebration in most countries. This is why we choose to have elaborate ones for weddings, anniversaries, birthdays and many other special occasions.
Most of these "cake loving" countries also have special recipes for a variety of different occasions. This special dessert has come a long way since the early days when they were mainly produced with spices and fruits and could last indefinitely. These fruit cakes are a traditional favorite around the world for weddings and holidays like Christmas and Easter.
Our cakes which we bake today have gone through centuries of refinement and now include cupcakes also; both the ingredients and the process of using these ingredients. For centuries cake making was confined to the Middle East where the cooks had a treasury of ingredients like sugar and many spices and nuts, unlike many parts of the world. These delicacies spread slowly into Western Europe by the traders. Because important Western ports were in Italy, cake baking took on strong roots. From Italy this culinary art moved into France; you see how the cake recipes overcame the world in time.
Traditional cakes and breads for Easter in many countries speak strongly of its rituals. To many their traditional Easter cake recipe is a symbol of life sustaining grain, important sacrificial foods and to many the eating of this food was thought to give magical powers to the eater. This is why so much emphasis is placed on serving such for holidays as Easter or Christmas.
TOMATO SOUP CAKE RECIPE
Learn how to make cakes for Easter with this non-traditional tomato soup cake which is actually very good. You cannot taste the tomato soup in the cake but rather a delicious spice cake recipe with currants and a flavor of orange. Very easy and simple decorations will turn it into a beautiful Easter cake recipe. This tomato soup cake recipe can also be baked in a bundt pan and frosted with a light glaze.
2 Cups flour
4 Teaspoons baking powder
1 ½ Teaspoons allspice
1 Teaspoon ground cinnamon
½ Teaspoon ground cloves
1 1/3 Cups sugar
½ Cup softened butter
2 Eggs
1 Can condensed tomato soup
¼ Cup water
¼ Cup currants
1 Teaspoon grated orange peel
Preheat oven to 350F degrees.
Grease, line with wax paper, grease again and flour 9 X 13 inch cake baking pan.
Sift together flour, baking powder, allspice, cinnamon and cloves; set aside.
Cream butter, sugar and eggs until light and fluffy.
Combine tomato soup and water; add mixture to creamed mixture alternating with flour mixture.
Blend in orange peel and currants; spread batter evenly in prepared pan.
Bake about 35 minutes or until pick comes out clean.
Cool 15 minutes; remove cake from pan onto tray and remove wax paper.
Frost with favorite frosting and decorate; cream cheese frosting or butter cream frosting is good.
PICTURES ON CAKES
I made the pictures on cakes by tracing pictures which I got free off the internet.
First find a picture to fit on your cakes for Easter size.
Trace it with a PENCIL onto parchment paper.
Turn the picture over on a solid surface.
Outline the back side with tube of Wilton's Decorating Gel (you will be able to see outline through the paper). Use color of choice to outline or which you will make your picture.
Flip parchment paper back over onto top of smoothly frosted cake, gently press down over paper and gel will leave the outline.
Now fill in your picture with frosting color of choice; a couple simple pastry tips and a pastry bag makes it a simple project.
HAVE FUN!
---
BUTTERMILK CAKE RECIPE
This buttermilk cake recipe goes well with any flavor of frosting; chocolate, caramel, etc. You can learn how to make cakes for Easter by covering this recipe with a buttercream frosting in various colors. 
4 Eggs
1 Cup sugar
1 Cup melted butter
3 Teaspoons baking powder
½ Teaspoon baking soda
3 Cups flour
1 Cup buttermilk
1 Teaspoon vanilla extract
Beat eggs slightly; add sugar and beat well.
Blend in melted butter and vanilla.
Sift together flour and baking powder; stir baking soda in buttermilk.
Add flour mixture to creamed mixture alternating with buttermilk soda mixture.
Spoon batter into 2 greased and floured 8 inch cake pans.
Bake about 25 to 30 minutes or until pick comes out clean.
After 10 minutes remove cakes from pans.
Cool layers and assemble with butter cream frosting; decorate as desired.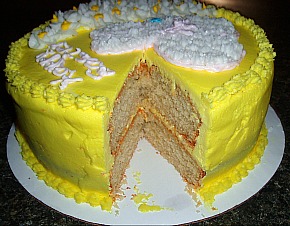 Buttermilk Cake Recipe
---
BLACK WALNUT CAKE RECIPE
This black walnut cake recipe is great decorated as one of your cakes for Easter or it is good any time of the year with other favorite frostings like cream cheese frosting.
½ Cup softened butter
½ Cup shortening
2 Cups sugar
5 Eggs separated
1 Cup buttermilk
1 Teaspoon baking soda
2 Cups sifted flour
1 Teaspoon vanilla extract
1 ½ Cups black walnuts
½ Teaspoon cream of tartar
Preheat oven to 350F degrees.
Cream butter and shortening; gradually add sugar beating until light and fluffy and sugar is dissolved.
Add egg yolks beating well after addition.
Combine buttermilk and baking soda; stir until soda has dissolved.
Add sifted flour to creamed mixture alternating with buttermilk; blend in vanilla.
Add black walnuts and stir well to blend.
Beat egg whites (at room temperature) with cream of tartar until stiff peaks form.
Fold egg whites into batter just until you can barely still see whites.
Pour batter evenly into 3 greased and floured 9 inch round cake pans.
Bake for 30 minutes or until pick comes out clean.
Cool in pans 10 minutes, then remove cans from pans and cool completely.
Frost and decorate.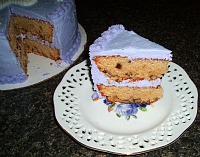 Piece of Black Walnut Cake Recipe
DECORATOR FROSTING RECIPE (Wilton's)
perfect for all of your cakes for Easter
Any of your cakes for Easter will look beautiful with this decorator frosting recipe by Wilton's. Try different pastel colors; it makes the cakes look very "spring like".
1 Cup shortening (I use Crisco)
1 Teaspoon flavoring (I like vanilla and butter)Water
1 Tablespoon meringue powder (Wilton's)
1 Pound powdered sugar
Whip in mixing bowl the shortening, flavoring and 7 teaspoons water.
Add meringue powder and powdered sugar.
Slowly add by teaspoon more water while beating to get desired consistency.