How to Make Canned Ham Recipe
Have you ever learned how to make a canned ham recipe?
When I was a teenager I worked for a large supermarket called Woodys Supermarket. It was a wonderful place to work especially at holiday time. This was the popular place to be. Not only did everyone in the area come here to shop but many people drove from 100 miles away to shop here on occasion.
Woody was a man way beyond his time. He started out with a very small produce stand with the best produce people had ever seen in this area. Soon he built a building to house his produce and from this he started adding more items. Locals began doing their weekly shopping at his store. Eventually Woodys Supermarket housed a pharmacy, meat department, bakery and delicatessen (where the best canned ham recipe was made); then he started building up to make an upstairs. In the end, the store had the largest selection of grocery items you can imagine, a meat department like none other, a great bakery, delicatessen, pharmacy and total drug store.

If this wasn't enough Woody added a restaurant upstairs where you could watch all the cake decorating and a book store. From upstairs you could walk across the highway and take an elevator down to a parking lot and to a huge party supply (called Little Farm) where all the soda drinks and alcohol was carried; also chips and snacks for parties. The store was open 24 hours a day, seven days a week. On top of all this Woody designed beautiful fountains throughout the store. Oh and I can't forget that we didn't have doors but air kept the cold out in winter and heat out in summer. What a place!
As I said, Woody was a man way beyond his years. No one had ever seen an establishment like this and until today, I have never seen anything like this in all the places I have been. I worked the checkout like many others (I remember about 12 to 14 checkouts). We sold so many groceries but if I would point out one item that I remember the most it would be the honey baked ham recipe. So many people like my family bought these canned hams; this is why I learned how to make a canned ham recipe. Who would think?
This canned ham recipe was sold in the delicatessen in either 5 pounds or 10 pounds. They smelled so good coming through the checkouts. If you walked past the delicatessen you could see a constant stream of them coming down in the food elevator to sell. They were beautiful decorated with sliced pineapple and red maraschino cherries on the top. Believe me the taste was even more delicious than the aroma and appearance.
HOW TO MAKE HONEY BAKED CANNED HAM RECIPE
1 Canned ham
½ Cup packed brown sugar
½ Cup honey
Canned pineapple slices
Maraschino cherries
Preheat oven to 325F degrees.
Remove ham from can and place fat side up on a shallow pan.
Combine brown sugar and honey (If you do a large ham mix a little more).
Spread a little honey glaze over ham; arrange pineapple slices with cherries in the centers. (Hold in place with toothpicks)
Spread remaining glaze over the ham, pineapple slices and cherries. (The glaze helps to hold fruit in place)
Bake ham for 1 ¼ to 2 hours basting occasionally with drippings; check so it doesn't get brown.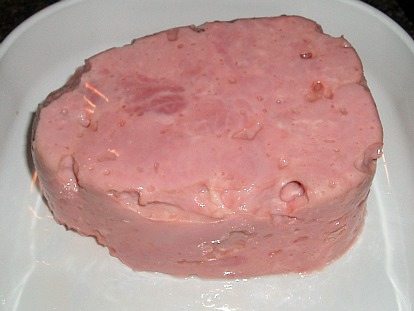 Ham Out of Can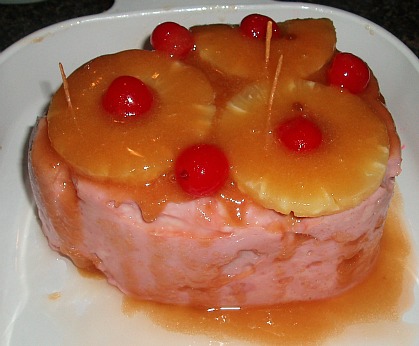 Canned Ham Prepared for Oven
---
BAKED CANNED HAM RECIPE with cherry sauce
5 to 7 Pound canned ham
Cherry sauce
Preheat oven to 325F degrees.
Remove ham from can and place on rack in an open roasting pan.
Bake for 12 to 15 minutes per pound or about 1 ½ hours.
Shortly before ham is done, prepare cherry sauce.
Spoon some of the sauce over the ham on a serving platter.
Serve remaining sauce in a small dish with the ham.
Cherry Sauce:
1 Can (20 ounces) sour cherries
¾ Cup orange juice
¼ cup of ham drippings
3 Tablespoons flour
2 Tablespoons sugar
2 Teaspoons grated orange peel
5 Cloves if desired
¼ Teaspoon red food coloring if desired
Drain cherries reserving juice; add cherry juice and orange juice to ham drippings.
Sprinkle flour over liquid; stir in.
Add sugar, orange peel and cloves; mix well.
Bring mixture to a boil stirring constantly; simmer 2 to 3 minutes.
Stir in cherries and food coloring.
---
ORANGE GLAZED HAM
1 Canned ham
2 Cups water
½ Cup honey
1 Can (6 ounces) frozen orange juice concentrate
Preheat oven to 325F degrees.
Place ham in roasting pan; combine remaining ingredients and coat ham.
Bake in oven until inserted meat thermometer reaches 150F degrees basting every 15 minutes.
About 1 ½ to 2 hours baking.
Lay a piece of foil over ham if edges start to burn.
---
GRILLED HAM SLICES
This is a very tasty canned ham recipe.
1 Canned ham 
½ Cup ginger ale
½ Cup orange juice
¼ cup brown sugar
1 Tablespoon salad oil
1 ½ Teaspoons wine vinegar
1 Teaspoon dry mustard
¼ Teaspoon ground ginger
1/8 Teaspoon ground cloves
Slice ham in 1 inch thick slices; place slices in shallow dish.
Combine and blend remaining ingredients and pour over slices.
Refrigerate several hours (or overnight) spooning marinade over the top several times.
Cook slices over low coals about 15 minutes on each side brushing frequently.
---
MINI HAM LOAVES
This canned ham recipe can be used as an appetizer recipe.
3 Pounds ground canned ham
2 Pounds lean ground pork
4 to 5 Eggs
2 Cups cornflakes crushed
2 Cups milk
RAISIN SAUCE FOR HAM LOAVES
2 Tablespoons cornstarch
¼ Cup cold water
1 Can (6 ounces) frozen orange juice thawed
1 ½ cups brown sugar
1 Tablespoon dry mustard
2 Tablespoons cider vinegar
1 ½ Cups golden raisins
Mix ham, pork, eggs, cornflakes and milk; shape into small loaves using about ½ cup of mixture.
Bake uncovered on greased baking sheet for 30 minutes.
To make sauce dissolve cornstarch in cold water in a saucepan; add remaining ingredients to saucepan.
Bring mixture to a boil and cook for several minutes.
Baste ham loaves with raisin sauce; REDUCE HEAT to 300F degrees; bake 30 additional minutes.
NOTE: You can make a family size loaf; bake at 300 for 1 ½ to 2 hours basting occasionally.
---
HAM FRIED RICE RECIPE
1 1/3 Cups long grain rice
2 Cups water
1 Teaspoon salt
1 Tablespoon butter
2 Beaten eggs
¼ Cup vegetable oil
4 Ounces fresh green beans cut in 1 inch pieces
12 Ounces canned ham diced
½ Teaspoon black pepper
4 Scallions
6 Average mushrooms
Soak rice in cold water 30 minutes; drain.
Put rice in a saucepan; add the 2 cups water and salt.
Bring to a boil; reduce heat to low, cover and simmer until rice is tender and water has absorbed.
Remove rice from heat; melt butter in a large skillet.
Add eggs and cook until they are set on bottom side; stir eggs and cook 2 to 3 minutes.
Remove eggs from heat and transfer to a bowl breaking them up with a fork; set aside.
Add oil to skillet and heat over moderate high; add cooked rice, ham, beans and pepper.
Cook mixture 2 minutes stirring constantly; reduce heat to low and add scallions, eggs and mushrooms.
Cook 2 minutes stirring constantly or until mixture is very hot; serve immediately.
---
BARBEQUE HAM WITH PEACHES
This delicious canned ham recipe and it makes a lovely presentation.
1 Canned (5 pounds) ham
2 Cans (16 ounces each) peach halves
1 Cup peach liquid
¾ Cup sugar
1 Cup chili sauce
2 Tablespoons lemon juice
4 Teaspoons Worcestershire sauce
1 Teaspoon chili powder
Preheat oven to 325F degrees; drain peaches and place in bowl reserving liquid.

Combine in saucepan 1 cup peach liquid, sugar, chili sauce, lemon juice, Worcestershire sauce, and chili powder.
Bring mixture to a boil stirring occasionally; cook for 10 minutes and pour over the peaches.
Open ham and remove any gelatin; place in a 9X13 inch foil lined baking dish.
Baste ham with liquid in peaches; place in oven and bake about 90 minutes basting every 15 minutes.
Spoon peaches around the ham basting again; bake another 20 to 30 minutes basting 1 more time (Use remaining liquid).
NOTE: Internal temperature should reach 140F degrees. (I leave it in almost 2 hours).
Serve this canned ham recipe on a platter with peaches around ham. 
Canned Ham
Ham in Can
Preparing the Canned Ham
---
BAKED CANNED HAM RECIPE WITH CHERRY GLAZE and corn cakes
1 Canned ham (5 pounds)
1 Can (16 ounces) dark sweet cherries
¼ Cup Madeira wine
1 Tablespoon sugar
1 Tablespoon cornstarch
1 Tablespoon lemon juice
Corn cakes (Recipe below)
Preheat oven to 325F degrees.

Remove ham from can and place on rack in roaster; bake 2 hours until thermometer reaches 130 to 140F degrees.
TO MAKE GLAZE after ham bakes 1 hour drain cherries and reserve juice.
In a saucepan combine juice, Madeira wine, sugar, cornstarch and lemon juice.
Cook mixture over medium heat until liquid boils and thickens stirring constantly; boil 1 minute.
Remove saucepan from heat; brush ham with sauce during the last 30 minutes of baking.
Arrange cooked ham on a large platter; stir cherries into remaining sauce and heat thoroughly.
Arrange corn cakes on platter with ham; spoon some sauce over ham and serve remaining in a bowl.
HOW TO MAKE CORN CAKES 
1 ¼ Cups flour
2 Tablespoons sugar
2 Teaspoons baking powder
¾ Teaspoon salt
1 Cup milk
3 Tablespoons salad oil PLUS extra for cooking
1 Egg
1 Can (12 ounces) whole kernel corn
TO MAKE CORN CAKES start making 1 hour after ham starts to bake.
Combine in a large bowl flour, sugar, baking powder and salt.
Stir in milk, salad oil and egg until flour is moistened.
Drain can of corn; stir corn into batter.
Heat 1 tablespoon of oil over medium heat in a large skillet.
Drop batter by tablespoons into hot skillet; cook corn cakes until tops are bubbly and edges look dry.
Turn corn cakes over and cook until undersides are golden brown.
Place corn cakes on a warm platter and keep warm until all batter is cooked; add more oil if needed.