Canning Apples
Canning apples can be done in several different ways. Slices are the simplest way of doing this. From these slices you can make many different recipes at the time when you are ready to cook or bake.
Making applesauce and then canning that way is another choice. This makes a quick and easy dessert but also is easier to use in your applesauce recipes. canning apple pie filling makes it quick to put together your favorite apple pie recipes.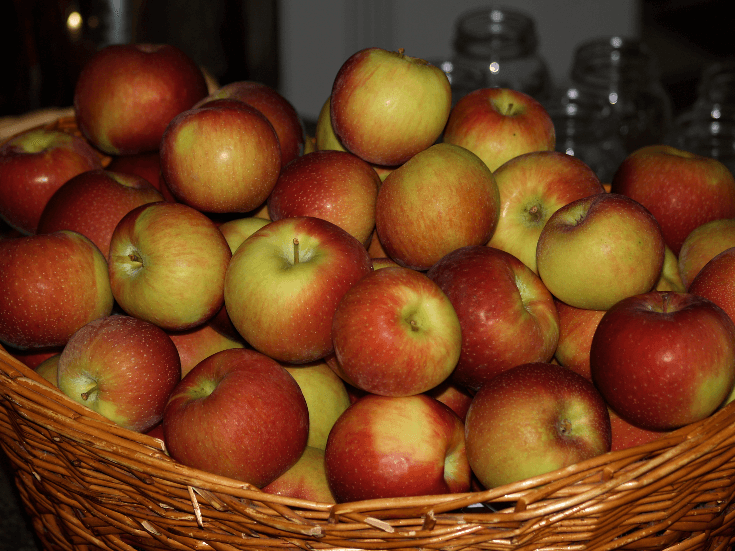 Canning Apples
Homemade apple juice is wonderful to have on hand. Not only is it delicious to drink but it can be used in many recipes like marinades and sauces. Apple cider vinegar is a great recipe to make as it has many uses. You must also learn how to make apple butter. This is one of my favorite apple recipes. It is so delicious on toast or hot biscuits.

If you are canning apples, they can be packed in unsweetened apple juice or a thin syrup. The apples can be cut in slices or in chunks (I personally prefer chunks). To prepare the apples, first peal and core then cut in either slices or chunks. Place the apples in a large container of lemon water to prevent discoloration ( 1 tablespoon of lemon juice for each 2 quarts of water). Drain the apples and fill hot sterilized jars. Cover the apples with boiling syrup or juice leaving 1/2 inch head space. NOTE: The boiling syrup can be made by combining 1 cup of sugar with 3 cups of water; bring to a boil over medium heat. After filling the jars run a knife around the inside of the jars to remove air bubbles. Wipe around the jar rim with a clean cloth and seal the jars. Process the jars in a boiling water bath for 20 minutes.
When canning apples, I love making applesauce. Use any of your favorite applesauce recipes but I prefer to make chunky style applesauce. Bring it to boiling and pack it in hot sterilized jars leaving ½ inch head space. Remove air bubbles by running a knife around the inside; then wipe jar rim clean and seal. Process jars in a boiling hot water bath for 25 minutes.
CHUNKY OVEN APPLESAUCE
7 Pound apples (Around 20 – 21 apples)
Lemon juice
2 Cups sugar
1 Tablespoons cinnamon
Peel and core favorite cooking apples; place in water with a little lemon juice.
Dice apples and place in large oven pan.
NOTE: I double the recipe and use the bottom of my big turkey roaster. DO NOT fill pan too full because it will boil over.
Stir in the sugar and cinnamon; place in oven at 350F degrees.
Cook in oven about 2 hours stirring about every 20 minutes.
Sterilize canning jars (I use quarts but you can use pint jars).
Fill jars leaving headspace; wipe rims with clean cloth.
Seal with lids; place in hot water bath and process.
Process pints 20 minutes/ quarts 25 minutes; makes 5 pints.
NOTE: I double recipe and can in 5 quarts.
---
MAKING APPLESAUCE RECIPE
This recipe is always a staple when I am canning apples.

16 Large apples, peeled, cored and thickly sliced
¼ Cup water
1 Cup sugar
¼ Teaspoon ground allspice
¼ Teaspoon ground cloves
½ Teaspoon cinnamon
Combine apples, water and sugar in kettle; bring to a boil.

Watch carefully and simmer until apples are part sauce and part whole (about 4 minutes-do not overcook)
Blend in spices and pack in hot sterilized jars; seal and finish with processing as above.
---
APPLE PIE FILLING RECIPE (for 1 pie- multiply for number of pies desired)
When canning apples, you can use your favorite apple pie filling recipe to can. It makes baking a pie so much faster. One quart of filling is enough to make a 9 to 10 inch pie. Simply multiply your favorite pie filling recipe for as many pies as you will estimate needing. I like the filling canned with the basic ingredients; apples, sugar, lemon juice, flour or tapioca and a few spices. With a recipe like this, it can be used in a variety of different pie recipes, simply by adding different ingredients. Cook filling on top of stove over medium heat stirring often until sugar is dissolved. Pour hot boiling filling into hot sterilized jars; remove air bubbles. Wipe jar rim clean and seal. Process in boiling water bath for 25 minutes.
5 Medium apples (Granny Smith, Red delicious, Yellow delicious or your favorite)
1 ½ Cups sugar
1 Tablespoon flour
1 Teaspoon cinnamon
½ Cup water
Combine in pan over medium heat; slowly bring mixture to a boil stirring.

When mixture is thoroughly hot and boiling fill hot sterilized canning jars and seal.
Process in boiling water bath 25 minutes.
NOTE: When making apple pies with this recipe you can add other spices like nutmeg, cloves, pumpkin spice or more cinnamon. You can also add walnuts and other ingredients. Other possibilities are that you can make it with a double crust or top it with a crumb topping; the options are endless.
---
If you are canning apples, another great product to make is apple juice. It is so much better than what you can buy and it has no added chemicals. Since apple juice is naturally sweet, there is no need to add sugar. When squeezing the apples you will have pulp left. Some people throw this away but it is very good to use in many recipes; it can be frozen or canned for later use. If you choose to preserve the pulp then you will need to peel and core the apples; if it is going to be discarded then you will not need to do that.

Cut apples in chunks removing any bad spots or decay; wash and drain apples. It is important to keep everything clean and sanitary through the juicing process. Put apples in a stainless steel or enamel pot and simmer with a little water until apples are soft. Press apples through two layers of cheesecloth or a food mill; cheesecloth will give clearest juice. Apple juice does not need added sweetening because apples have a high content of natural sugar. This juice will stay good in the refrigerator for a couple of days. If you want to keep it longer it can be canned or frozen. The sediment will settle to the bottom after the juice sits awhile. If freezing strain off top (leave sediment on bottom) into clean sterile plastic containers allowing room for expansion during freezing. To can strain off top of juice, bring just to a boil and pour into clean sterilized canning jars; process in hot water bath for 10 minutes. The heat from cooking apples and canning apple juice stops the activation of the yeast which turns fresh apple juice into hard apple cider.
HOW TO MAKE APPLE BUTTER the best canning apples recipe
The canning apple season just is not complete for me without telling you how to make apple butter. Making this recipe correctly and cooking it down until it is very thick is just the best thing ever. Like I mentioned earlier, it is so delicious on hot biscuits, toast, pancakes or even by the spoonful.
1 Peck tart unpeeled apples
4 Cups water
10 Cups sugar
2 Teaspoons ground cloves
2 Tablespoons ground cinnamon
1 Teaspoon ground allspice
Wash, quarter and cook apples with water; cover and simmer until tender.
Rub apples through a coarse sieve; should have about 5 quarts pulp.
Add spices and simmer about 2 hours stirring frequently as it will scorch easily.
When thickened pour into hot sterilized pint jars and seal immediately; it gets thicker when cold.
---
APPLE RELISH
4 Pounds apples
5 Cups sugar
2 Oranges
1 Pound raisins
½ Teaspoon cinnamon
½ Teaspoon ground cloves
1 Cup vinegar
1 Grated orange rind
Coarsely grind apples and oranges; combine with remaining ingredients in heavy pan.

Bring mixture to a boil and cook for 30 minutes; pour into hot sterilized jars and seal immediately.
---
SLOW COOKER APPLE BUTTER
8 Cups applesauce *See note below
4 Cups sugar
2 Tablespoons apple cider vinegar
1 Teaspoon cinnamon
1 Teaspoon allspice
1 Teaspoon cloves
Grated peel of 1 lemon
NOTE: I start by grinding my fresh apples fine instead of using applesauce.

Combine and mix all ingredients in slow cooker; cook on high until hot and blended.
Reduce heat to LOW; cook about 12 hours or longer until desired thickness stirring occasionally.
Fill hot sterilized pint jars; seal immediately.
Process in a hot water bath for 10 minutes. 
Makes 5 pints.