Canning Peppers 
Tips on canning peppers are happily shared by home canners. Each one who has been doing this food preservation for years have learned valuable little tricks which made their products turn out to be top quality.
Always pay attention to these tried and proven tips. The first recipe which I am giving you is from my sister, Gloria. It is great as is every recipe that she passed on to me. She also called these Hungarian peppers.
When canning peppers this recipe of my sister is so delicious. The key to keeping them crisp is to work quickly. I cut both ends of the peppers off so the liquid will flow through and pack them in hot sterilized jars. They can touch each other but not so tight so the peppers are squashed. After filling the jars with upright peppers, I cut one in half to lie on top. When canning peppers, I do 7 jars at a time which is the number my kettle holds.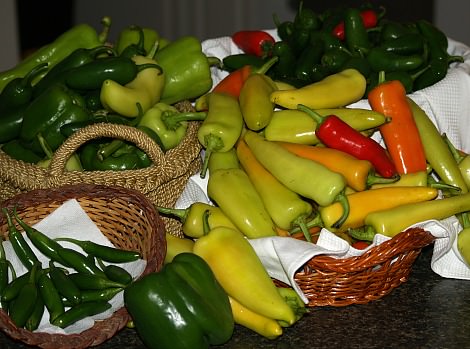 Canning Peppers
NOTE: WHEN CANNING PEPPERS, A GOOD HABIT TO FORM IS TO WEAR PLASTIC GLOVES. THE HOT PEPPERS CAN REALLY BURN YOUR SKIN. IT IS HARD TO WASH IT OFF YOUR HANDS AND WILL BE VERY BAD IF YOU TOUCH YOUR EYES AFTERWARD.

When canning banana peppers, I fill the seven jars with peppers. I quickly pour the hot liquid over the peppers leaving ½ inch at the top. Quickly wipe the rims of the jars and place the lids and on the jars. Have the water boiling and place the jars in quickly, cover and steam for exactly 5 minutes so stay on top of the timing. (NO MORE OR NO LESS) When canning peppers it takes 5 minutes to seal the lids and more than 5 minutes will make the peppers too soft. After processing the peppers for 5 minutes, I quickly remove the jars from the hot water. Set the jars with space between them so the air flows around the jars to cool them faster. The quicker they cool down the crispier they will be.
This year I decided to do an experiment with a banana pepper recipe. Someone told me if a just added the warm brine to my hot peppers and stored them in the refrigerator, they would stay very crispy. I tried 4 jars of banana peppers like this and put them in the refrigerator. They are crispy just like out of the garden (slightly crispier than the ones processed for 5 minutes) but they have no comparable flavor as the ones processed in the hot water bath. Maybe in time they will develop a better flavor; I will use these in my cooking when I want the hot spice.
ONE YEAR AFTER MY EXPERIMENT ON CANNING PEPPERS
After 1 year the peppers which I processed are much softer; almost mushy.

After 1 year the peppers I stored in the refrigerator are now flavorful and crispier.
SUGGESTION: If you want to eat the peppers immediately (within first 2-3 months) or if you have no room in your refrigerator, process them in hot water bath. If you want to wait over 3 months and you have room to store them in your refrigerator, the flavor and texture is better unprocessed.
BANANA PEPPER RECIPE

a canning pepper recipe
1 Gallon cider vinegar
1 Pound canning salt
1 Tablespoon cream of tartar
2 Gallons water
1 Tablespoon turmeric
Thoroughly wash the peppers; cut off both ends and pack in hot sterilized quart jars.
Combine the vinegar, water, salt, cream of tartar and turmeric in a large kettle; bring to a boil. Pour solution over peppers to within ½ inch of the top. Screw bands on firmly.
Process in boiling water bath for 5 minutes.
---
STUFFED PEPPERS
Years ago when Mom and Dad were canning peppers, this is definitely one recipe that I remember. At that time I did not like green bell peppers. Sometimes they would even stuff the peppers with sauerkraut.
12 Medium green bell peppers
1 Cup canning salt
1 Quart finely shredded cabbage
1 Teaspoon salt
1 1/2 Teaspoon white pepper
2 Tablespoons mustard seed
1 Quart cider vinegar
2 Cups water
¼ Cup sugar
Cut the tops off peppers and clean out the centers. Dissolve the 1 cup of salt in 4 quarts cold water. Pour the water mixture over the pepper shells and tops. Let stand 24 hours in a cool place. Drain, rinse and drain thoroughly.
Combine the cabbage, the 1 teaspoon salt, pepper and mustard seed. Carefully pack mixture in the pepper shells. Replace tops and fasten with toothpicks. Pack peppers in hot sterile quart jars, leaving 1/8 inch at the top. (Best to use wide mouth jars) Combine the vinegar, water and sugar in a kettle. Bring mixture to a boil and pour over peppers leaving the 1/8 inch head space. Adjust caps and process 15 minutes.
---
If you are canning peppers, hot peppers are not good canned alone; they are best pickled or you can very easily freeze them. I usually keep some in the freezer and take them out when I want some spice in a recipe; after only about 1 to 2 minutes out of the freezer, they are very easy to chop. I keep lots of jalapenos to use like this. Hot pack sweet peppers to preserve them. Remove the stem, core, seeds and inner white membranes. Plunge into boiling water for a few minutes and then cool quickly with cold water to remove the skins. Slice the peppers and pack carefully in sterilized jars. Cover within an inch from the top with boiling water; I add ½ tablespoon of lemon juice per pint jar. Process at 5 pounds of pressure for 50 minutes for pint jars; 60 minutes for quart jars.
CANNING HOT PEPPERS
Peppers

½ Teaspoon salt per jar
1 Clove garlic per jar
1 Teaspoon cooking oil per jar
Syrup
2 Cups water
2 Cups sugar
2 Cups vinegar
Slice clean dry pepper in pint jars; add ½ teaspoon salt, 1 teaspoon oil and 1 clove garlic to each jar.
Heat syrup ingredients to boiling; pour over peppers in jars.
Cold pack until boiling and let set in water for 5 minutes; carefully remove jars.
Makes 5 pints.
---
HOT PEPPER BUTTER
This is a great way and a little different from the norm when canning peppers.

40 Hot peppers
6 Cups sugar
1 Quart mustard
1 Quart vinegar
1 Tablespoon salt
1 ½ Cups flour
1 ¼ Cups water
Grind peppers and seeds until fine; add sugar, vinegar, mustard and salt.
Bring mixture to a boil; make a thickening with the flour and water and mix until smooth.
Add thickening to pepper mixture; stir and boil about 10 minutes.
Put in hot sterilized jars and seal immediately. Make 8 to 10 pints.
---
HOT PEPPER JELLY
¾ Cup ground bell peppers
¼ Cup crushed red pepper or cayenne pepper
1 ½ Cups cider vinegar
1 Bottle Certo
6 ½ Cups sugar
Remove seeds from peppers; grind and save juice.
Mix peppers, juice, sugar and vinegar in large heavy saucepan.
Bring mixture to a rolling boil; boil for 5 minutes.
Cool 2 minutes and blend in Certo; pour into hot sterilized jars and seal immediately.
Serve with cheese and crackers.
---
PEPPER RELISH RECIPE
4 Cups chopped green tomatoes
4 Cups chopped onions
4 Cups chopped cabbage
4 Cups red and green peppers
½ Cup salt
Brine
6 Cups sugar
1 Tablespoon celery seed
2 Tablespoon mustard seed
1 ½ Teaspoons turmeric
4 Cups vinegar
1 Cups water
Have all vegetables finely chopped; sprinkle with salt.
Let mixture stand in a cool place overnight; squeeze out all liquid.
Place vegetables in a large pan.
Combine liquid ingredients; simmer for 10 minutes.
Increase heat and slowly bring mixture to a boil.
Ladle into hot sterilized canning jars; add lids and rings.
Process in boiling hot water bath for 10 minutes; makes 6 pints.
---
HOT PEPPER SAUCE RECIPE
When canning peppers don't forget all the good sauces which can be used in everything for seasoning.

1 ½ Cups chopped hot chili peppers
8 Cups chopped red ripe tomatoes
4 Cups vinegar
2 Tablespoons pickling spice
1 Cup honey
Wash and drain peppers and tomatoes; remove seeds from peppers and chop.
Core and chop tomatoes; combine vegetables and add 2 cups vinegar.
Bring mixture to a boil and cook until vegetables are soft; press through a sieve.
Put pickling spices in cheesecloth bag; put bag and vegetables back in pot and cook thick.
Add remaining 2 cups vinegar and the honey; boil 15 minutes longer or until thickened.
Pour hot mixture into hot sterilized jars; seal and process for 15 minutes in boiling water bath.