Cheap Mothers Day Gift Ideas 
Would you like to know how to make some cheap Mothers Day gift ideas? I know we don't like to put it this way, but most of us are struggling with our economy right now. Besides that, from my point of view, having been a mom for many years, I really do not want my children or grand children spending their hard earned money buying me gifts. It is not that I don't appreciate it but things are just too tough on people financially at this time. The very best Mother's Day presents that I have received have been homemade items or personally created activities.
Although I am one who does not like all the various small holidays that we celebrate (there are just so many today), I do think it is very important to celebrate Mother's Day. I do not say this because I am a mother but because this is a very hard job. I have often mentioned bits and pieces about my mother; she was a great lady. As you probably know by now, I was the youngest of fifteen children and Mom did not have it easy by any means! Mom and Dad lived through the depression having very little food to feed the older children. My older siblings often told of how Mom would scrounge around, often foraging for food, so she could walk over a mile to the school at noon to feed her children. My siblings had to learn how to make cheap Mother's Day gifts ideas or Mom would not get anything.

After I had my four children, when they acted up, I would often ask Mom how she could have put up with all fifteen of us. Mom's answer was always the same, "My children were my blessings from God". If I could talk to her now, I would tell her that good mothers are a blessing from God. Being a mother today is very challenging! Most have to work a job, keep up with the home as well as being a mother. This often requires running all over for the children, keeping the meals on the table and seeing that the children stay in line. This is why I feel it is very important to celebrate this special day but more with craft ideas for Mothers Day which need not cost a fortune. We can all learn how to make cheap Mother's Day gift ideas can be the most sentimental and enduring.
This special day has been one of the favorite holidays to be observed since the early 1900's; it is thought to have roots in England. As far back as I can remember, up until my mom passed, everyone who visited Mom on this special Sunday, brought her a flower. With having so many children plus others who came by, the house was filled with wonderful smelling flowers. Sometimes people picked bouquets from their yards and brought to Mom; you see these were cheap Mothers Day gift ideas. Not only did Mom appreciate them so much but I still have wonderful memories of the fragrance so I still appreciate it.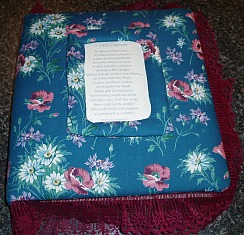 Photo Album Decorated for one of my Cheap Mothers Day Gift Ideas
There are many great cheap Mothers Day gift ideas, like a kind word, tell her you love her, a hug and a kiss. I will guarantee these will please her more than anything. Hand craft your mother a nice card; I love homemade cards. Write your own personal poems or words on the card; help your children do one for Grandma. Let me tell you, she will appreciate these free things even more than cheap Mothers Day gift ideas.
Mothers Day brunch ideas are also nice for this special day. I am not talking about an elaborate brunch at some five star restaurant. I am talking about cheap Mothers Day gift ideas. Surprise her by getting her out of the kitchen; pack the food and take her to a pretty park. Make it special, pack a pretty tablecloth, dishes and silverware; maybe even pick a bouquet of flowers for the table. Make Mom feel special! If you don't want to cook at the park or at home, pick up some chicken and side dishes but put them in your own containers. It is the thought that counts!
Picnics and sun combine well for these cheap Mothers Day gift ideas, but with these, precautions must be taken to prevent food spoilage and bacteria. Foods highly susceptible to spoilage include dairy products, high protein products and mixtures. Make sure these items are kept thoroughly chilled by packing in ice. Hot foods should be kept above 140F degrees and cold foods below 40F degrees. This is easily done by packing cold and hot foods separately, take only as much food as you will need, put food on table right before you eat and repack in ice as soon as you eat. In all my years I have never had a problem by taking precautions. Make your list out on Saturday of the necessary item which you will need to take; list the foods, utensils, tableware, cleanup items, etc. Check them off one by one as you pack. Don't forget to take water or beverage and condiments like salt and pepper.
HOW TO MAKE A CHEAP MOTHERS DAY GIFT IDEAL like this


LEMON CAKE RECIPE 
This lemon cake recipe is one of the delicious cheap Mothers Day gift ideas; it is economical to make and can be decorated if you like.
Lemon Cake Recipe

¾ Cup softened butter
2 Cups sugar
5 Eggs
Grated peel from 1 lemon
3 Cups sifted flour
4 ½ Teaspoons baking powder
¾ Teaspoon salt
¼ Cup lemon juice
1 Cup milk
Preheat oven to 350F degrees.
Grease, line with parchment paper, grease and flour 3 eight inch cake pans (round or square)
Combine sifted flour, baking powder and salt; sift together 2 times and set aside.
Cream butter and sugar; add eggs beating well after each addition.
Beat lemon peel into creamed mixture; add lemon juice and milk alternating with dry ingredients.
Divide evenly among prepared cake pans; bake about 20 minutes until pick comes out clean.
Lemon Filling Recipe
5 Egg yolks
4 Tablespoons softened butter
½ Cup sugar
¼ Cup lemon juice
1 Tablespoon grated lemon zest
2 Teaspoon cornstarch
Combine egg yolks, butter, sugar, lemon juice, lemon zest and cornstarch in saucepan.
Mix to blend well; cook and stir over low heat until mixture is thick about 15 to 20 minutes.
Scrape mixture into bowl and let set until room temperature.
Lemon Frosting Recipe

1/3 Cup softened butter
2 ½ Cups powdered sugar
¼ Cup lemon juice
1 Egg yolk
1 Tablespoon grated lemon zest
Cream butter until light and fluffy.

Beat in half of powdered sugar and half of lemon juice.
Beat in remaining powdered sugar and remaining lemon juice.
Add egg yolk and lemon zest and beat until fluffy; adjust sugar or liquid for desired spreading.
Assemble Lemon Cake Recipe

Place one cake layer on plate; cover with half of filling.
Top with another cake layer; spread top with remaining filling.
Frost top and sides of cake; decorate as desired and chill until serving.
NOTE: I wanted a larger cake to be able to serve 35 to 40 people. I made two 12 inch layer cakes with the following recipe (Each recipe is for one 10 or 12 inch pan; I mixed one at a time.). After placing dowels in the larger cake, I placed the smaller cake on top and decorated. I felt this made a pretty presentation and was able to well accommodate the people. 

WHITE CAKE RECIPE
One of my cheap Mothers Day gift ideas to serve a crowd is to add two of these layers under the cake above.
2 ¼ Cups cake flour
1 Tablespoon baking powder
½ Teaspoon salt
½ Cup softened butter
4 Egg whites
2 Teaspoons clear vanilla
1 Cup milk
Preheat oven to 350F degrees; grease, line with Parchment paper, grease and dust with flour 10 or 12 inch cake pan.

Combine and sift together flour, baking powder and salt; set aside.
Beat butter and sugar in a large mixing bowl with mixer on medium until light and fluffy.
Add egg whites 2 at a time beating well after each addition; add vanilla and beat until blended.
On low speed add flour mixture alternating with the milk beating after each addition.
Pour batter into prepared pan; smooth out evenly; bake about 25 minutes until pick comes out clean.
Cool cake for 5 minutes; run a small knife around edges to loosen.
Turn cake upside down on cooling rack to cool completely.
NOTE: Sometimes these large cakes are difficult to turn out. I lay a piece of parchment paper over the cake in the pan, place a pizza tray on top and then flip it over; remove the parchment that was used to line the pan. The NEW parchment paper will prevent the cake from sticking to the pizza tray. When the cake has cooled completely, repeat this same process and flip the cake back over again removing the parchment paper used while cooling.
Assemble the 2 large layers with frosting between layers, on top and sides. (If you choose to make this larger cake, you will need to make 2 or 3 times the frosting.)
Place 4 dowels under where you will be placing the smaller cake; place cake over the dowels.
Frost and decorate cake as desired.
---
GRILLED BEEF TENDERLOIN RECIPE
This is not exactly one of the cheap Mothers Day gift ideas but it is cheaper to grill it out then to go to a restaurant and eat this meat. If you want to splurge a little bit on extra good meat to grill, this is a delicious recipe. If not, you can use a cheaper cut of meat with the same recipe.
3 ½ Pounds beef tenderloin
¼ Cup hot sauce
¼ Cup teriyaki sauce
2 Tablespoons Worcestershire sauce
1 Tablespoon Creole or spicy seasoning
Cooking oil spray
Mustard horseradish sauce
Place tenderloin in large zip lock bag.

Combine hot sauce, teriyaki, Worcestershire and Creole seasoning; pour over meat in bag.
Seal bag and refrigerate for 1 ½ hours.
Preheat grill 15 minutes, spray grill rack with oil.
Remove coals from one side or turn off one side burner and place tenderloin on that side.
Cover with grill lid and cook until thickest part of meat reaches 145F degrees on meat thermometer for medium rare or 160F degrees for medium.
Serve with following mustard horseradish sauce recipe.
MUSTARD HORSERADISH SAUCE RECIPE
This mustard horseradish sauce will go with many of your cheap Mothers Day gift ideas for meat entrees.
¼ Cup well drained (squeezed) horseradish
1 Cup whipping cream
¼ Cup Dijon mustard
1 Tablespoon fresh lemon juice
Beat whipping cream until stiff; fold in horseradish, mustard and lemon juice.

Cover and chill thoroughly.