How to Make a Cheesecake Cookie Recipe
If you have learned how to make a cheesecake cookie recipe you already know that it is one of the most popular cookies to be made. By adding cheese to the recipe (most common is cream cheese), a wonderful texture is achieved and the flavor is enhanced greatly. At Christmas time, in my home my large selection of cookies have always stolen all the attention. I gather together all my favorite ingredients when making these special delicious recipes; many include cream cheese and sour cream.

If you want to learn how to make a cheesecake cookie recipe or any type of cream cheese cookie, the list of recipes is endless today. Homemade cookies are perfect for all occasions from small family gatherings to large neighborhood parties. I often bake cookies and arrange them nicely in a pretty box to give as a gift. I have never seen such appreciation as I do when I give a homemade food gift.

Perhaps you have learned how to make a cheesecake cookie recipe for a drop cookie, rolled cookie or a delicious cheesecake bar recipe. Many of these are so easy to make like the bar cookies. I love these recipes because you can put the mixture in a pan and bake which saves the time for individual baking. Many of these have a delicious cream cheese filling with other flavorful ingredients; these are fit for any elaborate occasion.

If you choose to make a drop cookie or rolled cookie recipe, a cheesecake cookie recipe is still a great choice. There is just something special about the taste and texture when adding cheese. A great idea that I often use is I make a filling for putting two cookies together using a sweetened cream cheese. It can be flavored with extracts; vanilla, lemon, mint etc. This makes plain cookies so delicious!
CREAM CHEESE COOKIE RECIPE 
This is a cake mix cookie recipe
¼ Cup softened butter

1 Package (8 ounces) softened cream cheese

1 Package lemon cake mix

1 Egg

¼ Teaspoon vanilla

½ Cup flaked coconut


Preheat oven to 375F degrees.

Beat butter and cream cheese on low speed until creamy.

Mix half of the dry cake mix into creamy mixture; add egg and vanilla and blend until smooth.

Stir in remaining dry cake mix and coconut.

Drop dough by ¼ cups about 2 inches apart on ungreased cookie sheet.

Bake this cheesecake cookie recipe about 12 minutes or until light brown.

Cool slightly before removing from pan.

---
FUDGE COOKIE RECIPE
This cheesecake cookie recipe has a crunchy outer pastry with a delicious fudge filling on the inside.
3 Cups flour
½ Teaspoon salt
1 Cup cold butter diced
6 Tablespoons water
2 Teaspoons vanilla
Fudge Cream Cheese Filling:
3 Ounces softened cream cheese
1 Cup powdered sugar
3 Tablespoons cocoa powder
2 Teaspoons milk
1 Teaspoon vanilla
Combine and beat until smooth.
Preheat oven to 350F degrees; mix fudge cream cheese filling.
Mix flour and salt; cut butter into mixture until crumbly.
Add vanilla; sprinkle in water tossing with a fork until flour is moist.
Divide dough into 4 parts; roll each part of dough on heavily sugared surface to 8X12 rectangle.
NOTE: Rolling the dough on sugar is what makes these cookies have a delicious crunchy texture.
Cut each rectangle into 2X2 inch squares; spoon a scant teaspoon of filling in center of half of the squares.
Wet edges of each square with a little water; top each with remaining half of squares.
Pinch around edges to seal; EACH PART will make 12 double layer cookies.
Place cookies on parchment lined baking sheets about 1 inch apart.
Bake about 12 to 15 minutes until edges begin to brown; immediately remove from baking sheets to cool.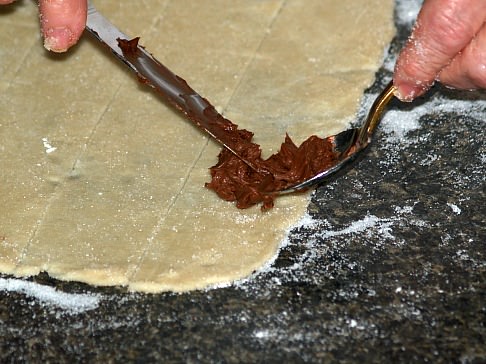 Fudge Cookie Step One
Fudge Cookie Step Two
Fudge Cookie Step Three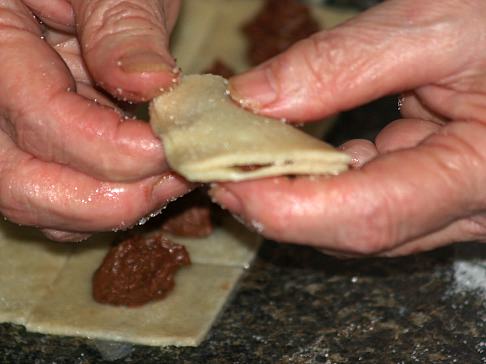 Fudge Cookie Step Four
Fudge Cookie Step Five
---
CHOCOLATE CREAM CHEESE SUGAR COOKIE BARS
1 Box sugar cookie mix (15 ounces)

8 Ounces softened cream cheese

¼ Softened butter

¼ Cup Hersheys cocoa powder

½ Cup sugar

1 Egg

1 Teaspoon vanilla extract

Powdered sugar


Preheat oven to 350F degrees.

Mix cookie dough according to package directions; spread in 9 inch square baking pan.

In small mixing bowl beat cream cheese and butter until light and fluffy.

Stir together cocoa and sugar; add to butter mixture.

Add egg and vanilla; beat until smooth.

Spread cream cheese mixture over cookie batter.

Bake 40 minutes or until no imprint remains when touched lightly.

Cool completely in pan; sprinkle powdered sugar over top; cut into bars.

Cover and refrigerate.

---
HOW TO MAKE A CHEESECAKE COOKIE RECIPE FOR BARS 
½ Cup softened butter

1 Cup flour

½ Cup light brown sugar

½ Cup finely chopped pecans

8 Ounces softened cream cheese

¼ Cup granulated sugar

1 Egg

1 Tablespoon milk

2 Teaspoons grated lemon peel

1/3 Cup Seedless raspberry jam


Preheat oven to 350F degrees; grease 9 inch square baking pan.

Beat butter in medium bowl until smooth; blend in flour, brown sugar and pecans;

Press mixture into bottom and partially up sides of pan; bake 15 minutes or until light brown.

If sides of crust have shrunk press with back of spoon to reshape; cool.

Beat cream cheese on medium speed until smooth; blend in granulated sugar, egg, milk and lemon peel.

Heat jam in saucepan over low heat stirring until smooth.

Pour cream cheese mixture over crust; drizzle jam over filling and swirl in with a knife.

Return pan to oven and bake for 20 to 25 minutes or until filling is set.
Cool completely on wire rack; cut into bars.

---
CHEESECAKE COOKIE RECIPE
½ Cup flour

¼ Teaspoon salt
1/2 Cup softened butter

1 Package (3 ounces) softened cream cheese

3 Tablespoons corn syrup

Jam


Cream butter and cream cheese until blended; blend in syrup.

Sift flour and salt together; blend into creamed mixture.

Chill dough; roll dough out to 1/8 inch thickness.

Cut with round cookie cutter; top each cookie with a little of favorite jam.

Bake in preheated oven at 350F degrees for 10 to 12 minutes.

Remove and cool on rack.

Painless Cooking

›
Cheesecake
› Cookie