How to Make Cheesecake Recipes 
Learning how to make cheesecake recipes were not thoughts in my mind when I was young. Even though I loved to cook desserts of all kinds, I had never heard of cheesecakes. It is unbelievable to me that this delicious, now so very popular dessert has been around since the eighteen hundreds. I suppose that my small Midwestern area was one of the last to discover this wonderful dessert.
When you learn how to make cheesecakes recipes you will see they are usually made with cream cheese like the recipe for New York Cheesecake or an Amaretto Cheesecake and usually have sugar and eggs in them. There are some here in the United States made with farmers cheese, cottage cheese or ricotta. Other countries have their own version of the cheesecake. Many of the French use Neufchatel cheese for a light texture or they might use meringues like the ultimate cheesecake. Italian cheesecakes may be made with ricotta or mascarpone. Whatever type of cheese used in this dessert recipe, it is usually delicious.
When I got married, I received a small portable mixer as a gift. With it came a little booklet which contained about twenty recipes along with instructions for the mixer. As I glanced through the recipes, I came across a cheesecake recipe. How awful I thought this sounded. Cheese with sugar! Cheese in our house was always served crackers or on a sandwich.

As I continued to look through the booklet, I decided to try every recipe including learning how to make a cheesecake recipe. This was the only cook book that I had, so twenty recipes were all I had. The time came for me to try the cheesecake recipe. By evening the dessert was cold and ready to serve. I was uncertain, but also anxious about trying my finished product. My husband came in from work and I wanted him to sample it. Now this was a man who never ate desserts in his life and I was asking for his opinion. After one bite, he took the fork and started to eat the whole cheesecake. This isn't a large version but is a simple smaller one made in a pie plate. It is not as rich as many others, but still is way too much for one person. Needless to say, this became a loved dessert to a man who did not like desserts.
SIMPLE CHEESECAKE RECIPE
This simple cheesecake recipe is one of the smaller cheesecake recipes and is made in a pie plate.
Preheat oven to 325F degrees

Crust:

1 1/3 Cups graham cracker crumbs

½ Cup melted butter

1/3 Cup sugar

½ Teaspoon cinnamon

Mix together and press into a 9 inch pie plate.
Filling:
Lemon rind grated from ½ lemon

2 Eggs

¼ Cup sugar

1 ½ Teaspoons vanilla

8 Ounces soft cream cheese

Combine in a mixer bowl the lemon rind, eggs, sugar and vanilla and blend on medium speed of the mixer. Add the cream cheese, a little at a time while mixing. After all has been added, increase the mixer speed to high and mix for ½ minute. Pour into the crust and bake for 30 minutes.
Topping:
1 Cup sour cream

2 Tablespoons sugar

1 Teaspoon vanilla
Combine and blend. Spread over the cheesecake. Bake 5 minutes longer. Cool and refrigerate. This is good served plain or topped with a spoon of cherry or blueberry pie filling.
---
NEW YORK CHEESECAKE RECIPE
The New York cheesecake recipe is probably the most famous of all cheesecake recipes.
One of the most famous of the cheesecake recipes is the New York cheesecake recipe. It is much thicker than most. Baked in a spring form pan, it is a rich and heavy version. Top with fresh fruit and you will have a delicious fruit dessert.

Preheat oven to 400F degrees.

Pastry crust:

1 ½ Cups flour

4 Tablespoons sugar

1 Egg

½ Cup soft butter

Combine and mix thoroughly. Divide in half and press half (save other half) in the bottom of a 9 inch spring form pan. Prick with a fork and bake for 10 minutes. Set aside to cool completely.
Filling:
4 (8ounces) soft cream cheese

¾ Cup sugar

3 Eggs

1 Teaspoon vanilla

¼ Cup flour

1 Cup sour cream

Fresh strawberries or other fruit

Beat cream cheese in a large bowl. Add sugar and beat until light and fluffy. Beat in the eggs one at a time, beating well after each. Beat in the vanilla and flour until well blended. Add sour cream and stir in until blended. Pour cheese mixture into cooled pastry crust. Top with remaining half of crust mixture. Bake for 40 to 50 minutes or until cheese is set. Turn off the oven and let cheesecake set in the off oven for 1 hour. Cool and refrigerate. Carefully remove side of pan and serve with fruit.
---
HOW TO MAKE THE BEST CHEESE CAKE RECIPE
This best cheese cake recipe truly is very good; this is one of the cheesecake recipes with added flavors such as lemon and orange. Very delicious!
Crust:

1 Cup flour

¼ Cup sugar

¼ Cup soft butter

1 Teaspoon grated lemon peel

½ Teaspoon vanilla

1 Egg yolk
Filling:
5 Packages (8 ounces each) softened cream cheese

1 ¾ Cups sugar

3 Tablespoons flour

1 ½ Teaspoons grated lemon peel

1 ½ Teaspoons grated orange peel

¼ Teaspoon vanilla

5 Eggs

2 Egg yolks

¼ Cup heavy whipping cream
Preheat oven to 400 F degrees; grease bottom and sides of a 9 inch springform pan.

To make crust, combine flour, sugar, lemon peel and vanilla; add egg yolk and butter.
Mix dough with hands; press on bottom and sides of prepared pan.
Bake until golden (10 min) and let cool; increase oven temperature to 500 F degrees.
To make filling combine cheese, sugar, flour, lemon peel, orange peel and vanilla in a large mixing bowl.
Add eggs and yolks one at a time beating after each addition; add cream beating only until well blended.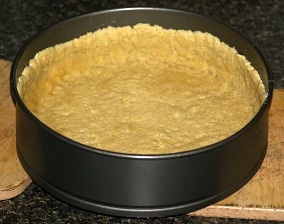 Baked Crust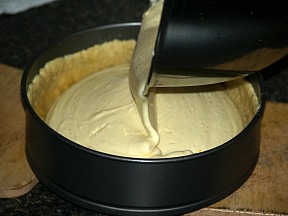 Pouring Filling
Ready to Bake
Pour in filling and bake 10 minutes; reduce oven temperature to 250F degrees and bake 1 hour.

Cool in pan on wire rack, then refrigerate overnight; remove sides to serve.
---
DANISH CHEESE CAKE RECIPE
When this cheesecake cools, a hollow forms in the top which will hold the almond topping.
Crust:

20 Zwieback toast slices in crumbs

¼ Cup sugar

1/3 Cup melted butter

Combine all ingredients and press into a buttered 9 inch X 1 ½ inches deep pie plate. Bake at 350F degrees for 10 minutes; let set to cool. Reduce oven temperature to 325F degrees; prepare filling.
Filling:
½ Cup softened butter

2 Packages (8 ounces each) softened cream cheese

4 Eggs separated

1 Cup sugar

1 Tablespoon cornstarch

1 Teaspoon baking powder

1 Teaspoon grated lemon peel

1 Teaspoon lemon juice

1 Teaspoon vanilla

Zwieback crust baked and cooled
In mixing bowl beat butter and cream cheese until blended; Add egg yolks and beat until creamy.
Add sugar, cornstarch, baking powder, lemon peel, lemon juice and vanilla; beat until well blended.
Wash and dry beaters; in another bowl beat egg whites until they hold peaks.
Fold beaten egg whites into cheese mixture; turn into cooled crust.
Bake cheesecake until filling is set in the middle when lightly touched (about 50 to 60 minutes).
Immediately prepare almond topping to pour over hot cake.
Almond topping recipe

This almond topping recipe would be good on the top of any of your cheesecakes. You could add a little coconut in topping).
¼ Cup butter
½ Cup sliced almonds
½ Cup sugar
3 Tablespoons whipping cream 
Melt butter in a saucepan over medium heat; stir in almonds until lightly toasted.
Stir in sugar and cream; bring to a boil and boil 1 minute while stirring.
Drizzle almond topping over hot cake; cool cake on rack for 2 hours and then refrigerate until cold before serving.

Cheesecake recipes are dated back to ancient Greece. They have gone through many changes since then. It was a great revolution for the cheesecake when cream cheese was developed here in the United States; one of the most common used today being the Philadelphia cream cheese. Today restaurants and other businesses build the entire business on the production and sales of cheesecake recipes. A cheesecake recipe can have no crust, a shortbread crust, nut, sponge, cookie crust, zwieback crumb crust or any kind you can comes up with; it is the filling that counts. This dessert can be served for anything from a snack to the most elaborate dinner.

---
SWEET POTATO CHEESECAKE RECIPE
Crust
1 Cup fine gingersnap cookie crumbs
3 Tablespoons melted butter
Filling
2 Packages (8 ounces each) softened cream cheese
1 Cup mashed sweet potatoes
2/3 Cup sugar
1 ½ Teaspoons pumpkin pie spice
1 Teaspoon finely shredded orange peel
1 Teaspoon vanilla
5 Egg whites (Not beaten)
1 Cup evaporated milk
Garnish
Whipped cream
Gingersnaps
Grated orange peel
Preheat oven to 350F degrees.

TO MAKE CRUST combine crumbs and butter; mix well.
Press mixture on bottom and 1 inch up sides of spring form pan; set aside.
TO MAKE FILLING in large bowl beat cream cheese until creamy.
Add sweet potatoes, sugar, spice, orange peel and vanilla.
Beat on medium speed until well combined; add egg whites beating just to combine.
Stir in the canned milk; pour into prepared pan.
Bake 60 to 70 minutes until center is set; set on rack until cool.
Cover and refrigerate 8 hours.
Run knife around edge of pan to loosen cake from sides; remove sides.
Garnish with whipped cream, gingersnap cookies and orange peel.
Serves 12 to 16.
---
MACADAMIA NUT CHOCOLATE CREAM CHEESECAKE
Crust
½ Package crushed Oreo cookies
3 Ounces Macadamia nuts (Chopped fine)
6 Tablespoons melted butter
Filling
8 Ounces softened cream cheese
½ Cup sugar
2 Teaspoons vanilla
2 Egg yolks
6 Ounces semi sweet chocolate (Melted)
4 Egg whites
¼ Cup sugar
6 Ounces macadamia nuts (Chopped)
1 Carton (16 ounces) whipped topping
Preheat oven to 350F degrees.

TO MAKE CRUST combine and mix all ingredients together.
Press mixture in bottom and 1 inch sides of 9 inch spring form pan.
Bake for 5 minutes; cool completely.
TO MAKE FILLING combine cream cheese, sugar and vanilla.
 Beat with mixer until smooth; slowly beat in yolks and melted chocolate.
In clean bowl beat egg whites until stiff slowly adding the sugar.
Fold chocolate into the egg whites; fold in the macadamia nuts.
Fold in the whipped topping; chill in bowl until it sets up.
Spoon into prepared crust; refrigerate until ready to serve.