Fried Chicken Recipes for a Crowd
Chicken recipes for a crowd is probably the one most popular group of recipes for most gatherings. No matter what the occasion whether it be a church social, carry in super, a family reunion or a neighborhood cook out, you will always find chicken dishes. None of these dishes are as popular as good fried chicken or as we call it "Southern fried chicken". Could Kentucky Fried Chicken Restaurants or KFC have become so famous if this was not the case.
I watched the Kentucky Fried Chicken chain explode from the 1950's to now. I knew this chicken recipe was loved all over the United States. What surprised me was when I found out it is so loved in countries like Ecuador. Although the side items are different (beans & rice), the chicken is the same delicious recipe. The Ecuadorians love and recommend Kentucky Fried Chicken to us, their visitors; of course, we are happy to be able to get this chicken down there. My family in Ohio would not think of having a get together without a couple of buckets of KFC on hand. Fried chicken is loved everywhere!
What is so special about fried chicken? It is that golden crisp crust with lots of seasoning. Most chicken recipes for a crowd are in the form of casseroles, pots of chicken and dumplings or noodles or dishes like roasted chicken; these are usually less time consuming to prepare. When Colonel Saunders, founder of Kentucky Fried Chicken started out he could never have cooked his chicken recipes for a crowd; the millions that he eventually became able to feed. He had to switch his pan cooking method to a faster form of frying. He came up with pressure frying; this quick cooking method with his delicious recipe made him famous and very successful here in the US and around the world.
The time it takes to prepare and cook fried chicken rather than other chicken recipes for a crowd is what usually holds people back from serving it. With a little planning and preparation, it can be done and it is every bit worth the effort. Your guests will be so pleased with the results. Here is the best way that I love to cook fried chicken recipes for a crowd. Sometimes people serve chicken which is not thoroughly cooked; this way prevents that.
FRIED CHICKEN RECIPES for a Crowd

First I start out with whole hens; they are cheaper than parts and I like to cut my own to get the most meat. I cut the backs narrow so all the meat is included in the breast. NOTE: I save the backs and necks for broth. I fry the livers and gizzards; people love them.


With each hen, I cut 2 wings, 2 legs, 2 thighs and I split the breast in 2 halves. I figure 4 people to 1 hen or 5 hens will feed 20 guests.


Cut and prep chickens a day or two ahead. After cutting the chickens, place the chicken pieces in pots, cover with water and add 1 teaspoon salt for each half gallon of water. Bring water to a boil, reduce heat and simmer chicken until done and no pink showing.


Remove cooked pieces of chicken to a colander to drain. Dip cooked chicken pieces in seasoned flour and place on trays. Cover chicken trays with plastic wrap until day of serving.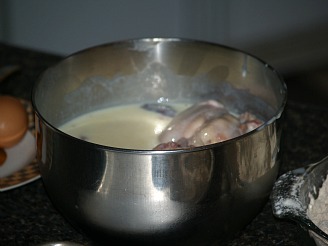 Buttermilk
Remove trays of chicken from refrigerator. Dip each piece in buttermilk and roll again in seasoned flour. (This can be done all at once and placed back on trays)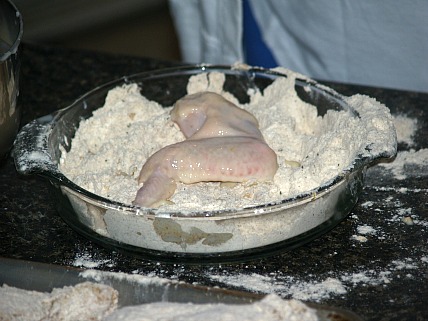 Seasoned Flour Mixture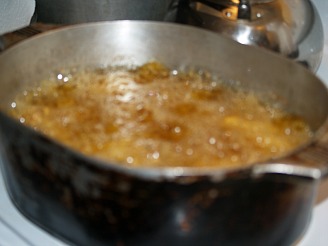 Hot Frying Oil
Drop into hot oil and fry until golden brown. Drain on paper towels. Serve while hot.
SEASONING MIX to season flour
¾ Cup brown sugar
¾ Cup dried parsley flakes
½ Cup garlic salt
½ Cup onion salt
¼ Cup rosemary
¼ Cup sage
¼ Cup oregano
¼ Cup ginger
¼ cup paprika
2 Tablespoons thyme
4 Teaspoons marjoram
Combine all ingredients in blender; Blend until minced and well blended.

NOTE: Mix 2 tablespoons seasoning mix to each 1 cup flour.
Remember to fry all the chicken livers and gizzards. I usually purchase extra for my chicken recipes for a crowd and serve in separate bowls. I also use the backs and necks for broth. Boil them in a pot of water with chopped celery and chopped onions for about an hour. Taste the broth to see if it is seasoned well. If not, add enough chicken soup base until it is flavorful. This broth is good to cook noodles or dumplings in. This is what I do and serve them with the fried chicken.

---
CHICKEN PARMESIAN FOR A CROWD
NOTE: I bought a large package of chicken breast from Sam's; 7 large half breast for under $15.00. Each half I cut into 3 portions; cut bottom half off and then I slice the top thicker half into 2 portions. I pounded each piece to make them more uniform in thickness. This allowed me to serve 21 very sufficient portions for the meal. This is one of the best chicken recipes for a crowd! 
7 Large chicken breast halves
1 Pound melted butter
8 Cloves minced garlic
5 Cups dry bread crumbs (I save all my leftover bread for crumbs)
3 Cups dry Parmesan cheese
2 Tablespoons dry oregano
2 Tablespoons salt
1 Tablespoon black pepper
2 Pounds spaghetti (cooked in salted water and drained)
1 Gallon spaghetti sauce
¼ Cup olive oil
Garlic powder, salt and pepper to taste
1 Cup freshly shredded Parmesan cheese
4 Cups shredded mozzarella cheese
Preheat oven to 350F degrees.

Melt butter over low heat; stir in fresh garlic and cook a couple minutes.
Set butter mixture off to cool.
Combine bread crumbs, dry Parmesan cheese, oregano, salt and pepper.
Dip each piece of chicken in the garlic butter; dip in bread crumbs covering both sides.
Place chicken in baking dishes: I USED 3 9X13 inch baking dishes.
Drizzle any remaining melted garlic butter over the chicken.
NOTE: I wanted to bake them all at the same time so I began with 2 dishes on the top shelf and 1 on the bottom. After 30 minutes I switched the one on the bottom to the top and the 2 on the top to the bottom shelf.
Bake for 55 minutes; MEANWHILE COOK SPAGHETTI.
Place cooked spaghetti in a large roasting pan; I USE disposable when taking to a carry-in.
Sprinkle spaghetti with olive oil, garlic powder, salt and pepper; toss to coat.
Place baked chicken pieces on top of spaghetti; cover chicken with spaghetti sauce.
Sprinkle shredded Parmesan cheese and mozzarella cheese over the top.
Place roasting pan in the oven about 10 minutes or until the sauce is hot and the cheese is melted.
---
EASY CHICKEN RECIPE FOR A CROWD
Chicken breasts halves (Boned and skinned) 
Canned condensed soup (Mushroom, cream of chicken or cream of celery)
White wine
NOTE: Allow 1 chicken breast half for each serving. Allow 1 can of soup and 1 can of wine for each 8 servings.

Preheat oven to 350F degrees.
Place chicken breast halves in large shallow baking pans 
For each 1 can of CONDENSED soup combine with 1 can of wine.
Pour soup mixture over the chicken breasts; bake uncovered about 50 to 60 minutes.
---
MANDARIN CHICKEN with ORANGE RICE
Asian inspired chicken recipes for a crowd.
5 Pounds chicken pieces
1 Teaspoon salt
1 Teaspoon pepper
2 Cups chopped onion
3 Cloves minced garlic
2 Tablespoons melted butter
2 Cups chicken broth
2 Cans (11 Ounces each) mandarin oranges (Not drained)
2/3 cup orange marmalade
½ Cup ketchup
4 Tablespoons soy sauce
4 Teaspoons dry mustard
2 Green bell peppers (Seeded and cut into thin strips)
Orange Rice (Recipe below)
Preheat oven to 350F degrees.

Sprinkle chicken with salt and pepper.
Place in lightly greased large baking pan (Or roaster) in single layer.
Bake 30 minutes.
In large Dutch oven over medium high heat cook onion and garlic until tender.
Add chicken broth mandarin oranges, marmalade, ketchup, soy and mustard.
Stir well and bring to a boil; REDUCE HEAT and simmer 10 minutes.
Spoon hot mixture over the chicken: bake 20 minutes longer.
Stir in green pepper strips and bake 5 minutes longer.
Serve chicken and warm sauce over the orange rice.
Orange Rice Recipe
4 Cups orange juice
2 Cups water
¾ Cup butter
4 Teaspoons salt
3 Cups long grain rice (Uncooked)
1 Cup sliced almonds (Toasted)
2/3 Cup chopped fresh parsley
Combine orange juice, water, butter and salt in Dutch oven; bring to a boil.

Add rice; cover REDUCE HEAT and simmer 30 minutes.
NOTE: Rice should be tender and liquid absorbed.
Stir almonds and parsley into the rice; serve with mandarin rice.
Serves 12.
---
ARTICHOKE and CHICKEN CASSEROLE RECIPE
Casserole chicken recipes for a crowd.
12 to 16 Chicken pieces (Serving size)
1 Tablespoon salt
½ Teaspoon black pepper
1 Teaspoon paprika
¾ Cup butter (Divided)
1 Pound fresh mushrooms (Cut in large pieces)
¼ Cup flour
1 1/3 Cup chicken broth
1/3 Tablespoons sherry
28 Ounces canned artichoke hearts (Drained)
Season the chicken with salt and pepper; melt ¼ CUP of the butter in a large skillet.

Sauté chicken half of pieces browning on both sides in the hot butter.
Place browned chicken in a large baking pan or roaster.
Melt another ¼ CUP of butter; brown remaining chicken pieces and place in roaster.
Add remaining ¼ CUP of butter and mushrooms to the skillet; sauté until tender. 
PREHEAT OVEN TO 375F degrees.
Sprinkle the flour over the mushrooms stirring to mix.
Add broth and sherry to the skillet; stir and cook for 5 minutes.
Arrange artichokes on the chicken; spoon the mushroom sauce over top.
Bake for 45 minutes or until chicken is tender; serves 12 to 14.