Chocolate Covered Cherries
How to Make Chocolate Covered Cherry Recipe
Have you ever learned how to make a chocolate covered cherry recipe? My recipe has been one of my greatest cooking discoveries. I have loved these beautiful little candies my whole life but never dreamed that I would ever be able to make them. As a child, I could never figure out how that delicious liquid got inside the chocolate with that cherry. Perhaps this is why I was so intrigued by this candy.
At one of our church dinners, many years ago, a lady brought a tray full of chocolate covered cherries and set them on the table. I didn't believe her when she said they were homemade! I asked for the recipe and she refused to give it to me. (Maybe this is why I like sharing all my recipes with you!) Anyway, I set out to find how to make these candies.
No one seemed to know how to make a chocolate covered cherry back then; taffies, brittles and butter toffee were more common candies. It was hard to find anything then without the internet. We didn't have all the cooking magazines and cookbooks then either. If we did find one, no one had excess money to buy things like that.
I searched libraries and book stores several years trying to learn how to make a chocolate covered cherry recipe. I asked everyone and asked them to search their recipe books for anything similar. Finally I got a recipe! A friend called to say she found one and gave it to me over the telephone. I have copied it so many times that I don't know what changes I have made from the original. I have been making them ever since. These are delicious! Much better than anything you can buy! They should be made at least a week or two before eating them. The fondant will magically turn into that delicious liquid. This chocolate covered cherry recipe is usually the first that I make of my candy recipes.

FAVORITE CHOCOLATE COVERED CHERRIES
1 Cup half and half cream
2 Cups sugar
2 Tablespoons light corn syrup
1 Teaspoon vanilla
About 100 maraschino cherries (Stems removed)
Melted dipping chocolate
DRAIN CHERRIES and place on tray lined with 2 layers paper towels.
 Do not wash cherries first; you want that good cherry flavor. 
NOTE: By drying the cherries on paper towels before you start the fondant is best for fondant to adhere. If you drain them too much in advance  I think it removes too much of the juice.
MELT CHOCOLATE SLOWLY in top double boiling over hot water NOT BOILING.
NOTE: I probably use about 1 1/2 pounds of chocolate wafers (They melt best). I like to mix dark chocolate with milk chocolate for covering the cherries (About half and half). If your chocolate seems too thick and pulls the fondant off when dipping, stir in a little bit at a time of solid shortening to get a better consistency.
TO COOK FONDANT do ONLY 1 batch at a time. (Multiplying recipe does not work)
Combine the cream, sugar and corn syrup in a large heavy cooking pan and stir well to blend. 
Cover pan with a lid and place pan over medium to medium low heat. 
Lift lid and stir mixture every 5 minutes until it begins to boil.
Remove lid from pan and keep mixture at a rolling boil (NOT a rapid boil).
Using a candy thermometer, cook mixture until it reaches 236F degrees.
NOTE: Place the candy thermometer so it does not rest on the bottom of the pan.
Pour the fondant mixture on a marble slab or onto an ungreased jelly roll pan.
Sprinkle the vanilla over the top; let rest until just warm.
Beat mixture with spoon until it stiffens enough to handle.
Scrape it up into a ball and pick up with your hands; knead until smooth and holds shape.
NOTE: It starts to harden quickly when it cools. If you feel small lumps work them out by kneading.
Divide the fondant into 2 or three parts and wrap them separately in plastic wrap to keep from drying.
TO MAKE CHERRIES do only one at a time. You can use candy dipping utensils or toothpicks.
Pinch off a small ball of fondant; flatten out and wrap around cherry.
NOTE: The fondant does not have to fit around the whole cherry. Press it firmly against the cherry.
Dip the wrapped cherry into the chocolate covering entire cherry.
Place the dipped cherry on buttered trays or a couple lined with wax or parchment paper.
Place trays in a cool place until cherries are set.
Move cherries to covered containers and store in a cool place. 
NOTE: I use a sharp metal spatula to remove from pan. I give special attention not to disturb the chocolate on the bottom of cherries. The chocolate holds the cherry juice in.
NOTE: These chocolate covered cherries are delicious immediately but for ULTIMATE PERFFECTION allow them to set for a week or two. The fondant becomes more liquid with the cherry juice as they set and that is the BEST.
Makes about 75 to 100 cherries.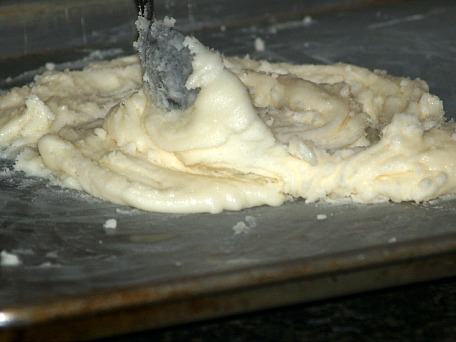 Beat Fondant Until Stiff
Correct Texture of Fondant Ready to Wrap Cherries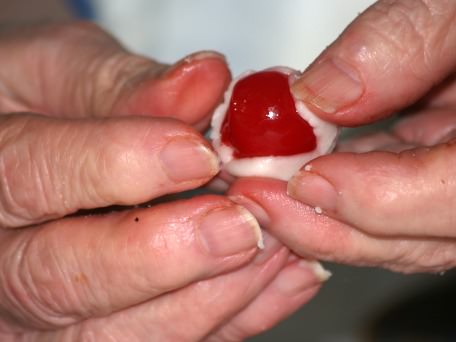 Wrap Small Piece of Fondant Around Cherry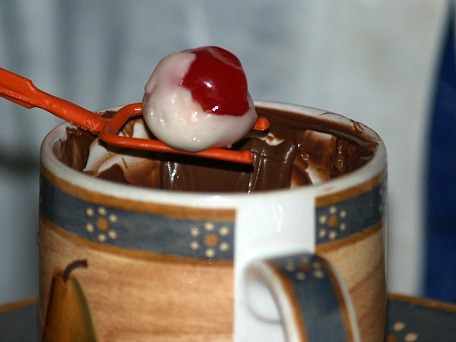 Dip Fondant Covered Cherry in Chocolate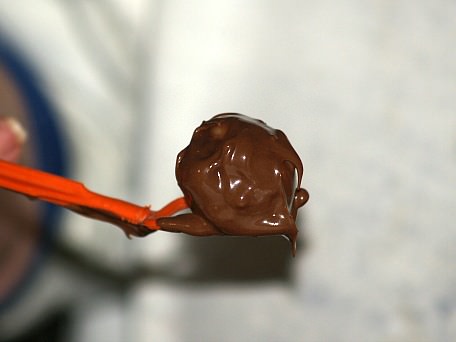 Set Dipped Cherry on Wax paper to harden
---
HOW TO MAKE CHOCOLATE COVERED CHERRY RECIPE
This recipe with the no cook fondant is much easier to make than the one above. Although this is very good, I prefer the one above. That is the very best chocolate covered cherry recipe!
4 ¾ Cups powdered sugar
1 Can condensed milk
½ Pound softened butter
1 Tablespoon vanilla
Drained Maraschino cherries
2 Cups semi sweet chocolate chips
½ Stick paraffin
Combine powdered sugar, can milk, butter and vanilla; mix and chill 3 hours or longer.
Shape mixture in balls with drained cherry in the center; chill balls overnight.
Melt chocolate chips and paraffin; cool slightly and dip cherry balls in to cover.
Place on wax paper to harden.
---
COCONUT CHOCOLATE CHERRIES
1 Jar (10 ounces) Maraschino cherries with stems, well drained
2 Cups powdered sugar
½ Cup softened butter
2 Tablespoons cocoa powder
½ Teaspoon almond extract
½ Teaspoon vanilla
Dash of salt
1 ½ Cups flaked coconut
1/3 Cup finely crushed chocolate wafers
Pat cherries dry.
Combine and mix powdered sugar, butter, cocoa, almond, vanilla and salt; stir in coconut.
Mold about 2 teaspoons mixture around each cherry; roll in crumbs and store in refrigerator.
Makes about 24.
---
LONG STEMMED CHOCOLATE COVERED CHERRIES
1 Jar (10 Ounces) maraschino cherries (WITH STEMS)
2 Tablespoons rum
Fondant
1/3 Cup sweetened condensed milk
2 Teaspoons light corn syrup
2 ¼ to 2 ½ Cups powdered sugar
Coating
1 Package (12 Ounces) dipping chocolate
In small bowl combine cherries and rum; stir.

Allow cherries to soak 2 hours; drain on paper towels.
FOR FONDANT combine corn syrup and condensed milk in medium bowl.
Add powdered sugar gradually mixing well to form smooth stiff dough.
NOTE: Knead on surface covered with powdered sugar to make smooth.
Wrap small amount of fondant around each cherry; cover completely.
Refrigerate about 20 minutes until fondant is firm.
FOR COATING melt chocolate in top of double boiler over low heat.
Holding cherry by stem dip into chocolate making sure to cover completely.
Place on wax paper; refrigerate until chocolate sets about 10 minutes.
Dip chilled cherries into chocolate AGAIN making sure to cover completely.
Place on wax paper; wax loosely with wax paper.
Let stand in cool place for several days to allow fondant to liquefy.
NOTE: Do not refrigerate.
Store in tightly covered container in refrigerator; makes 2 ½ dozen.
---
CHRISTMAS MICE (White chocolate covered cherry recipe)
This is a very decorative chocolate covered cherry recipe. Have fun with it! 
15 Maraschino cherries (WITH STEMS)
1 Cup white vanilla baking chips
2 Teaspoons vegetable oil
30 Sliced almonds
1 Tablespoon powdered sugar
Red food coloring
Drain cherries and rinse thoroughly with water.

Dry thoroughly on paper towels.
Reserve 15 vanilla baking chips and set aside for faces.
Melt remaining vanilla baking chips in top of double boiler over hot water (NOT boiling).
Hold cherry by stem; dip in melted chocolate and cover completely.
Immediately place cherries on wax paper covered tray with stem up.
NOTE: The stem will be the mouse tail.
As the chocolate begins to set press 2 sliced almonds against the front for the ears.
NOTE: Place bottoms of almonds together.
Using remaining melted chocolate and toothpick to finish head.
Spread chocolate on flat side of reserved chips; stick to bottom of ears.
Chill until chocolate is firm.
Add a drop of red food coloring to powdered sugar.
NOTE: Use more sugar or drop of water to make icing consistency.
Use toothpick to add a drop of red icing to the tip of each chip for nose.
Let set until icing firms; makes 15.