Chocolate Facts for the Food of the Gods
When reading the chocolate facts we find that it is made from cocoa which is dried and fully fermented seeds of the cocoa tree. The cocoa tree is native to the Americas. The Aztecs called it "the food of the gods" and used it to make regal beverage to be consumed for its health benefits and its natural detoxification effects.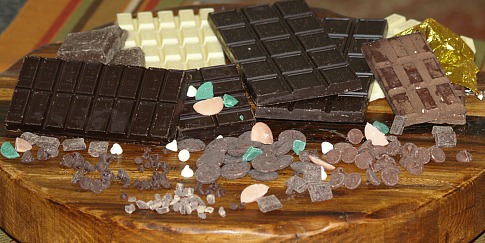 It has been grown and used for thousands of years. Nothing can compare with the products which we enjoy made from it now. Today we use it in cooking and baking to make divine dessert recipes of all kinds.
No matter what you are making, delicious cookie recipes, the yummiest pies, the best cakes or candy always follow the directions in your recipe. Use the facts in selecting good quality ingredients; where does it come from, is it a well known brand and have you used it before and the results will be delicious.
Supermarkets, candy stores, and gourmet shops sell all types of chocolate used in cooking; for best results, use only the type called for in the recipe. For each type the sweetness and flavor vary with the manufacturer. Try several brands to find the one you like best. A quality product is glossy, breaks with a snap and has a great aroma. Put a sliver in your mouth and it should melt without waxiness and graininess.
The cocao facts help us to know how to keep it at its high quality in your kitchen. It should be stored in a tightly covered container or a sealed plastic bag. Place in a cool, dry place. Ideal storage conditions are between 60 and 70 degrees Fahrenheit with less than 50 percent humidity – it will keep for one year. Chips will keep for a longtime and be available for your favorite chip cookie recipes. The white kind should be stored in the refrigerator or freezer to preserve its quality. Cocoa powder will keep almost indefinitely if stored in a tightly covered container in a cool dry place. High temperatures and high humidity tend to cause cocoa powder to lump and lose its rich color.
To some people candy making has been restricted to simple fudges, leaving hand-dipped novelties to the professional candy maker. Depending on the ingredients used by the manufacturer when producing the product, a good candy or a poor quality will be produced. When dipping you must know how to melt properly to produce good quality candy. Always grate or chop for melting faster; excess heat makes it dry and grainy. To use double boiler, place it in top over simmering water stirring until smooth. You can also melt in microwave stirring every 30 seconds and not letting it get too hot. Another way is in a saucepan but keep heat on low and stir often until smooth.
The main difference between the real and artificial varieties is the oil base used. The real milk variety is made from the cocoa bean by separating the cocoa butter from the powder, processing them separately, and then recombining them. Better quality varieties substitute coconut oil for the cocoa butter. Real milk variety is of better quality, more expensive, and more difficult to handle. Beginner candy makers will want to use the coatings because they are easier. True lovers will eventually want to try the real thing.
HOT DRINK RECIPE with peppermint
This hot drink has always been a favorite way of using cocoa beans. According to the facts Christopher Columbus drank it with the chief of the Aztec Indians way back.
3 Cups hot milk
8 Small peppermint patties
1/8 Teaspoon salt
1 Cup cream
Combine ½ cup hot milk with peppermint patties; add salt and remaining hot milk.
Heat until simmering; add cream and heat until hot.
---
CHOCOLATE FONDANT RECIPE
1 Pound semi sweet chocolate
¼ Pound paraffin
2 Pounds powdered sugar
1 Can condensed milk
4 Cups chopped pecans
½ Cup softened butter
2 Cans coconut (total 7 ounces)
2 Tablespoons vanilla
Place chocolate and paraffin in double boiler to soften.
Blend all other ingredients together; chill until firm.
Form into small balls and dip in melted chocolate.
---
TRUFFLE TART RECIPE
Crust
6 Tablespoons softened butter
½ Cup sugar
¾ Cup flour
1/3 Cup cocoa powder
½ Teaspoon vanilla
1/8 Teaspoon salt
Preheat oven to 350F degrees; grease 10 inch spring form pan or tart pan.
Cream butter and sugar until light and fluffy; on low beat in flour, cocoa, vanilla and salt.
Press dough in bottom of prepared pan; bake for 8 to 10 minutes until firm but not crisp and cool.
Filling for tart
1 ¼ Cups whipping cream
1 Package (12 ounces) semi sweet chocolate chips
Scald whipping cream and remove from heat; add chocolate stirring until melted and smooth.
Cool mixture until slightly thickened; pour into prepared crust and refrigerate until firm about 2 hours.
In learning how to make sweets it is interesting to know a little about the history. In early civilizations, sugar was unknown but sweets were supplied from natural sources like honey and the sweet saps from trees and canes. The convenience of sugar made the production of sweet products much simpler. Candy and other sweets became recognized as a valuable food to children to help replace the energy that they burned.