Traditional Christmas Breads
How to Make Christmas Bread Recipe
Learn how to make a Christmas bread recipe and set your family tradition. Many countries around the world claim a recipe for their traditional holiday bread. As the most celebrated holiday in the world quickly approaches, I always like to think about how other countries celebrate; especially when it comes to food. Most celebrate with special traditional entrees, cookies, cakes, candies, drinks and even bread.
Christopsomo, meaning Christ's bread is a Greek bread recipe. Learning how to make this Christmas bread recipe is very important for the Greeks. The preparation of this recipe is traditionally sacred in the Greek culture. Great care is taken in the preparation as far as cleanliness and using the very best ingredients. Cultural beliefs are that this bread determines what kind of a new year you will have.
This recipe calls for a spice called mastiha which is very hard to find in the United States. It comes from the mastic tree and in Greece it is used to prepare liqueurs like Mastichato used in desserts. For this recipe I substitute the mastiha with cardamom and the flavor is still very good.


GREEK BREAD RECIPE
This is a Christmas bread recipe in Greece called Christopsomo. NOTE: This bread is traditional decorated with a cross. Before shaping each loaf I pinched off some of the dough to make the decorations.
2 Packages active dry yeast
1 Cup warm water
¾ Cup plus 2 teaspoons granulated sugar
8 to 8 ½ Cups flour
1 Teaspoon salt
1 ½ Teaspoons mastiha (or 2 teaspoons cardamom)
1 Cup warm milk
3 Large lightly beaten eggs
½ Cup melted butter
¾ Cups coarsely chopped nuts (walnuts or pecans)
½ Cup light colored raisins
Dissolve yeast in warm water and 1 teaspoon sugar; cover and let stand until double in volume.
Sift 7 cups flour with ¾ cups sugar and salt into large bowl.
Pound mastiha with remaining teaspoon sugar until powder; add to flour.
NOTE: If using ground cardamom go ahead and add with remaining teaspoon sugar to flour.
Make a well in dry ingredients; add milk, eggs, melted butter, swollen yeast, nuts and raisins; mix until smooth.
If needed add more flour to make a soft dough that is not sticky; knead for 10 to 15 minutes.
Place dough in a lightly oiled bowl in warm place to rise until double in bulk, about 2 hours.
Uncover dough and punch down and divide into two parts; knead each part for a few minutes.
Shape each dough into a round loaf and place in 9 inch round greased pans.
Cover and let rise about 1 ½ hours or until doubled in a warm place.
Bake in preheated oven at 375F degrees for 20 minutes.
Lower oven temperature to 325F degrees
Spread on glaze and continue baking at 325F degrees for 35 to 40 minutes or until bread is a deep shiny light brown color.
CHRISTMAS BREAD RECIPE GLAZE
2 Tablespoons honey
2 Tablespoons orange juice
¼ Cup slivered almonds
Combine and mix; spread on bread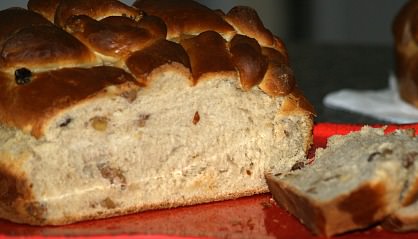 Greek Bread or Christopsomo
---
THREE KINGS BREAD OR ROSCA DE REYES a Spanish Christmas bread recipe
Learn how to make this Christmas bread recipe for Three Kings Bread which is ever so popular in Spanish countries. This double braided bread ring found throughout Spanish speaking countries is studded with candied citron, nuts and raisins and scented with mace, lemon and saffron. The finished loaf is glazed and decorated and tied with pretty ribbons.It makes a beautiful presentation for a Christmas bread recipe.
In Mexico the children get gifts on January 6 which is Three Kings Day. These Christmas bread recipes or Spanish breads are rich in taste as well as tradition. A ring or coin is baked into the Mexican bread recipe and whoever gets the prize is assured of good luck throughout the year. NOTE: THIS IS CALLED ROSCA DE REYES IN SPANISH.
NOTE: I cut maraschino cherries to make poinsettias, green cherries for leaves and walnut halves.   
1/3 Cup milk
¼ Cup butter
1/3 Cup sugar
½ Teaspoon salt
¼ Teaspoon crushed saffron
1 Tablespoon dry yeast
½ Teaspoon sugar
¼ Cup warm water (about 110F degrees)
2 ½ to 3 ½ cups flour
1 Tablespoon grated lemon peel
¼ Teaspoon mace
2 Beaten eggs
2 Egg yolks
½ Cup coarsely chopped walnuts
1/3 Cup golden raisins
1/3 Cup coarsely chopped candied citron
2 Tablespoons finely ground walnuts
Milk
1 Foil wrapped coin
1 Egg beaten with 1 tablespoon milk
Glaze
Walnut halves and candied citron
Combine 1/3 cup milk and butter; heat in saucepan until butter melts.
Remove from heat and stir in sugar, salt and saffron; cool to lukewarm.
Stir yeast and ½ teaspoon sugar in ¼ cup warm water in large bowl.
Cover and let stand about 5 minutes until foamy.
Add milk mixture, 1 ¼ cups flour, lemon peel and mace to yeast.
Mix in beaten eggs, then beat in yolks until smooth.
Toss chopped walnuts, citron and raisins with finely ground walnuts to coat.
Mix into batter; blend in remaining flour 1/2 cup at a time until soft slightly sticky dough forms.
Turn dough out on lightly floured surface and knead until smooth and elastic kneading in extra flour if needed.
Butter a large bowl, add dough turning to coat entire surface.
Cover with plastic wrap and let rise in a warm place about 1 ½ hours.
Punch dough down, divide dough in half and knead each half until smooth; cover and let rest 10 minutes.
Line baking sheet with parchment paper.
Roll each piece of dough in 20 inch long rope.
Moisten one end of both ropes with milk and pinch together.
Twist ropes loosely together and place on covered baking sheet.
Brush ends with milk and join together in a ring pinching to seal together.
Widen center by pulling gently; press foil wrapped coin into bread from bottom side.
Cover and let rise until almost double 35 to 40 minutes.
PREHEAT oven to 350F degrees; brush egg mixture over loaf not letting any run down to tray.
Bake about 30 minutes or until golden brown and loaf sounds hollow when tapped.
After 5 minutes remove to rack to cool and spread with glaze.
Press walnut halves and citron into glaze.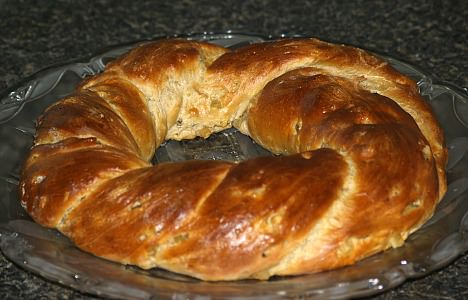 Undecorated Three Kings Bread
GLAZE
1 Cup powdered sugar
1 Teaspoon softened butter
½ Teaspoon lemon extract
1 ½ Tablespoons milk
Combine all except milk; blend in enough milk to make spreadable.
---
OVERNIGHT CINNAMON ROLLS RECIPE
If I had to pick one Christmas bread recipe for here in the United States it would be hard. Since our heritage comes from all over the world, the people here observe many traditional holiday bread recipes. It seems that for me, my family and the people around me, the choice would be cinnamon rolls or pecans rolls. I have always made these for Christmas morning.
1 Package dry yeast
¼ Cup warm water
2 Beaten eggs
1/3 Cup white sugar
½ Teaspoon salt
1 Cup scalded milk
½ Cup butter
3 ½ Cups flour
Dissolve yeast in warm water; blend in remaining ingredients and refrigerate overnight.
Preheat oven to 350F degrees.
Roll out cold dough; sprinkle with extra tiny pieces of butter, cinnamon and brown sugar.
Roll up like jelly roll and cut in slices (about 1 inch thick).
Put pecan topping (below) in greased baking pan; put cut rolls on top.
Cover pan and let rise until double in size; bake about 20 to 25 minutes or until golden brown.
When done turn out on plate or tray.
PECAN TOPPING FOR ROLLS
1/3 Cup softened butter
½ Cup brown sugar
½ Cup chopped pecans
1 Tablespoon corn syrup
Combine and blend all ingredients.
---
EASY BREAD RECIPE;

a candy cane coffee cake
The following Christmas bread recipe is a real easy bread recipe to make thanks to Pillsbury. It is a candy cane coffee cake. It is delicious and what a pretty presentation for the holidays. This recipe is great for those who have such a busy schedule but who also wants something special for Christmas. Pillsbury makes it possible with their crescent dinner rolls.
1 Package (3 ounces) softened cream cheese
2 Tablespoons sugar
1 Teaspoon almond extract
¼ Cup chopped almonds
¼ Cup drained and chopped maraschino cherries
1 Can (8 ounces) Pillsbury refrigerator crescent dinner rolls
1 Slightly beaten egg
GLAZE
½ Cup powdered sugar
2 Teaspoon milk
Preheat oven to 375F degrees; grease cookie sheet.
Combine cream cheese and sugar; beat until light and fluffy.
Stir in almond extract, almond and cherries; set aside.
On greased cookie sheet, unroll dough into 2 long rectangles.
Overlap long sides to form 13 X 7 inch rectangle; firmly press edges to seal together.
NOTE: Mentally divide the 7 inch with of dough into thirds. (2 1/3 inches)
Spread cream cheese mixture down center third (center 2 1/3 inches) of rectangle.
Make cuts down the outside thirds 1 inch apart (from the edge to the cream cheese filling which you spread.
Starting at one end, fold one side over the filling, then the other side over the filling; continue this procedure down the rectangle to form a braided appearance.
Seal ends and shape braid into a candy cane; brush top with beaten egg.
Bake for 18 to 22 minutes or until golden brown; cool completely.
Mix sugar and milk for glaze; drizzle glaze and garnish with additional drained maraschino cherries.