Christmas Food Gift Baskets
How to Make Christmas Food Gift Basket
Learn how to make a Christmas food gift basket; it can a great gift to give. Throughout the summer months you might purchase fruits and vegetables in various sizes and shapes of baskets. Think about the gifts you will be giving when you see these baskets. Great unique ideas can start with a basket.

You can also find good prices on all types of baskets at thrift stores, yard sales and flea markets. One time my son picked up a whole stack of baskets at a yard sale for two dollars. Two were the large laundry baskets and the rest went gradually down in size.

At the time my son gave them to me I thought "Something more for storage". I covered all of them with large plastic bags and into my storage shed they went.  I began learning how to make a Christmas food gift baskets for each of a few friends with these baskets. It was amazing how overwhelmed my friends were with their gift and how little it cost me to make them.

Since I learned how to make that first Christmas food gift basket, I make some each year. I used up that first bunch of baskets quickly. Now when I see good prices on baskets, I snatch them up to have on hand for special gifts. They work well for any kind of gift like bridal, birthdays and baby showers as well as Christmas.

This summer I bought a lot of peaches to can and freeze. I loved the nice baskets they came in so I covered them with plastic bags and put them in my storage room. Now that Christmas is here I am ready to make a Christmas food gift basket.
This basket that I am putting together will be a lunch for family members. I love to make bread bowls. Usually I make them from homemade bread dough but when you have so much going on at holiday time, pre-made dough is a snap. 
HOW TO MAKE BREAD BOWLS

 
Coat a baking sheet with cooking spray. Invert four bowls or custard cups (10 ounces) several inches apart on the baking sheet. Coat the outside of the bowls or cups with cooking spray. Unroll 2 cans (11 ounces each) refrigerated crusty French bread dough. Cut each crosswise making two portions to each; four totally.

Mold one portion of dough around the outside of each cup allowing the edges to extend straight onto baking sheet on two sides. Cut each long extended edge of the dough from the center to ½ from the cup forming two flaps. Cross flaps and fold back over the cups. Repeat this procedure with the remaining dough and cups.

Bake bowls at 400F degrees for 120 minutes. Cool the bowls 5 minutes and then invert baked bowls onto a cooling rack to cool completely. Place a small piece of wax paper between each cold bowl and then wrap altogether with plastic wrap for placing in the Christmas food gift basket.

---
SHRIMP BISQUE RECIPE

a great addition to any Christmas food gift basket
I thought delicious shrimp bisque would also be nice for this family. This colorful and flavorful hot thick soup is nice for any seafood lover. You can exchange this soup for any type of thick soup or stews to fit special taste preference.
1 Pound unpeeled medium size shrimp

3 Tablespoons butter

3 Tablespoons flour

1 Medium chopped onion

2 Stalks celery

2 Cloves crushed garlic

1 Coarsely chopped red bell pepper

4 Cups fish stock

1 Can (8 ounces) tomato sauce

2 to 3 Dashes tabasco sauce

1 Bay leaf

¼ Teaspoon paprika

Garnish with fresh chives

Peel shrimp and devein; set aside.
Melt butter in a Dutch oven over medium heat; add flour stirring until smooth.
Cook stirring constantly for 5 minutes or until golden in color.
Stir in onion, celery and garlic; cook about 3 minutes stirring constantly.
Stir in red bell pepper; cook one minute.
Gradually add stock and next four ingredients.
Bring to a boil stirring occasionally; simmer 5 minutes.
Add shrimp; cook 5 minutes or until shrimp turns pink.
Remove and discard bay leaf; ladle into bowls and garnish with chives.

---
A fresh chop salad recipe would also be nice to include in this Christmas food gift basket. Chop in small pieces coarse lettuces like romaine. Then combine other small vegetables to add flavor and color such as carrots, celery, cucumbers, radishes or whatever you have in your refrigerator. Put the salad mix in a disposable plastic container (or place in a freezer bag) so you don't need to worry about getting dishes back. Garnish with a few red cherry tomatoes for Christmas appeal.

The ginger dressing recipe below is a great and tasty accompaniment for the salad to go in your Christmas food gift basket. Simply combine all the ingredients in a clean glass pint canning jar. Cover it tightly with the lid and shake vigorously. Decorate the jar a little for the holiday with some ribbon or bow. Add the following instructions to the jar: 

INSTRUCTIONS: Store ginger dressing in the refrigerator for up to 1 month. It can be used as a salad dressing or as a marinade for pork.

GINGER SALAD DRESSING
2/3 Cup vegetable oil

2/3 Cup reduced sodium soy sauce

2/3 Cup white vinegar

2 Teaspoons ground ginger

2 Teaspoons garlic powder

1/8 Teaspoon black pepper

Depending on the size of your Christmas food gift basket, you could also add some disposable plates, napkins and utensils to make this lunch meal very convenient.  Some of these are made especially for Christmas are quite nice and very colorful to brighten up the gift.

To make your gift extra ordinary for someone really special add a Christmas hot mitt filled with things for the kitchen; utensils, holiday kitchen towels etc. I always purchase these items at discount stores like Tuesday Morning, Ross, Marshalls and TJ Max. After Christmas is the best time to get these items at very low prices for the next year.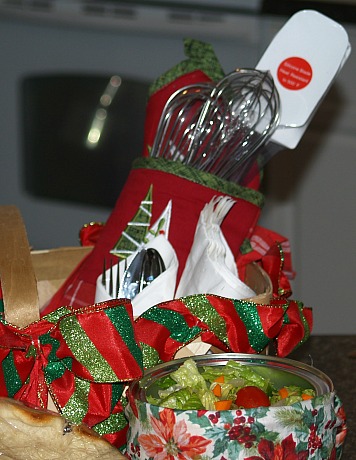 Some Cooking Utensils and Mitt to brighten the Christmas Food Gift Basket
---
FLAVORED MOCHA MIX RECIPE
1 ½ Cups non dairy powdered creamer
1 Cup sugar
½ Cup instant coffee granules
½ Cup unsweetened coco powder
Dash salt
¼ Teaspoon vanilla extract
¼ Teaspoon almond extract
Combine in a large bowl the creamer, sugar, coffee and salt; blend well.
Place 1 ½ cups of mixture in a small bowl; add vanilla and mix well.
Add almond extract to remaining mixture in large bowl; blend well.
Spoon each bowl into separate air tight containers. (PRETTY CONTAINERS FOR GIFT GIVING)
Decorate containers with holiday ribbon. (ADD THE FOLLOWING INSTRUCTIONS TO PREPARE)
TO SERVE: Combine 3 tablespoons of mix with 1 cup of boiling water and stir to blend; garnish with whipped cream.
NOTE: It is nice to include the entire recipe with the gifts.