Christmas Food Gift Ideas
How to Make Christmas Gift Food Ideas
It is time again to learn how to make great Christmas gift food ideas. Especially this year with the further economic decline, we need to give gifts which do not cut into our budgets a lot. I am sure I don't have to tell you of the many families who are trying to stretch their dollars and have a list of people which they normally buy presents for each year.

I have always favored food gifts. I must tell you that I have never favored buying a lot of Christmas gifts. Not so much because of the money, but because it is so consuming and frustrating that it takes away thoughts of our Lord. I also think that everyone has too much junk, especially our children.

What do you do with that list of people who you usually buy presents for? The ones who are expecting a gift from you. First, I would make it clear to everyone that I must cut back; both in money and my time. This does not mean "no gifts" but learning how to make Christmas gift food ideas. Personally, even though I cook and bake every day of the year (almost), I would appreciate a food gift much more than something purchased.

Most people in the United States cook very little if any and all need to eat. This is why learning how to make Christmas gift food ideas from scratch will come in handy. Make out your Christmas list for home cooking just like you would if you were shopping for these special people. Simply find out what they like if you do not already know. Do they love desserts? Homemade bread? Cheeseball or even hot wings?

Once you have written down the likes and dislikes, decide on your Christmas gift food ideas for everyone on your list. Decide and make notes also on how you will package each gift and wrap it for the holidays.  Next you will want to set out your schedule to prepare them. Some recipes can be conveniently prepared ahead of time. Many can be frozen, stored in the refrigerator or recipes like candy can be kept at a cool room temperature.

Many recipes like bread, rolls and cakes can be very economical to make but received with so much appreciation. Get started now; save the money and frustration of shopping.

GOAT CHEESE WAFER RECIPE
makes about 7 dozen wafers This is a favorite Christmas gift food ideas
Give these as a separate gift or they make a great accompaniment to other Christmas gift food ideas like cheese balls and other appetizers.
2 Packages (4 ounces each) goat cheese

½ Cup unsalted softened butter

1 Cup flour

2/3 Cup grated Parmesan cheese

½ Cup cornstarch

3 Tablespoons chopped fresh thyme

1 Tablespoon chopped fresh sage

1 Teaspoon kosher salt

1 Teaspoon fresh ground black pepper

Additional fresh thyme for garnish

Combine goat cheese and butter in a bowl and blend until smooth.
Add flour, Parmesan cheese, cornstarch, thyme, sage, salt and pepper; mix until blended and smooth.
Divide into 3 parts; roll each part into a log 7 X 1 ½ inches.
Roll in parchment paper; can be frozen for up to 6 weeks.
To bake preheat oven to 325F degrees.
Slice rolls into ¼ inch slices; place on parchment paper lined baking sheet.
Bake about 12 minutes until edges are light golden brown.
Store in airtight container for up to days; serve on plate garnished with fresh thyme.
NOTE: These are great to have in the freezer for unexpected holiday guests. They also make a great Christmas gift wrapped in pretty paper and ribbons.

---
CHOCOLATE CHUNK COOKIES MIX
Cookie mixes make great Christmas gift food ideas when children are in the home.
1 ¼ Cups flour

½ Teaspoon baking soda

½ Teaspoon salt

½ Cup firmly packed brown sugar

½ Cup granulated sugar

1 Cup semi sweet chocolate chunks

½ Cup chopped walnuts or pecans

Combine flour, baking soda and salt in a small bowl; spoon into a 1 quart wide mouth canning jar.
Layer the remaining ingredients in the order given; pack down each layer.
Clean inside of jar with a paper towel after each layer; decorate lid with paper or ribbons.

NOTE: Attach instructions to each jar.
In a large bowl cream together 2/3 cup softened butter, 1 egg, 1 teaspoon water and ½ teaspoon vanilla. Add contents of the jar and mix well. Drop by a rounded teaspoonful onto an ungreased cookie sheet. Bake in a preheated oven at 375F degrees for 8 to 10 minutes or until lightly browned. Makes about 3 dozen.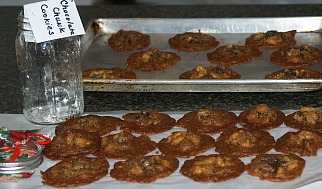 Chocolate Chunk Cookies
---
PINEAPPLE JAM RECIPE

 
This is a microwave jam recipe with kiwi.
4 Kiwi peeled sliced 1/8 inch thick
3 Cups sugar
¼ Cup lime juice
1 Can (8 ounces) crushed pineapple (Do not drain)
1 Package (3 ounces) liquid fruit pectin
3 Drops green food coloring
Combine kiwi, sugar, lime and pineapple in a 2 quart microwave bowl.
Microwave on high for 11 ½ to 16 minutes or until mixture comes to a full boil; stir every 2 minutes.
Stir in liquid pectin; microwave on high for 2 to 3 minutes or until mixture comes to a full rolling boil.
Microwave on high another 1 minute; skim foam and stir in food color.
Spoon into 5 clean hot 8 ounce jars or into air tight freezer containers.
Cool several hours; refrigerate up to 3 weeks or freeze for up to 3 months.
---
PASTA AND BEAN SOUP RECIPE

This pasta and bean soup mix makes a great Christmas gift food idea for special people.

¾ Cup dried onion flakes

1 Ounce dried celery flakes

1 Tablespoon dried basil

3 Tablespoons dried oregano

2 Teaspoons garlic powder

2 Teaspoons coarsely ground black pepper

2 ¼ Ounces dried beef flavored bouillon granules

1 Pound dried black eyed peas

1 Pound dried black beans

1 Pound dried kidney beans

1 Pound dried navy bans

1 Pound uncooked small shell pasta (some will be leftover)

Combine first 6 ingredients. Blend and divide evenly in 6 airtight plastic freezer bags.
Add 2 tablespoons plus ¼ teaspoon of the dried beef bouillon to each bag; label herb mix and seal.
Combine and blend the black eyed peas and next 3 ingredients.
Divide bean mix evenly into 6 freezer bags; label bags bean mix and seal.
Place 1/3 cup of the dry pasta into 6 airtight freezer bags; label "pasta" and seal.
Place 1 bag of each, the herb mix, bean mix and pasta into each of 6 gift containers.
Add directions in each of the 6 gifts.
Directions:
Sort and wash bean mix and place in container.
Cover beans with water and soak 8 hours; drain.
Combine beans in Dutch oven with 3 quarts of fresh water and herb mix.
Add 1 chopped carrot and 2/3 cup of chopped cooked ham.
Bring to a boil, reduce heat and simmer 2 ½ hours stirring occasionally.
Add 1 can (14 ½ ounces) Mexican style tomatoes (Do not drain) and pasta.
Cook mixture 20 minutes and serve.