Christmas Greetings with Recipes 
Christmas Greetings! I have been sort of stuck up here in the Appalachian Mountains. I was told this area does not get snow or bad weather. Well, guess what! First came the snow and rain mix. Then snow. Then icy rain. A big difference from spending Christmas in Florida.



The other night the weather report said "clear all evening and the following day". I got up in the morning and had snow on the ground. What a surprise! I remember waking up one morning when living north of Orlando with snow on the ground. That was a surprise also but just the drive a little ways south and Christmas in Orlando was sunny, warm and beautiful.

I just don't attempt driving these mountain roads and over the bridges in this weather. I had planned to get out to some of the areas Christmas events, where there is food and all those homemade Christmas gifts that I love. I have been "grounded". I don't want to complain; it is nice to have a reason to stay put and work.



I want to take this newsletter, not only to send my Christmas Greetings and wish you the very best baking, but also to tell you how much I appreciate all of you; our family, old friends and new friends for supporting us throughout this past year. I have enjoyed hearing from so many of you through your comments and recipes. I hope you will all continue to take an active part in our website.

I thought you might like to add this first recipe to your Christmas recipes. I have always loved raw carrots but never really cared for cooked carrots. One day (before the weather turned bad) I stopped at a local restaurant called "The Farmers Daughter". I think I mentioned it before. Anyway, one of the dishes they made was a carrot casserole recipe. It was delicious and a great holiday vegetable recipe. Nothing like I had eaten carrots before. It was sweet! Of course that is why I liked it! I would call it a carrot pudding recipe.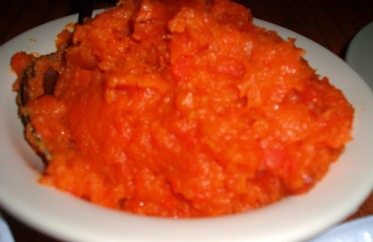 CHRISTMAS FRENCH TOAST RECIPE
2 Cups eggnog (Or mix eggs with milk)
8 Slices day old bread
8 Pork sausage links (Small links)
Green colored sugar
Powdered sugar
4 Orange slices (For sun garnish) 
Fresh rosemary (Or other herbs for garnish)
Pour eggnog into a shallow bowl; dip both sides of bread in eggnog.

Cook bread in non stick skillet over medium heat (2 minutes on each side).
In another skillet brown the sausages until done.
Cut French toast slices diagonally (From corner to corner).
Arrange on each plate 4 pieces (2 Whole slices) corners up to shape a tree.
NOTE: Start at top of plate and slightly overlap each piece of French toast.
Sprinkle French toast pieces lightly with green sugar.
Place 2 sausage links at bottom of tree on each plate to shape the trunk.
Tuck orange slice under top piece of French toast for sun.
Arrange rosemary under sausages for grass; 4 servings.
---
CARROT CASSEROLE RECIPE

 (my recipe)
1 Cup soft butter
½ Cup firmly packed brown sugar
1 Egg
2 Tablespoons cream
2 Cups finely grated carrots
1 ½ Cups flour
½ Teaspoon baking powder
½ Teaspoon baking soda
¼ Teaspoon salt
½ Teaspoon cinnamon
½ Teaspoon nutmeg
Assemble a day ahead of time.

Cream the butter and sugar until smooth; Blend in the egg, milk and carrots.

Sift the flour, baking powder, baking soda, salt, cinnamon and nutmeg together; add to the carrot mixture and blend well.
Spread batter into a lightly buttered baking dish and refrigerate overnight; remove 1 hour before baking.
Bake at 350F degrees for 1 hour.
---
CAPPUCCINO MIX RECIPE

a delicious Christmas greeting
In case you need a last minute gift to extend your Christmas Greetings and don't know what to give, maybe this cappuccino mix recipe will fill the bill. It is easy to make and can be divided in half for two gifts. Put in air tight containers and decorate with Christmas bows.
2 Cups instant coffee creamer
2 Cups instant hot chocolate mix
1 1/3 Cups instant coffee
1 Cup sugar
1 Teaspoon ground cinnamon
½ Teaspoon ground nutmeg
Combine and mix well. NOTE: Remember to add a note in the gift as to how to mix the cappuccino. Add 3 Tablespoons to a cup of hot water and stir.

---
BANANA CHOCOLATE CHIP MUFFIN RECIPE
The following is an easy muffin recipe and is a great addition to your Christmas breakfast or brunch menu. Everyone loves bananas and chocolate; these moist muffins will satisfy both.
1 ½ Cups flour
1 Cup sugar
½ Cup miniature semisweet chocolate chips
½ Cups chopped walnuts
1 Teaspoon baking soda
½ Teaspoon salt
3 Medium ripe bananas, mashed
½ Cup regular mayonnaise (no fat free)
Maraschino cherries cut in half
Preheat oven to 375F degrees.

In a bowl combine the flour, sugar, chocolate chips, nuts, baking soda and salt.
In another bowl, combine the mayonnaise and mashed bananas; stir into the dry ingredients just until moistened.
Fill muffin pans ¾ full and bake for 20 to 25 minutes or until muffins test done.
Press a cherry half in the top of each muffin.
Again, I want to extend to you my very best Christmas Greetings and I hope for each of you a very Happy and prosperous New Year!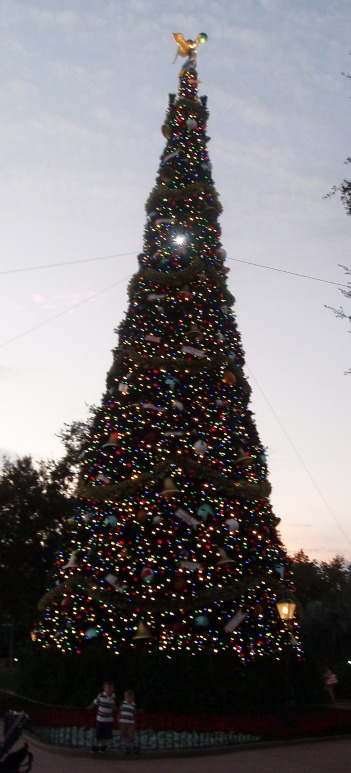 Painless Cooking

›
Holidays
› Christmas Food Greetings