Christmas Greetings 
Christmas Greetings! I have learned over the years that nothing is more welcoming to a guest than offering a simple refreshment. Our family has always had a hot pot of coffee on the stove. The smell of fresh brewed coffee or cappuccino is so inviting at Holiday time, all through the cold months and really anytime. Most people who do not drink coffee still love the fragrance. Do not leave those visitors out; offer a hot cup of tea or cider. Some of my greatest memories include the aroma of coffee coming to the door at Mom and Dad's kitchen door.

During the holiday season throughout my years, I have had many stop by to wish me Christmas Greetings. Sometimes they would bring to me their own homemade food specialty. Even though I have always cooked and baked, I really do love these gifts better than anything. If I happened to be in the middle of baking cookies, they often would sit down in the kitchen with me. They loved watching me put in the oven and take out fresh baked goods. Of course when baking cookies, they disappeared as quickly as they baked. I have been told that these visits make their Christmas season.
If someone shows up early in the day, special French toast, muffins or holiday buns are nice to offer family and friends. French toast is quick and many delicious rolls can be kept in the freezer and quickly thawed in the microwave. Christmas Greetings are exchanged at many holiday parties, Christmas Eve celebrations and delicious Christmas dinners. These are times to pull out all those special recipes. I pull out unique recipes which I normally use the rest of the year. There are just so many great recipes that I really do not like to make any over and over. 
I usually keep my traditional entrees for the holiday dinners. My Christmas Greetings for holiday parties and other holiday events are with a variety of main dishes. I always experiment with many different sides dishes. A lot of cooks find it hard to make good extras, especially vegetable dishes. Even these great recipes are in abundance. Think flavors! Combine vegetables! I love garlic in many like mashed potatoes. We have so many spices and herbs available which you should try adding. 

Cheeses and creams really make many dishes very special. The taste of vegetables can be altered greatly by changing the texture; mashing, grating, pureeing, etc. I remember when my husband and I were young, he was served carrots. They were sweetened and were seasoned with spices. He thought they were the best sweet potatoes he ever ate! We laughed but this dish won him over!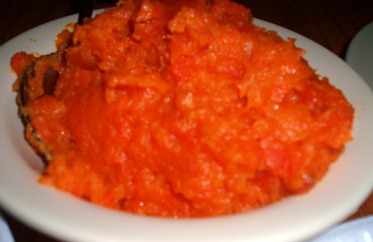 CHRISTMAS FRENCH TOAST RECIPE
2 Cups eggnog (Or mix eggs with milk)
8 Slices day old bread
8 Pork sausage links (Small links)
Green colored sugar
Powdered sugar
4 Orange slices (For sun garnish) 
Fresh rosemary (Or other herbs for garnish)
Pour eggnog into a shallow bowl; dip both sides of bread in eggnog.

Cook bread in non stick skillet over medium heat (2 minutes on each side).
In another skillet brown the sausages until done.
Cut French toast slices diagonally (From corner to corner).
Arrange on each plate 4 pieces (2 Whole slices) corners up to shape a tree.
NOTE: Start at top of plate and slightly overlap each piece of French toast.
Sprinkle French toast pieces lightly with green sugar.
Place 2 sausage links at bottom of tree on each plate to shape the trunk.
Tuck orange slice under top piece of French toast for sun.
Arrange rosemary under sausages for grass; 4 servings.
---
CARROT CASSEROLE RECIPE

 (my recipe)
1 Cup soft butter
½ Cup firmly packed brown sugar
1 Egg
2 Tablespoons cream
2 Cups finely grated carrots
1 ½ Cups flour
½ Teaspoon baking powder
½ Teaspoon baking soda
¼ Teaspoon salt
½ Teaspoon cinnamon
½ Teaspoon nutmeg
Assemble a day ahead of time.

Cream the butter and sugar until smooth; Blend in the egg, milk and carrots.

Sift the flour, baking powder, baking soda, salt, cinnamon and nutmeg together; add to the carrot mixture and blend well.
Spread batter into a lightly buttered baking dish and refrigerate overnight; remove 1 hour before baking.
Bake at 350F degrees for 1 hour.
---
CAPPUCCINO MIX RECIPE

a delicious Christmas greeting
In case you need a last minute gift to extend your Christmas Greetings and don't know what to give, maybe this cappuccino mix recipe will fill the bill. It is easy to make and can be divided in half for two gifts. Put in air tight containers and decorate with Christmas bows.
2 Cups instant coffee creamer
2 Cups instant hot chocolate mix
1 1/3 Cups instant coffee
1 Cup sugar
1 Teaspoon ground cinnamon
½ Teaspoon ground nutmeg
Combine and mix well. NOTE: Remember to add a note in the gift as to how to mix the cappuccino. Add 3 Tablespoons to a cup of hot water and stir.

---
BANANA CHOCOLATE CHIP MUFFIN RECIPE
The following is an easy muffin recipe and is a great addition to your Christmas breakfast or brunch menu. Everyone loves bananas and chocolate; these moist muffins will satisfy both.
1 ½ Cups flour
1 Cup sugar
½ Cup miniature semisweet chocolate chips
½ Cups chopped walnuts
1 Teaspoon baking soda
½ Teaspoon salt
3 Medium ripe bananas, mashed
½ Cup regular mayonnaise (no fat free)
Maraschino cherries cut in half
Preheat oven to 375F degrees.

In a bowl combine the flour, sugar, chocolate chips, nuts, baking soda and salt.
In another bowl, combine the mayonnaise and mashed bananas; stir into the dry ingredients just until moistened.
Fill muffin pans ¾ full and bake for 20 to 25 minutes or until muffins test done.
Press a cherry half in the top of each muffin.
---
SPICY OVEN FRIED CHICKEN RECIPE
I have seen a trend over recent years of many families serving chicken for the holidays. It is less expensive than purchasing a large ham or large turkey and many do not like storing leftovers. This is extra economical by using the thighs and legs but you can also use a whole chicken cut into pieces.  Delicious flavorful chicken entrees are abundant like this one. Christmas Greetings!
3 Cups corn chips (Finely crushed)
1 ½ Teaspoons chili powder
½ Teaspoon cumin
1 Teaspoon garlic powder
4 Chicken legs (Skin)
4 Chicken thighs (Skin)
7-8 Tablespoons mayonnaise
Cooking oil
Preheat oven to 400F degrees; lightly oil baking sheet.

Blend together corn chips, chili powder, cumin and garlic powder in a shallow dish.
Spread each piece of chicken on all sides with the mayonnaise.
Dredge chicken pieces with the corn chip mixture; place on prepared pan.
Drizzle a little cooking oil over the chicken.
Bake on lowest shelf of oven for 30 minutes (Do not turn over).
Cover with foil and bake 15 minutes longer; serves 4.
---
HOT APPLE ORANGE CIDER
Meet your holiday guests with Christmas Greetings and a hot cup of cider.
1 Cup water
½ Cup sugar
2 Cinnamon sticks (3 inches each)
4 Whole allspice
½ Teaspoon ginger
4 Cups apple cider
2 cups orange juice
¼ Cup lemon juice
Bring the water and sugar to a boil in a small saucepan.

Stir mixture over medium heat until boiling; boil 10 minutes.
Pour mixture through a wire strainer into a Dutch oven discarding spices.
Add cider and juices; bring to a boil and serve hot; makes about 7 ½ cups.
---
DILLED PEA SALAD RECIPE
Your holiday guests will love this pea salad with your Christmas Greetings.
1 Package (16 ounces) frozen peas (Thaw)
¼ cup mayonnaise
¼ Cup sour cream
1 ½ Tablespoons prepared horseradish
1 ½ Tablespoons Dijon mustard
2 Teaspoons dill weed
1/8 Teaspoon black pepper
Drain any liquid from thawed peas; place in bowl.

In another bowl combine mayonnaise, sour cream, horseradish, mustard, dill and pepper.
Blend mayonnaise mixture; pour over the peas stirring gently.
Cover salad and chill at least 2 hours; makes 3 ½ cups.
OPTION: For individual servings by scooping on red cabbage leaves.
---
MUSHROOM NEWBURG RECIPE
¼ cup butter
1 ½ Pounds medium size mushrooms
3 Tablespoons chopped onion
½ Cup sherry
¾ Cup non dairy creamer (Non dairy prevents curdling)
3 Tablespoons flour
1 ½ cups boiling water
1/8 Teaspoon salt
1/8 Teaspoon cayenne
1/8 Teaspoon nutmeg
2 Egg yolks
2 Tablespoons water
Toast triangles or small puff pastry cups
Parsley
Paprika
Melt butter in a large skillet; add whole mushrooms and onion.
Sauté mixture until almost tender; add sherry and simmer 2 minutes.
Blend together the flour and creamer; stir into the skillet.
Add boiling water and seasonings to skillet; cook stirring until mixture thickens.
Beat the yolks and 2 tablespoons water together.
Blend yolk mixture into the skillet mixture; cook an additional minute.
Serve hot in chafing dish; garnish with parsley and paprika.
Ladle over the toast or puff pastry cups; serves 4-6.
OPTION: Can substitute raw shrimp for mushrooms or a combination.
---
SPINACH AND ARTICHOKE HEARTS
8 Ounces cream cheese
½ Cup butter
Juice of 1 lemon
2 Packages (10 ounces each) chopped frozen spinach (Cook and drain)
14 Ounces canned artichoke hearts (Drain and slice)
1 Cup grated Parmesan cheese
Preheat oven to 350F degrees; butter oven proof casserole dish.

Place artichoke slices over bottom of prepared casserole dish.
In top of double boiler soften cream cheese and butter with lemon juice.
Add chopped spinach and Parmesan cheese; pour over the sliced artichokes.
Bake for 15 minutes; serves 6-8.
---
MASHED POTATO CASSEROLE RECIPE
When dinner guests bring you Christmas Greetings they will love tasting these potatoes.
2 Cups mashed potatoes
1 Package (8 ounces) cream cheese
1 Small finely chopped onion
2 Beaten eggs
1 Tablespoon flour
¼ Teaspoon salt
1/8 Teaspoon pepper
1 Package (3 ounces) French fried onion rings
Preheat oven to 300F degrees; butter a 1 ½ quart casserole baking dish.

In mixing bowl combine and beat all ingredients EXCEPT for the onion rings. 
Dump mixture into prepared baking dish and level top.
Crush onion rings and spread over the top; bake uncovered 30 to 35 minutes.
Again, I want to extend to you my very best Christmas Greetings and I hope for each of you a very Happy and prosperous New Year!