Visit the Ice Show for Christmas in Orlando
Christmas in Orlando is off to a nice start with the delicious buffet at the Villa De Flora at Gaylord Palms. We shared a nice conversation with the staff but it was time to rush over for our reservations for the ICE show.
The Ice show is sponsored by Coca-Cola, Haagen-Dazs and Sara Lee. The display of hand carved ice sculptors has become an annual event and is opened daily this year until January 3, 2010. Scenes such as "Old Man Winter", "Christmas Carnival", a life size carousel, the nativity of Christ and much more has taken two million pounds of ice.
A team of forty sculptors from Harbin, China have made this a wonderful Christmas in Orlando. They have spent more than a month setting up this show in a 9 degree Fahrenheit room. Parkas are provided for guest to stroll through and observe these beautiful creations. I am going to let the following pictures tell you most of the story.
Christmas in Orlando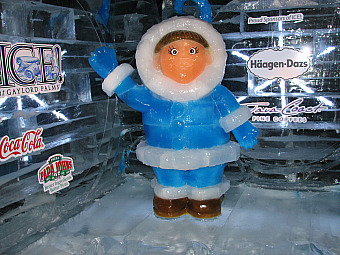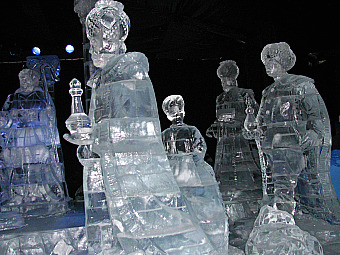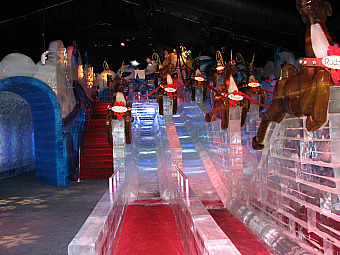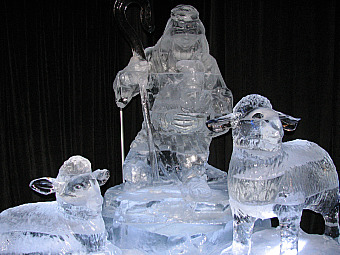 After viewing the ICE scenes, we spent hours in the gift shop, looking at the Christmas Decorations at Gaylord Palms and listening to Christmas music while sipping on hot chocolate in the atrium. This is truly a great Christmas in Orlando for locals and for visitors who are spending Christmas in Orlando.
The following are some easy Christmas holiday recipes for you to make with your children and enjoy this season. The first one is one of my easy holiday recipes to make bread ornaments. They can be hung plain or you can paint them. The cinnamon makes a wonderful aroma when these are in the oven.

Have you ever wondered how to make Christmas ornaments?

HOW TO MAKE CHRISTMAS ORNAMENTS
2 Cups flour
¾ Cup salt
3 Tablespoons cinnamon
¾ to 1 Cup water
Blend the flour, salt and cinnamon. Mix in water and knead working in enough flour to work without sticking. Shape figures with fingers or press and cut with cookie cutters. Transfer figures to baking sheet. Make a hole with a stick to hand with a string when finished. (Remember the whole will shrink when baked.) A wire can be run through the dough and baked in for a permanent hanger. Sharp pointed objects can be used to make holes or indentations. Pieces like eyes, hair, mustaches, buttons, etc. can be shaped, moistened and pressed into place before baking. Bake at 325 F degrees for 1 hour and 15 minutes depending on size of ornaments.
---
HARD TACK CANDY
The following is for one of my holiday candy recipes. It is old fashioned hard candy and this also makes the kitchen smell delicious when cooking.
2 Cups sugar
½ Cup light corn syrup
½ Cup water
1/8 Teaspoon salt
Butter a cookie pan with sides.
Combine all ingredients in a heavy saucepan and cover. Bring to a boil, remove cover and cook on medium heat (do not stir) until candy thermometer reaches 300F degrees. Work QUICK and stir in 1 to 2 Tablespoons oil flavoring (depends on strength of flavor you like) and 1 teaspoon food coloring (the color separates the flavor if you make more than one-it is optional) Pour into buttered pan but do not scrape pan. Let cool until heavy scum forms on candy. Cut into small pieces just enough not to break through the scum. Remove candy from pan and tap to break into pieces.
---
PLUM PUDDING RECIPE
The old fashioned plum pudding recipe was a favorite of (Christmas recipes); the following is a newer version.
2 Cups cinnamon graham cracker crumbs

1 ¼ Teaspoons baking soda

½ Teaspoon salt

¼ Teaspoon ground ginger

¼ Teaspoon ground cloves

½ Cup shortening

½ Cup packed brown sugar

2 Eggs

½ Cup water

1 Can (16 ounces) purple plums in heavy syrup (drained (reserve syrup), pitted and chopped)

1 Cup golden raisins

½ Cup chopped walnuts

Plum sauce (recipe below)

Stir together cracker crumbs, soda, salt, ginger and cloves; set aside.
Cream shortening and brown sugar until fluffy; beat in eggs one at a time.
Add crumb mixture alternately with water to sugar mixture beating well after each addition.
Stir in chopped plums, raisins and walnuts.
NOTE: If mixture is too dry add a little more water 1 tablespoon at a time
Pour batter into well greased Bundt cake pan.
Bake in preheated oven at 375F degrees for 40 to 50 minutes or until pick comes out clean.
Immediately turn plum pudding out onto serving plate; spoon plum sauce over top to serve.

Plum Sauce Recipe:

Combine plum syrup (about 1 cup), ¼ cup sugar and 2 tablespoons cornstarch in small saucepan.
Cook over medium heat stirring constantly until thickened; about 5 minutes.
Stir in 1 tablespoon brandy or lemon juice.