How to Make Cinco de Mayo Recipes
Learn how to make Cinco de Mayo recipes for this Mexican holiday on the fifth of May. This is a relatively minor holiday and is actually celebrated more here in the United States than it is in Mexico.  Many Americans think that this day is Independence Day for Mexico, like we celebrate the Fourth of July.

Although the reason for learning how to make Cinco de Mayo recipes was to celebrate Mexico's independence but came about years later. Mexico owed a debt to France and did not have the money to repay it. France invaded Mexico with the idea of taking it and making it a French territory.


After only a one day battle and the French losing 500 men, they retreated. For the Mexican government, this was a great symbolic victory. Within Mexico, cooks learned how to make Cinco de Mayo recipes in observance only where the victory took place; in the state of Puebla. In the United States, this day has become a reason for Mexican Americans to celebrate the culture with parades and good food.


Mexican capirotada recipe is a traditional bread pudding served on Good Friday but also a favorite for special occasions like in their Cinco de Mayo recipes. The pudding is made with most of the typical ingredients that you would find in bread pudding recipes; bread, raisins and other fruits. The capirotada also has cheese in the recipe and some people will add meat. A flavorful sweet and savory syrup is made and poured over the bread pudding before placing in the oven to bake. This syrup is what makes this unique Mexican capirotada recipe.

HOW TO MAKE CINCO DE MAYO RECIPES like this


MEXICAN CAPIROTADA RECIPE
Pudding:

3 Peeled apples cored and thinly sliced

1 Cup raisins

1 Cup blanched almonds

6 Cups firm white bread cubes toasted

½ Pound mild cheddar (or other mild cheese) coarsely chopped

Butter

Preheat oven to 350F degrees.
Butter a 2 quart baking or casserole dish; make a layer of the toasted cubes of bread.
Add a layer of sliced apples topped with raisins, almonds and cheese.
Repeat process until all the ingredients are used; mix syrup recipe below and pour over the casserole.
Bake for 45 minutes; serve warm.

Capirotada syrup:
This syrup could be used for other Cinco de Mayo recipes especially on the desserts.

2 Cups firmly packed brown sugar

Cinnamon stick (about 2 inches long)

1 Small onion stuck with 3 cloves

1 Medium red or green bell pepper seeded and halved

Peel from 1 medium orange shredded

½ Cup fresh cilantro chopped

4 Cups water

Combine all ingredients in a saucepan and bring to a boil; reduce heat and simmer for 30 minutes
Allow to cool to warm, strain and discard the solids.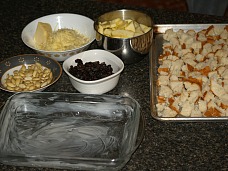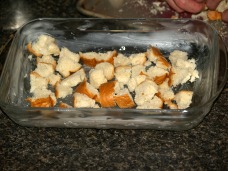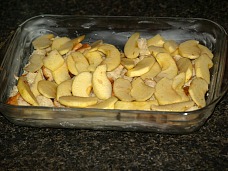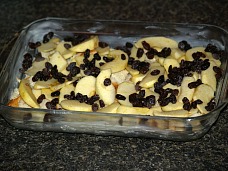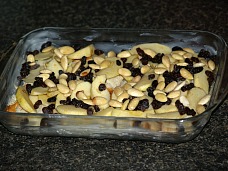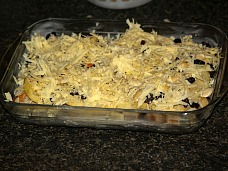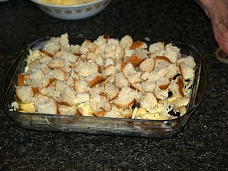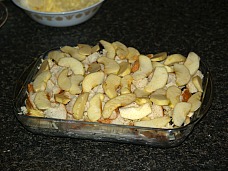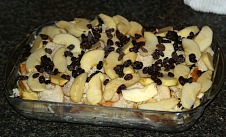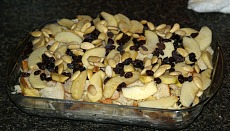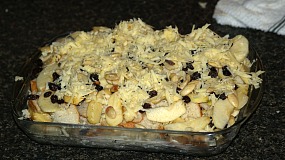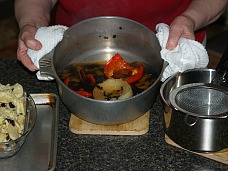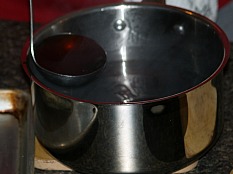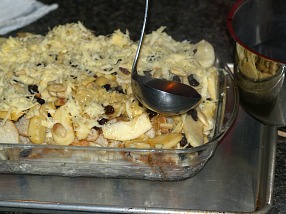 ---
BAKED BANANA RECIPES (in a tortilla)
You will find various types of bananas in favorite Mexican recipes and of course, we couldn't get by without delicious tortillas. Combine these two for great tasting and easy Cinco de Mayo recipes.


2 Tablespoons lemon juice

3 Firm ripe bananas

6 Flour tortillas (8 inch size)

3 Ounces softened cream cheese

¼ Cup sugar

½ Teaspoon ground cinnamon

2 Tablespoons melted butter

1/3 Cup ice cream caramel sauce or chocolate sauce

Preheat oven to 450F degrees; grease cookie sheet.
Peel bananas and cut in half LENGTHWISE; brush banana halves with lemon juice.
Spread 1/6 of cream cheese down center of each tortilla; place 1 half of banana on top of cream cheese.
Combine and blend cinnamon and sugar.
Reserve 1 tablespoon of sugar mixture and sprinkle remaining mixture evenly on top of each banana.
Fold bottom and sides of tortilla over banana; place seam side down on cookie sheet.
Brush tops of tortilla with melted butter; sprinkle tops with reserved sugar cinnamon mixture.
Bake for 6 to 8 minutes until golden brown.
To serve place on dessert plate and drizzle with caramel or chocolate sauce.

---
MEXICAN CHICKEN WINGS #1 made with Pace Picante sauce
Add this chicken wing recipe to your Cinco de Mayo recipes; it is a crowd pleaser.

12 Wings cut at joints (discarding wing tips)

1 Cup Pace Picante sauce

½ Cup catsup

¼ Cup honey

½ Teaspoon ground cumin

2/3 Cup sour cream

Combine 1/3 cup of picante sauce, catsup, honey and cumin; pour over wings.
Place in refrigerator and marinate for at least 1 hour turning once; drain wings and reserve marinade.
Place on rack of a foil lined broiler pan; bake at 375F degrees for 30 minutes.
Place 6 inches from heat in a preheated broiler; broil 2 to 3 minutes until sauce looks dry.
Turn wings over and broil 2 to 3 minutes longer.
Spoon sour cream into a clear glass bowl; top with remaining 2/3 cup of picante sauce.
Serve sour cream picante sauce bowl with chicken wings.

---
MEXICAN CHICKEN WINGS #2
If you are having a party, add a combination of chicken wing recipes to your Cinco de Mayo recipes. Everyone loves spicy chicken wings.

3 Pounds chicken wings (no wing tips)

1 Small thinly sliced onion

2 Cloves minced garlic

1 Tablespoon cooking oil

2 Cups diced canned tomatoes

¾ Cup whole kernel corn

¼ Cup canned tomato paste

1 Can (4 ounces) chopped green chilies

1 Teaspoon chili powder

½ Teaspoon paprika

½ Teaspoon salt

½ Teaspoon cumin

¼ Teaspoon black pepper

¼ Teaspoon hot pepper sauce

½ Cup shredded Cheddar cheese

2 Tablespoons sliced ripe olives

Preheat oven to 375F degrees; arrange wings in an ungreased baking pan and bake 30 minutes.
Meanwhile in small saucepan stir and cook onion and garlic in hot oil until onion is tender.
Stir in remaining ingredients EXCEPT cheese and olives; stir and cook until mixture is hot.
Remove wings from oven and spoon out excess pan juices; turn wings over.
Pour sauce evenly over the chicken wings; return to oven for 20 minutes or until wings are done.
Sprinkle cheese over wings and bake 2 minutes; garnish with olives.

---
MEXICAN BREAD shaped like an alligator
Pictured Below: This Mexican Alligator Bread is my favorite Cinco de Mayo recipe

This alligator bread is not specifically one of the Cinco de Mayo recipes but it makes a great presentation for any Mexican holiday.

¼ Cup warm milk (about 112F degrees)

1 Package dry yeast

½ Cup sugar

6 Tablespoons unsalted butter

4 Eggs at room temperature

Grated peel of 1 large lemon

½ Teaspoon salt

4 Cups flour

1 Date (cut ends off for eyes)

1 Beaten egg

Maraschino cherries

Royal icing:

2 Teaspoons egg white

12 Tablespoons powdered sugar

Butter large mixing bowl and grease a large baking sheet.
Combine milk, yeast and 1 teaspoon sugar in a small bowl; stir until yeast is dissolved.
Let yeast mixture stand about 10 minutes until foamy.
Combine butter and remaining sugar in a large mixing bowl; beat on medium speed until creamy.
Add 4 eggs, lemon peel, salt and yeast mixture; mix well.
Beat in flour 1 cup at a time until well blended; continue beating on high about 5 minutes.
Turn dough out on lightly floured board and knead until smooth; 5 to 7 minutes.
Shape dough into ball and transfer to buttered bowl turning to coat entire surface.
Cover with towel and let rise in a warm place until doubled in volume about 1 ½ hours.
Punch dough down and let rise again until doubled about 1 ¼ hours.
Punch down again and shape into a ball; let set at room temperature for 5 minutes.
Roll dough into a large rectangle and roll up lengthwise pinching ends and seam well.
Place seam side down on surface and shape with palms of hands into a long cylinder.
Transfer to a prepared baking sheet.
Cut about a 2 inch slit horizontally through center of one end of roll.
Using fingers and knife open slit to shape mouth.
Cut a rectangle from heavy cardboard 2 1/4 x 4 1/2; cover completely with foil and grease well.
Fold in half crosswise and insert in mouth to hold the shape during rising and baking.
Shape dough around the cardboard pressing until it adheres; sprinkle with water if necessary.
For front legs, make tapered cut about 6 inches behind mouth and 1 inch in from right side of body; repeat on left side. Pull and shape front legs away from the body.
For back legs, make a cut tapered about 4 inches from the front legs and 1 inch in from the right side of the body; repeat on left side. Pull and shape away from the body.
Shape tail and curve body slightly.
Press two date halves firmly behind the mouth into the head for eyes.
Brush alligator with beaten egg; let stand 5 minutes and brush again.
Let rise in warm draft free place until double in bulk about 1 ½ hours.
Press dough back to cardboard if it has loosened.
Preheat oven to 350F degrees.
With scissors cut 3 rows of scales by snipping and pulling up dough into points down the back of the alligator. (Center row extending down the tail)
Bake alligator until nicely browned about 25 to 30 minutes; transfer to cooling rack.
Gently remove cardboard from mouth and press cherries in back of throat.
For icing place egg white in a small bowl; add sugar 1 tablespoon at a time stirring until icing stands in stiff peaks.
Fill pastry bag with icing and pipe jagged teeth in upper and lower jaws. This bread could be one of your Cinco de Mayo recipes or for any special occasion.


Shaping Alligator Dough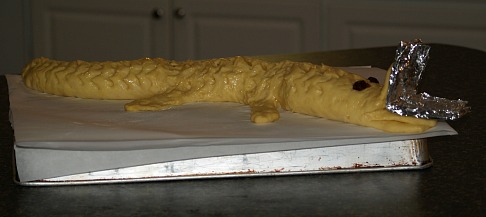 Shaping Alligator Dough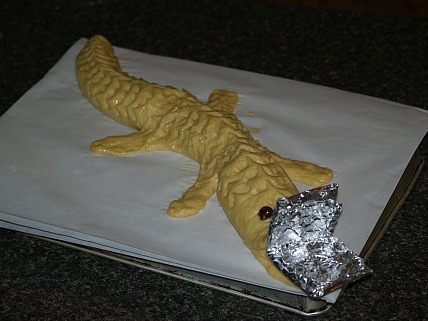 Shaping Alligator Dough